Zyxel XS3900-48F

48-port 10GbE Top-of-rack Switch with 40GbE Uplink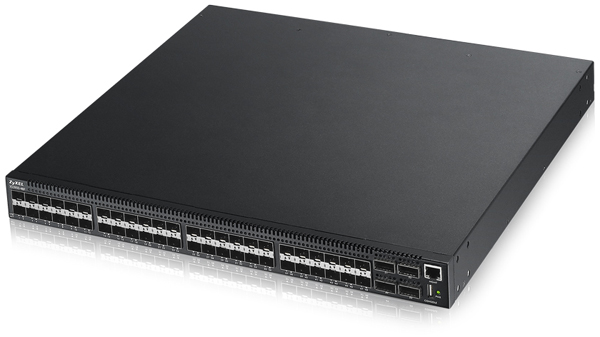 Sorry, this product is no longer available, please contact us for a replacement.
Overview:
Ultra-low Latency Top-of-rack Switch for Data Center Bridging Deployments
Data centers today are facing a new generation of challenges. Virtualization and data center consolidation have imposed higher bandwidth demands on data center networks. The competitive business landscape has also pushed forward the need for faster application deployments. Next-generation data centers need to provide the efficiency, flexibility and availability to facilitate business agility and competitiveness.
The Zyxel XS3900-48F is a high-density top-of-rack (ToR) switch designed to facilitate fast and modularized application deployments in next-generation data centers. It supports DCBX, 802.1Qaz (ETS) and 802.1Qbb (PFC) protocols, and offers 10GbE and 40GbE connectivity to provide high bandwidth and ultra-low latency performance for converged networks and virtualized applications. The 48 fixed 10GbE SFP+ ports can also support 1GbE SFP transceivers for added flexibility and easy network transitions. With redundant and hot-swappable fan trays and power supply modules, the XS3900-48F offers the redundancy, reliability and availability for non-stop services.
1.28 Tbps non-blocking switching capacity
Forty-eight (48) 10GbE SFP+ ports and four (4) 40GbE QSFP+ uplinks
All 48 SFP+ ports support 1GbE/10GbE speeds
Data center optimized with DCBX, 802.1Qaz (ETS) and 802.1Qbb (PFC) protocol support
Redundant and hot-swappable fan trays and power supply modules
Modular and flexible rack-byrack deployment
IPv6 support
Low power consumption design