Zyxel GS1900-24HP

24-port GbE Smart Managed PoE Switch with GbE Uplink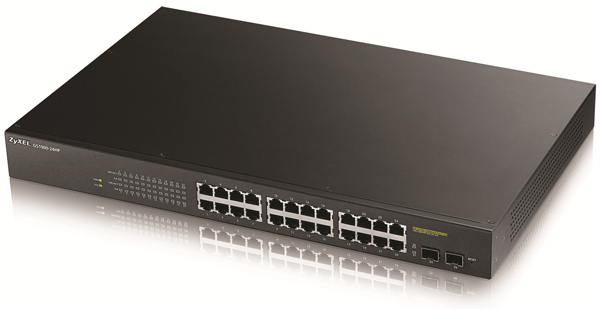 Sorry, this product is no longer available, please contact us for a replacement.
Overview:
Simple, Fast and Smart Managed Switches for Small Business Connectivity
The Zyxel GS1900 Series of 8/10/16/24/48-port GbE Smart Managed Switch with Gigabit speed and essential managing functions bring your business network more flexibility and connectivity. The 1900 Series consists of nine (9) models—the GS1900-8, GS1900-8HP, GS1900-10HP, GS1900- 16, GS1900-24E, GS1900-24, GS1900-24HP, GS1900-48 and GS1900-48HP. Providing GbE switches with power-saving functions, fanless design and full IPv6 support ensure your network to be ready for future expansions. In addition, the PoE models GS1900-8HP/10HP/24HP/48HP Gigabit switch complies with the IEEE 802.3at Power over Ethernet (PoE) Plus standard. The complete GS1900 Series has been designed with useful features and advanced performances that empower your networks with speed and security as well as silent operation in your office environments.
10/100/1000 Mbps GbE ports
Easy browser-based switch management
Quick and easy set up wizard
Advanced network error prevention features (loop protection, dual images, storm control, DoS and SSL)
Fanless design (GS1900-8/8HP/10HP/16/24/24E)
Green Ethernet IEEE 802.3az support and intelligent Zyxel green features
High-power PoE support IEEE 802.3at (GS1900- 8HP/10HP/24HP/48HP)
Limited life-time warranty*
Zyxel One Network is supported
Benefits:
Versatility and flexibility for different needs
The complete Zyxel GS1900 Series has an essential portfolio of 8/10/16/24/48-port compact desktop and rackmount size with GbE connectivity. All models support multiple deployment methods to fulfill the needs for small offices and meeting room environments such as wall-, under table- or desktop-mounting and rackmount options*1. It's now quick and effortless to enjoy the high-speed business network applications without a hitch. Additionally, the GS1900-10HP/24/24HP/48/48HP is equipped with 2 extra SFP slots to provide 100M and GbE speeds for long-distance deployments.
The GS1900-8HP/10HP/24HP/48HP features IEEE 802.3at PoE Plus with up to 30 W powers per port to flexibly extend network deployment, especially for high-power devices such as Wi-Fi APs, IP cams and IP phones. The 802.3at PoE Plus capability makes the switch ideal for connecting numerous powered devices to form a flawless business network.
Zyxel ONE Network experience
Aiming for relieving our customers from repetitive operations of deploying andmanaging a network, Zyxel ONE Network is designed to simplify the configuration, management, and troubleshooting, allowing our customers to focus on the business priorities. Zyxel ONE Network presents an easy-to-use tool, Zyxel ONE Network Utility (ZON Utility), to realize speed network setup. Zyxel Smart Connect** allows Zyxel networking equipment to be aware and recognize each other and further facilitating the network maintenance via one-click remote functions such as factory reset or power cycling. Zyxel ONE Network redefines the network integration across multiple networking products from switch to Wi-Fi AP and to Gateway.
Simple, intuitive wizard set up
For small businesses that want to manage their infrastructure in advance, the Zyxel GS1900 Series comes with a friendly built-in Web-based browser for simple configuration and management. Moreover, the friendly step-by-step intuitive wizard helps avoiding multiple complicated configuration pages for quick set up with few clicks in the matter of minutes. To guide the users from start-up, VLAN, Guest VLAN to QoS setting, the Zyxel Series offers four most common steps and combines them into a quick and easy setup wizard; which does not just save deployment time and efforts, but is also helpful especially for the non-IT staff.

Avoiding network errors with easy management
The Zyxel GS1900 Series is equipped with advanced management features to make the network stable and secure: loop protection that prevents network flooding, dual images to provide a backup FW if one crashes and storm control to ensure network efficiency, friendly on/off DoS with simple click to enable/disable instead of several setup pages, while SSL ensures the management frames are well encrypted when the device is accessed. The GS1900 Series provides network error prevention features and integrated network security for reduced risk and improved data streaming.
Energy saving for IEEE 802.3az
As operating overheads such as electric bills increase constantly due to the arising green awareness, businesses have to avoid unnecessary energy waste. The built-in IEEE 802.3az Energy Efficient Ethernet (EEE) and more Zyxel innovative green features of Zyxel GS1900 Series can reduce energy consumption of Ethernet devices through multiple intelligent ways.
Traffic detection—Energy Efficient Ethernet (EEE) compliance
The IEEE 802.3az Energy Efficient Ethernet (EEE) feature automatically detects network traffic and adjusts power consumption dynamically, as such the switch can reduce power consumption during low link utilization periods.
Inactive link detection
The inactive link detection function automatically reduces power usage when inactive links or devices are detected. The Zyxel GS1900 Series can adjust power consumption according to the link status and number of the active network devices.
Cable length detection
This green feature enables the switch to automatically detect the length of connected Ethernet cables and adjust power usage accordingly. The shorter the cable length, the less power it consumes.
Intelligence to power more devices (GS1900-8HP/24HP/48HP)
Zyxel's Intelligent PoE feature provides two PoE supply modes: classification mode and consumption mode. Especially in consumption mode, the GS1900-8HP/24HP/48HP reserves the actual required power automatically, and you can set power feeding priorities on different ports to get the optimized use of power resource. This capability increases the number of devices connected and deliver a better ROI for the business. In addition, the GS1900-8HP supports the IEEE 802.3at standard on all 8 ports, providing a maximum of 30 watts per port, total 70 watts. Besides, the GS1900-24HP and 48HP both provide 170 watts of total budget power for devices with higher power requirements such as IP phones, IP cameras and wireless access points.
* Rack mountable (16-, 24- and 48-port models)
Key Applications: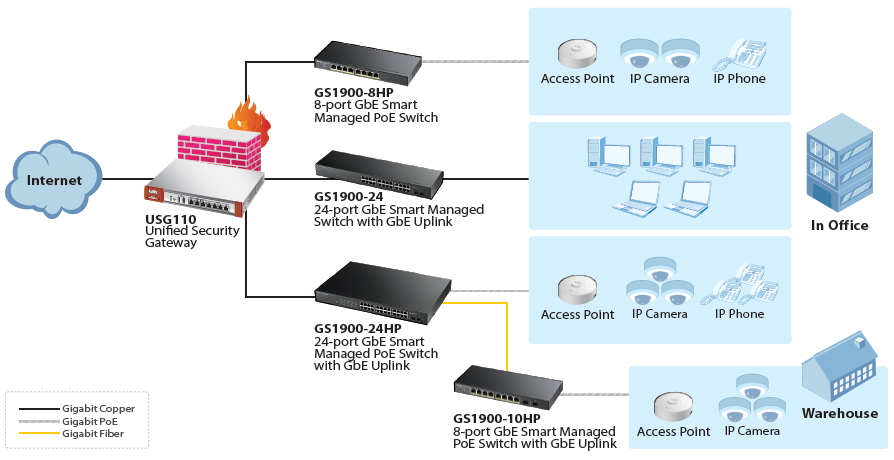 Specifications:
Model
GS1900-8
GS1900-8HP
GS1900-10HP
GS1900-16
GS1900-24E
Product name
8-port GbE Smart Managed Switch
8-port GbE Smart Managed PoE Switch
8-port GbE Smart Managed PoE Switch with GbE Uplink
16-port GbE Smart Managed Switch
24-port GbE Smart Managed Switch
Port Density
10/100/1000 BASE-T, fixed
8
-
-
16
24
10/100/1000 BASE-T, PoE, fixed
-
8
8
-
-
SFP 100/1000 Mbps
-
-
2
-
-
Performance
Switching capacity (Gbps)
16
16
20
32
48
Switch forwarding rate (Mpps)
11.9
11.9
14.88
23.8
35.7
Packet buffer (byte)
525 K
525 K
525 K
525 K
525 K
MAC address
8 K
8 K
8 K
8 K
8 K
Jumbo frame (byte)
9 K
9 K
9 K
9 K
9 K
Power
Input voltage of AC
100 - 240 V AC, 50/60 Hz
Max. power consumption (watt)
6.5
90
96.2
11
14.6
PoE power budget (watt)
-
70
77
-
-
Physical Specifications
Item Dimensions (WxDxH) (mm/in.)
250 x 104 x 27/9.84 x 4.10 x 1.06
250 x 104 x 27/9.84 x 4.10 x 1.06
250 x 104 x 27/9.84 x 4.10 x 1.06
216 x 133 x 42/8.50 x 5.23 x 1.65
267 x 162 x 42/10.51 x 6.37 x 1.65
Item Weight (kg/lb.)
0.65/1.43
0.72/1.57
0.72/1.59
0.97/2.13
1.56/3.44
Packing Dimensions (WxDxH) (mm/in.)
302 x 227 x 64/11.89 x 8.94 x 2.52
302 x 227 x 64/11.89 x 8.94 x 2.52
302 x 227 x 64/11.89 x 8.94 x 2.52
325 x 223 x 71/12.80 x 8.78 x 2.80
325 x 223 x 71/12.80 x 8.78 x 2.80
Packing Weight (kg/lb.)
1.04/2.30
1.51/3.33
1.53/3.37
1.80/3.97
2.05/4.52
Included accessories
Power adapter, Wall mount kit
Power cord, Power adapter, Wall mount kit
Power cord, Power adapter, Wall mount kit
Power cord, Power adapter, Wall mount kit
Power cord, Power adapter, Wall mount kit
Green Feature
Fanless
Yes
Yes
Yes
Yes
Yes
Environmental Specifications
Operating temperature
0°C to 50°C/32°F to 122°F
Storage temperature
-40°C to 70°C/-40°F to 158°F
Operating humidity
10% to 95% (non-condensing)
MTBF (hr)
862,561
926,199
801,113
843,668
804,714
Heat dissipation (BTU/hr)
22.17
306.90
65.472
37.51
49.79
Acoustic noise (dBA)
0
0
0
0
0
Model
GS1900-24
GS1900-24HP
GS1900-48
GS1900-48HP
Product name
24-port GbE Smart Managed Switch with GbE Uplink
24-port GbE Smart Managed PoE Switch with GbE Uplink
48-port GbE Smart Managed Switch with GbE Uplink
48-port GbE Smart Managed PoE Switch with GbE Uplink
Port Density
10/100/1000 BASE-T, fixed
24
-
48
24
10/100/1000 BASE-T, PoE, fixed
-
24
-
24
SFP 100/1000 Mbps
2
2
2
2
Performance
Switching capacity (Gbps)
52
52
100
100
Switch forwarding rate (Mpps)
39
39
74
74
Packet buffer (byte)
525 K
525 K
1.5 M
1.5 M
MAC address
8 K
8 K
8 K
8 K
Jumbo frame (byte)
9 K
9 K
9 K
9 K
Power
Input voltage of AC
100 - 240 V AC, 50/60 Hz
Max. power consumption (watt)
16
215
36.9
250
PoE power budget (watt)
-
170
-
170
Physical Specifications
Item Dimensions (WxDxH) (mm/in.)
440 x 131 x 44/17.32 x 5.16 x 1.73
440 x 310 x 45/17.32 x 12.20 x 1.77
440 x 200 x 44/17.32 x 7.87 x 1.73
440 x 330 x 45/17.32 x 13 x 1.77
Item Weight (kg/lb.)
2.09/4.60
4.03/8.88
2.9/6.39
4.24/9.35
Packing Dimensions (WxDxH) (mm/in.)
561 x 217 x 82/21.97 x 8.54 x 3.23
583 x 451 x 98/22.95 x 17.76 x 3.86
509 x 292 x 93/20.03 x 11.50 x 3.66
583 x 451 x 98/22.95 x 17.76 x 3.86
Packing Weight (kg/lb.)
2.85/6.28
5.1/11.24
4.3/9.48
5.31/11.70
Included accessories
Power cord, Rack mounting kit
Power cord, Rack mounting kit
Power cord, Rack mounting kit
Power cord, Rack mounting kit
Green Feature
Fanless
Yes
-
-
-
Environmental Specifications
Operating temperature
0°C to 50°C/32°F to 122°F
Storage temperature
-40°C to 70°C/-40°F to 158°F
Operating humidity
10% to 95% (non-condensing)
MTBF (hr)
432,673
318,142
229,313
175,767
Heat dissipation (BTU/hr)
55
787.71
108.77
853
Acoustic noise (dBA)
0
48.7
38.2
49.9
Features: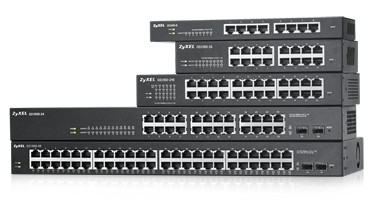 Standard Compliance

IEEE 802.3 10BASE-T Ethernet
IEEE 802.3u 100BASE-TX Ethernet
IEEE 802.3ab (1000BASE-T) Ethernet
IEEE 802.3x flow control
IEEE 802.3az EEE support
IEEE 802.1p CoS support 
IEEE 802.3af PoE (GS1900-8HP/10HP/24HP/48HP)
IEEE 802.3at PoE plus (GS1900-8HP/10HP/24HP/48HP)
IEEE 802.1D Spanning Tree Protocol (STP)
IEEE 802.1w Rapid Spanning Tree Protocol (RSTP)
IEEE 802.1s Multiple Spanning Tree Protocol (MSTP)
Full-duplex and half duplex operation with IEEE 802.3x flow control and backpressure
Store and forward
Auto MDI/MID-X

Resilience and Availability

IEEE 802.1D Spanning Tree Protocol (STP)
IEEE 802.1w Rapid Spanning Tree Protocol (RSTP)
IEEE 802.1s Multiple Spanning Tree Protocol (MSTP)
IEEE 802.3ad LACP
Dual configuration files
Dual images

Traffic Management and QoS

Port-based VLAN
IEEE 802.1Q VLAN tagging
IEEE 802.3ad LACP
Guest VLAN
Voice VLAN
Storm control
IEEE 802.1p priority queues per port
IEEE 802.1p Queuing method (scheduler)
Input priority mapping
Rate limiting per port (ingress/egress)
IEEE 802.3x flow control

Class of Service (CoS)

IEEE 802.1p class of service (SPQ, WRR)
Port-based CoS
IP TOS precedence

Security

IEEE 802.1x
Port security
Layer 2 MAC filtering
BPDU guard 
Static MAC forwarding
RADIUS 
TACACS+
SSL
Management VLAN
CPU defense engine
DoS prevention

Layer 2 Multicast

IGMP snooping (v1, v2, v3)

IPv6

IPv6 over Ethernet (RFC 2464)
Dual-stack (RFC 4213)
ICMPv6 (RFC 4884)
Neighbor discovery (RFC 4861)
Auto configuration
Static IPv6 address and prefix length
Static IPv6 default gateway
IPv6 duplicate address detection

Discovery

IEEE 802.1 AB LLDP
LLDP-MED

Network Management

SNMP v1, v2, v3
RMON (1, 2, 3, 9)
ICMP echo/echo reply
Syslog

MIB

RFC 1213 MIB II
RFC 2819 RMON (group 1, 2, 3, 9)
RFC 1215 generic traps
RFC 1493 bridge
Private MIB

Certifications

EMC

CE, FCC, C-Tick, Class A (GS1900-24/24HP/48/48HP) 
CE, FCC, C-Tick, Class B (GS1900-8/8HP/10HP/16/24E)
BSMI CNS13438

Safety

BSMI CNS14336-1
CB IEC60950-1 (GS1900-8HP/10HP/16/24E/24)

RoHS compliant

Zyxel One Network

ZON Utility

Discovery of Zyxel switches, APs and gateways
Centralized and batch configurations

IP configuration
IP renew
New Device factory reset
Device reboot
Device locating
Web GUI access
Firmware upgrade
Password configuration
One-click quick association with Zyxel AP Configurator (ZAC)