Zyxel WAC5302D-Sv2

802.11ac Wall-Plate Unified Access Point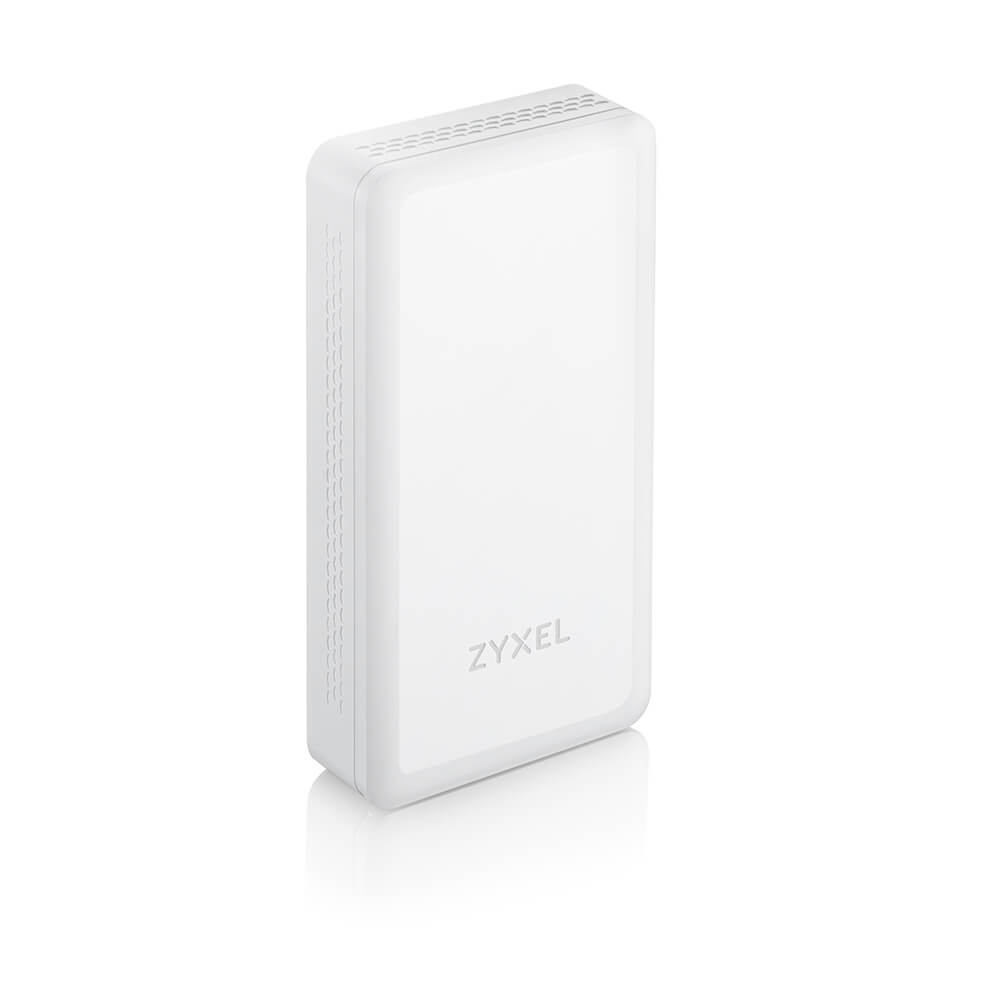 Zyxel Products
Zyxel Wireless
Zyxel WAC5302-Sv2 802.11ac Dual-Radio Unified Access Point
#WAC5302D-Sv2
List Price:
$299.99
Our Price: $219.99
Click here to jump to more pricing!
Overview:
One Device for Wired and Wireless
WAC5302D-Sv2 Clever Design for Hotel Guest Room
Today's business and leisure travelers expect to connect high-speed WiFi when stepping into a hotel and would consider internet connectivity the top amenity. Most travelers won't hesitate to report bad WiFi experience and bother to come back again. So do you want a breakout rating in TripAdvisor? The Zyxel WAC5302D-Sv2 802.11ac Dual-Radio Unified Access Point is an adaptive WiFi and Switch for hotels.
Additionally, WAC5302-Sv2 is equipped with NebulaFlex Pro, allowing users to manage the AP through a local web management interface, hardware controller, or with a one-year free license on the Nebula cloud management platform.
Benefits:
Versatile mounting options in hotel guest rooms
The Zyxel WAC5302D-Sv2' low profile and versatile mounting design make it a perfect choice for hotel guest rooms. It easily blends into tasteful decorations and can be mounted directly on an outlet box or any obscure locations, even simply on desktop. For the best aesthetics, the Ethernet cable and coaxial cable can run out from the cable channel that keepWAC5302D-Sv2-Sv2 slim and fit in a limited space.
Welcome your guest with high-speed Wi-Fi
Greet every guest with easy log-in and flicker-free Wi-Fi is as important as warm smiles. Designed for hotel guest rooms, the Zyxel WAC5302D-Sv2 features smart antenna and beamforming to dynamically change the signal direction to provide superb performance for each individual client. Zyxel smart antenna has been proven the best solution to mitigate interference from neighboring APs next door wherever it is mounted. ThWAC5302D-Sv2-Sv2 promises hotel guests with enjoyable, ubiquitous HD streaming experience on their mobile devices.
Extending modern in-room services with a box
Nowadays, hotels provide guests with a range of in-room services including smart TV, VoIP and network for homelike comfort. To achieve this, each room has many cables and switches that require more investment and are difficult to maintain. Let's keep the budget and cabling effort to the minimum. More than just a Wi-Fi AP serving high-speed networks, the Zyxel WAC5302D-Sv2 has three local Gigabit Ethernet ports to securely attach wired devices while one of these ports supplies PoE power to the attached devices without the need for electric outlets and power cables.
Zyxel one network experience
Aiming for relieving our customers from repetitive operations of deploying and managing a network, Zyxel one network is designed to simplify the configuration, management, and troubleshooting, allowing our customers to focus on the business priorities. Zyxel one network presents an easy-to-use tool, Zyxel one network Utility (ZON Utility), to realize speed network setup. Zyxel Smart Connect* allows Zyxel networking equipment to be aware and recognize each other and further facilitating the network maintenance via one-click remote functions such as factory reset or power cycling. Zyxel One Network redefines the network integration across multiple networking products from switch to Wi-Fi AP and to Gateway.
* Zyxel Smart Connect is supported on selected models. Please refer to the specifications for more details.
Specifications:
Models

WAC5302D-Sv2

Wireless
Standard
IEEE802.11 ac/n/g/b/a
MIMO
MU-MIMO
Wireless speed

2.4 GHz:




5 GHz:



Frequency band

2.4 GHz




USA (FCC): 2.412 to 2.462 GHz
Europe (ETSI): 2.412 to 2.472 GHz

5 GHz




USA (FCC): 5.15 to 5.25 GHz; 5.725 to 5.850 GHz
European (ETSI): 5.15 to 5.35 GHz; 5.470 to 5.725 GHz

Bandwidth
20-, 40- and 80-MHz
Conducted typical transmit output power

US (2.4GHz/5GHz)




EU (2.4GHz/5GHz)



RF Design
Antenna type
2x2 MIMO Smart Antenna
Antenna gain

2.4GHz




5GHz



Minimum receive sensitivity
Up to -98 dBm
WLAN feature
Band Steering
Yes
WDS / Mesh
Yes
Fast roaming
Pre-authentication, PMK caching and 802.11r/k/v
DCS
Yes
Load balancing
Yes
Security
Encryption
Authentication

WPA
WPA2-Enterprise
EAP
IEEE 802.1X
RADIUS authentication

Access management

L2-isolation
MAC filtering
Rogue AP detection

Networking
IPv6
Yes
VLANs
Yes
WMM
Yes
U-APSD
Yes
DiffServ marking
Yes
Management
Operating mode

Nebula Cloud managed
Controller-managed
Standalone

ZON Utility

Discovery of Zyxel switches, APs and gateways
Centralized and batch configurations

IP configuration
IP renew
Device reboot
Device locating
Web GUI access
Firmware upgrade
Password configuration

Zyxel Wireless Optimizer

WiFi AP planning
WiFi coverage detection
Wireless health management

Web UI/ CLI
Yes
SNMP
Yes
Physical Specifications
Item
Dimensions (WxDxH)(mm/in.)
90 x 170 x 29/3.54 x 6.69 x 1.14
Weight (g/lb.)
0.32/0.71
Packing
Dimensions (WxDxH)(mm/in.)
190 x 110 x 55/7.48 x 4.33 x 2.16
Weight (g/lb.)
0.54/1.19
Included accessories

Mount plate
Mounting screws

MTBF(hr)
809,263
Physical Interfaces
Ethernet port

1x 10/100/1000M uplink
3x 10/100/1000M downlink(including on PoE PSE)

Power

802.3at (Full mode include 7W PoE PSE; power draw 20W)
802.3af (Full mode but PoE PSE disabled; power draw 12W)

Environmental Specifications
Operating
Temperature
0°C to 50°C/32°F to 122°F
Humidity
10% to 90% (non-condensing)
Storage
Temperature
-40°C to 70°C/-40°F to 158°F
Humidity
10% to 90% (non-condensing)
Certifications
Radio

FCC Part 15C
FCC Part 15E
ETSI EN 300 328
EN 301 893
LP0002
EN 60601-1-2

EMC

FCC Part 15B
EN 301 489-1
EN 301 489-17
EN55022
EN55024
EN61000-3-2/-3
BSMI CNS13438

Safety

EN 60950-1
IEC 60950-1
BSMI CNS14336-1
Hardware & Smart Antenna: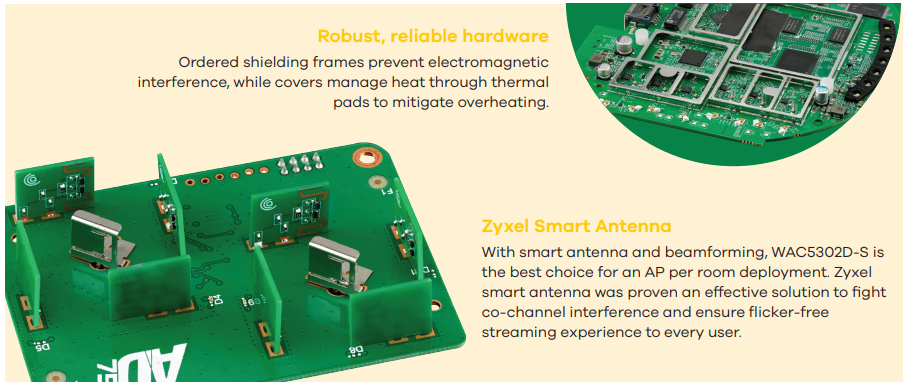 Pricing Notes:
Pricing and product availability subject to change without notice.
Zyxel Products
Zyxel Wireless
Zyxel WAC5302-Sv2 802.11ac Dual-Radio Unified Access Point
#WAC5302D-Sv2
List Price:
$299.99
Our Price: $219.99