Zyxel ZyWALL SSL VPN Client

VPN Client Software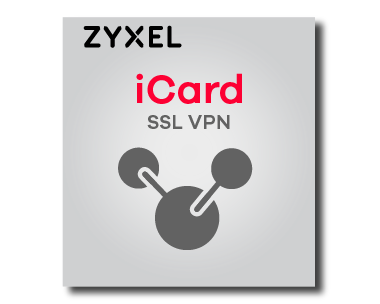 Zyxel Products
Zyxel SSL VPN Client
ZyWALL SSL VPN Client for Mac OS X - Mac OS X Based SSL VPN Client License - 1 Client
#SSLVPNOSX1
List Price:
$29.99
Our Price: $20.00
ZyWALL SSL VPN Client for Mac OS X - Mac OS X Based SSL VPN Client License - 5 Clients
#SSLVPNOSX5
List Price:
$124.99
Our Price: $90.00
ZyWALL SSL VPN Client for Mac OS X - Mac OS X Based SSL VPN Client License - 10 Clients
#SSLVPNOSX10
List Price:
$224.99
Our Price: $160.00
Overview:
SecuExtender, the Zyxel SSL VPN technology, works on both Windows and Mac operating systems. For Windows users, SecuExtender is free from pre-installation of a fat VPN client. Zyxel security appliances will push VPN client and launch auto-installation while user logs in web-based authentication portal. For Mac users, a lite VPN software is provided to set up secured VPN connection.
Simple, Secure Access Anywhere
Businesses from small to large all need to get ready for the growing demands of an increasingly mobile workforce and expanding distributed work sites, to compete in today's global market place. Secure remote access has become an imperative to business success.
Zyxel VPN Clients offer a flexibly easy-to-use, easy-to-manage Virtual Private Network (VPN) solution that provides mobile and distributed users with secure, speed and reliable remote access back to corporate resources. Zyxel offers both SSL VPN and IPSec VPN connectivity options for remote client-to-site access. For SSL VPN, Zyxel SecuExtender provides auto-client connectivity for Windows and easy client connectivity for Mac systems. For IPSec VPN, Zyxel IPSec VPN client enables fast 3-step connection wizard that highly improve the user experience and let VPN connection is no longer a daunting task.
Zyxel VPN Client works with Zyxel security appliances using powerful deep packet inspection technology to scan VPN traffic for malicious threats, worms, Trojans and spyware from remote company employees.
Zyxel USG Series - How to Setup an SSL VPN
Besides IPSec and L2TP VPN, you can also use a broad range of our products to establish an SSL VPN. This tutorial will showcase the basic setup of an SSL VPN on a USG60W, using the SecuExtender Software on Windows 10.
System Requirements:
System Requirements
Zyxel security appliance
Next-Gen USG series
ZyWALL VPN Firewall series
Firmware
Requires firmware version ZLD V4.10 or higher
Client operating system
Windows OS
MAC OS 10.7 or later
Client hardware system
Any 32 or 64-bit Intel Mac
Application Diagram:

VPN Application
Branch offices, partners and home users can deploy Zyxel USGs for site-to-site IPSec VPN connections
Branch offices can additionally deploy IPSec VPN HA (load balancing and failover) for always online VPN connectivity
Remote users can securely access company resources with their computers or smartphones via SSL,IPSec and L2TP over IPSec VPN
The headquarter USG can also establish an IPSec VPN connection with Microsoft Azure for secured access to a variety of cloud-based applications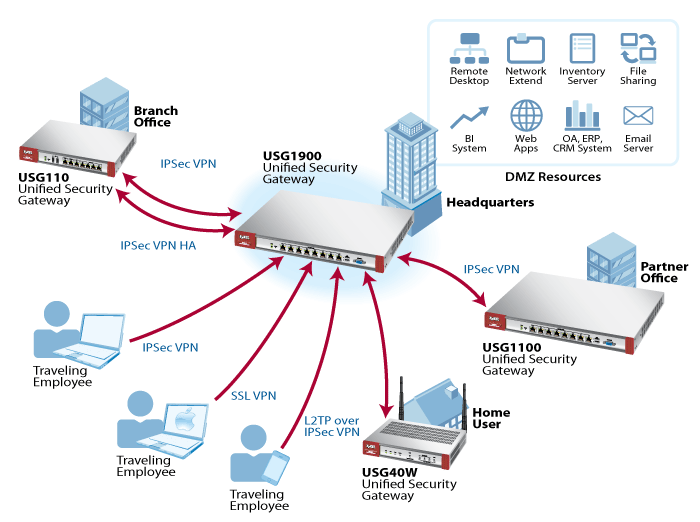 Pricing Notes:
Pricing and product availability subject to change without notice.
Zyxel Products
Zyxel SSL VPN Client
ZyWALL SSL VPN Client for Mac OS X - Mac OS X Based SSL VPN Client License - 1 Client
#SSLVPNOSX1
List Price:
$29.99
Our Price: $20.00
ZyWALL SSL VPN Client for Mac OS X - Mac OS X Based SSL VPN Client License - 5 Clients
#SSLVPNOSX5
List Price:
$124.99
Our Price: $90.00
ZyWALL SSL VPN Client for Mac OS X - Mac OS X Based SSL VPN Client License - 10 Clients
#SSLVPNOSX10
List Price:
$224.99
Our Price: $160.00