Zyxel XGS-4528F

24-port GbE L3 Switch with 10 GbE Uplink

Sorry, this product is no longer available, please contact us for a replacement.
Overview:
Build a High Availability, Robust and Reliable Network— Meet the Challenge of Virtualization
The Zyxel XGS Series of L3 switches enable enterprise and SMB businesses to deploy high availability networks to meet the need to migrate to a virtualized and consolidated solution. The evolution to the virtualized network meets the increasing demands in server utilization and availability within the business today. The XGS4700 and XGS4500 Series compliments the network infrastructure of virtualization as both Series deliver not only robust, reliable enterprise-class L2/L3 switch features but are also designed to accomplish high-availability routing for better utilization of network bandwidth.
The Zyxel XGS4700 Series consists of two models: XGS-4728F and XGS4700-48F. The XGS-4728F off ers 24 dual-personality 1000BASE-T copper/SFP fi ber ports, 2 built-in 12G Gigabit CX4 stacking interfaces and 1 open slot for the optional 10G Gigabit EM-422/412 uplink module which supports up to 2 10G transceivers. The XGS4700-48F off ers 48 SFP Gigabit Ethernet ports plus 2 open slots for 2 10G Gigabit EM-422/412 uplink modules which support up to 4 10G transceivers.
The Zyxel XGS4500 Series consists of two models: XGS-4528F and XGS-4526. Similar to the XGS- 4728F, the XGS-4528F off ers 24 Gigabit dual-personality ports along with 2 built-in 12G Gigabit stacking interfaces and 1 open slot for the optional 10G Gigabit EM-422/412 uplink module which supports up to 2 10G transceivers, while the XGS-4526 provides 20 Gigabit Ethernet ports, 4 Gigabit dual-personality ports and 1 open slot for the optional 10G Gigabit EM-422/412 uplink module which supports up to 2 10G transceivers.
High performance switching
IPv4/IPv6 routing
L3 advanced routing protocols, OSPF, DVMRP, VRRP and ECMP
Optional modular 10 Gigabit Ethernet support
Integrated Security

Multilayer-aware (L2/L3/L4) ACL for security protection and traffic optimization
Guest VLAN

Advanced services

IGMP Snooping v1, v2, v3, MVR
sFlow, CPU protection

High Availability

RSTP, MSTP, MRSTP, VRRP
Removable fan and power modules (XGS4700-48F)
Benefits:
High-performance IPv6 and IPv4 routing
The Zyxel XGS4700/XGS4500 Series provides businesses with a smooth migration path from IPv4 based networks to a full IPv6 infrastructure, providing investment protection for future network upgrades when a larger installation of connected devices is required. The XGS4700/XGS4500 Series utilizes the latest design technology to provide wire speed communication and full-dynamic IP routing features such as RIP, RIPv2 and OSPF as well as special features such as equal-cost, multi-path routing (ECMP) which load balances network traffi c across multiple paths through the network that have the same costing. Packets can be delivered to the same device through diff erent routing paths by designating the equal costs. Businesses can adopt basic static routing technology such as RIP and RIPv2 for small network routing applications or advanced routing protocols such as OSPF and ECMP for load balancing. These protocols are a critical part in the creation of fully resilient scalable networks.
Optional 10G Gigabit uplink capability
The Zyxel XGS4700/XGS4500 Series off ers wire speed 10G Gigabit Ethernet uplink ports for campus networks or service providers to deliver highbandwidth applications for congestion relief and smooth data delivery. With the 10 optional 10G Gigabit modules (CX4 and XFP interfaces), customers can easily integrate new elements into the existing networks and increase bandwidth at critical points of the network without having to go to the additional cost of purchasing whole new network switches.
Intelligent QoS for mission critical applications
In order to ensure the quality of multiple services on a converged network, adopting advanced traffi c control technologies to manage diff erent types of traffi c fl ows is critical and necessary to businesses. The Zyxel XGS4700/XGS4500 Series supports intelligent QoS features to regulate network traffi c for the best performance. Taking advantage of Class of Service (CoS) and Diff erentiated Services Code Point (DSCP) support, network designers and administrators can easily classify and enable traffi c prioritization for critical business applications such as VoIP and video conferencing. In addition, the XGS4700/XGS4500 Series also provides advanced bandwidth control with 64 kbps granularity and 8 hardware priority queues to bring better bandwidth administration to network operators.
High-level security for ultimate network protection
The Zyxel XGS4700/XGS4500 Series works with an intelligent 3-tier security mechanism that off ers complete data and management protection via a wide range of security features to protect subscriber data and deter unauthorized users through eff ective traffi c administration. The 802.1X Authentication and Port Security features provide the ability to stop unauthorized users from accessing the network, while Limited MAC Number by Port limits the total number of devices connected to a switch port, and thus signifi cantly reducing the risk of unknown access from massively deployed wireless networks or hubs. To serve specifi c users such as guests or visitors to the business, the 802.1X Guest VLAN feature allows them to access the Internet via the Guest VLAN without entering the business's internal network.
The multilayer (L2/L3/L4) ACL suite of the XGS4700/XGS4500 Series has sophisticated rule-based control mechanisms that can be easily deployed based on actual network environments via a Web GUI or command-line interface to prevent illegitimate access. The rules can be defi ned to deny packets according to source and destination of MAC addresses, IP addresses or TCP/UDP ports.
Robust and high-availability system design guarantees non-stop operations
The Zyxel XGS4700/XGS4500 Series supports the VRRP routing protocol for resilience within the network to avoid the failure of transmission. The optional DC power source, called BPS, protects the device from internal AC power supply failures, while the IEEE 802.3ad Link Aggregation reduces network downtime by providing more packet paths and bandwidth aggregation to critical devices. The Gigabit connectivity not only gives superb transmission bandwidth, but also allows users to set up Gigabit aggregation for secured critical transmission. The IEEE 802.1w Rapid Spanning Tree Protocol (RSTP) also allows immediate recovery from failed links by sending packets via a backup link path.
In addition, the XGS4700/XGS4500 Series supports CPU protection to provide the switch CPU with automatic protection against malicious network traffi c trying to shut down the switch, which ensures priority/mission-critical tasks to be handled without interruption. The CPU protection feature enables the optimization of switch resources and also strengthens network protection considerably.
Application Diagram:
Single Site Campus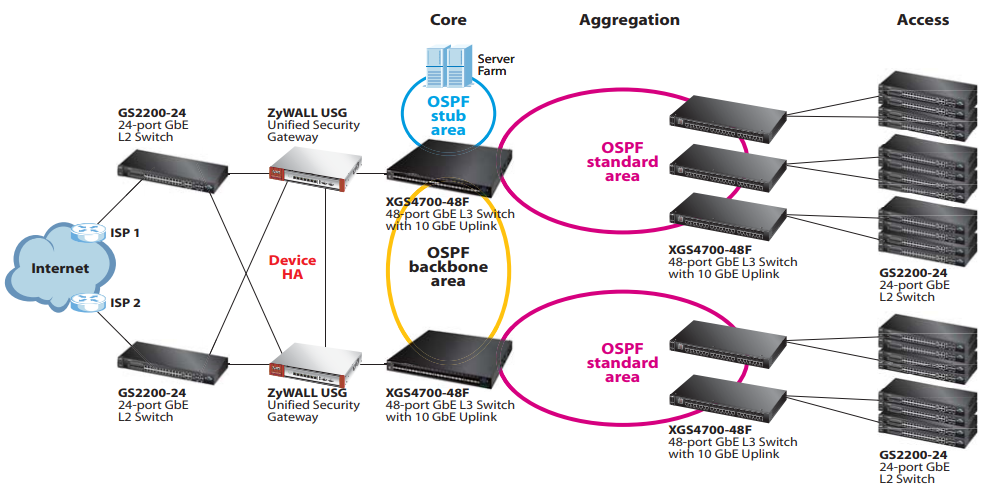 Virtualization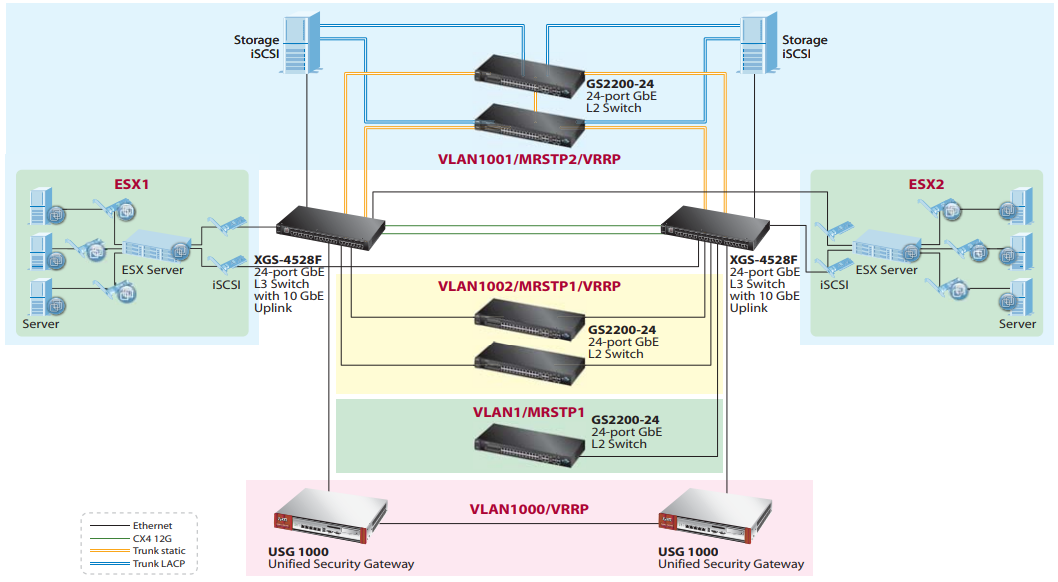 Hotel IPTV Service




Specifications:

Model:
XGS4700-48F
XGS-4728F
XGS-4528F
XGS-4526
Product Images
Product Name
48-port GbE L3 Switch with 10 GbE Uplink
24-port GbE L3 Switch with 10 GbE Uplink
24-port GbE L3 Switch with 10 GbE Uplink
24-port GbE L3 Switch with 10 GbE Uplink
Port Density
1000Base-T
-
-
-
20
GbE Open SFP Slot
48
-
-
-
Dual Personality GbE Ports
-
24
24
4
10G Extend Slot
2
1
1
1
12G Stacking Port
-
2
2
-
Performance
Switching Capacity, Gbps
192
144
144
96
Switching Forwarding Rate, Mpps
143
100
100
71.4
Packet Buffer, Bytes
2M
2M
768K
768K
MAC Address
32k
16k
8k
8k
IP Address Table
8K
8K
2K
2K
Routing Entries
12K
8K
512
512
Routing Domains
128
64
64
64
Certification
Safety
ANSI/UL 60950-1, CSA 60950-1, EN 60950-1, IEC 60950-1
Emission (EMC)
FCC Part15 (Class A). CE EMC (Class A)
Others
EU RoHS Compliant
Power Requirement
Removable Power Module
Yes
-
-
-
Input Voltage of AC
100 - 240 V AC, 50/60 Hz
100 - 240 V AC, 50/60 Hz
100 - 240 V AC, 50/60 Hz
100 - 240 V AC, 50/60 Hz
Input Voltage of DC
-36 to -72 V DC
-36 to -72 V DC
-36 to -72 V DC
-
Physical Specification
Removable Fan Module
Yes
-
-
-
Item dimensions (WxDxH)
440 x 424 x 44.5 mm (17.52 x 16.70 x 1.75 in.)
438 x 310 x 44.5 mm (17.24 x 12.20 x 1.75 in.)
438 x 310 x 44.5 mm (17.24 x 12.20 x 1.75 in.)
438 x 310 x 44.5 mm (17.24 x 12.20 x 1.75 in.)
Item weight
5.4/11.90
4.9/10.80
4.9/10.80
4.8/10.58
Packing dimensions (WxDxH)
583 x 535 x 163 mm (22.95 x 21.06 x 6.42 in.)
580 x 466 x 176 mm (22.83 x 18.35 x 6.93 in.)
580 x 466 x 176 mm (22.83 x 18.35 x 6.93 in.)
580 x 466 x 176 mm (22.83 x 18.35 x 6.93 in.)
Packing weight
7.8/17.20
5.9/13.01
5.9/13.01
5.67/12.50
Environmental Specification
Operating Temperature
0°C to 45°C / 32°F to 113°F
Storage Temperature
-10°C to 70°C / 14°F to 158°F
Operating Humidity
10% to 90% (Non-condensing)
Storage Humidity
10% to 90% (Non-condensing)
MTBF (hr)
77,451
119,814
125,667
119,814
Heat dissipation (BTU/hr)
487.63
289.85
289.85
245.52
Features:
Standard Compliance
IEEE 802.3 10BASE-T Ethernet
IEEE 802.3u 100BASE-TX Ethernet
IEEE 802.ab 1000BASE-T Ethernet
IEEE 802.3x Flow control
IEEE 802.1D Spanning tree protocol
IEEE 802.1w Rapid Spanning tree protocol
IEEE 802.1s Multiple Spanning tree protocol
IEEE 802.1p Class of service, priority protocols
IEEE 802.1Q VLAN tagging
IEEE 802.1X Port Authentication
IEEE 802.3ad LACP aggregation
Traffic Management and QoS
Rate Limiting: Policy-based/Port-based bandwidth control, 64 kbps granularity
Two Rate Three Color Marker (trTCM)
CIR/PIR for bandwidth control
Port-based egress traffic shaping
Broadcast Storm Control
IEEE 802.1p with 8 priority queues per port for different traffic types
Weighted Fair Queue (WFR)/Weighted Round Robin (WRR)/SPQ scheduling algorithm
DSCP/DSCP to 802.1p priority mapping
IGMP/IGMP snooping v1, v2, v3
IGMP throttling
Support IGMP snooping fast leave
Support IGMP snooping statistics
Multicast VLAN Registration (MVR)
Congestion control on all ports
Selective QinQ
IP Routing and Service Features
IPv4

Wire-speed IP forwarding
RIP v1, v2
OSPF
Static Routing
DHCP Server/Relay
OSPF summary address
DVMRP, ECMP
IP port moving
VRRP

IPv6

IPv6 over Ethernet
IPv6 Addressing
ICMPv6
Dual Stack
IPv6 static routing
IPv6 MLD snooping proxy
Neighbor discovery
DHCPv6 relay
Link Aggregation
IEEE 802.3ad LACP link aggregation
Static manually port trunking
Up to 12 aggregation groups, 8 ports per group randomly selected
Link aggregation algorithm of source/destination IP address
Resilient Network
IEEE 802.1w Rapid Spanning Tree Protocol (RSTP)
IEEE 802.1s Multiple Spanning Tree Protocol (MSTP)
Backup Power System (BPS-120)
Switch CPU Protection
User Security and Authentication
IEEE 802.1Q tag-based and port-based VLAN
Support GVRP, automatic VLAN member registration
1K static VLAN, up to 4K dynamic VLAN
Full range 4K PVID support
Port-base VLAN & VLAN isolation
IP Classification VLAN
VLAN counter
VLAN search
VLAN translation
VLAN MAC limit
Intrusion Lock
MAC freeze
MAC search
MAC filtering per port secures access to each port
Port security
Limited MAC number per port
IP Source Guard
Loop Guard
RADIUS MAC login
IP Filtering
TCP/UDP Socket Filtering
BPDU transparency
802.1X port-based authentication
Enhanced 802.1X compensate assignment over VLAN and bandwidth
TACACS+
Layer 2 protocol tunneling
Guest VLAN
Network Administration Security
User name/password required for Web/Telnet/local console administrators
Two-level security by specific SNMP read/write community
Multiple login session
Multiple access permission management
SSH v1/v2
SSL/TLS
Network Management
Zyxel iStacking up to 24 switches managed by single IP address
Web-based management
Telnet CLI
SNMP v1, v2c, v3
RS-232c Local console
IP management: static IP or DHCP client
RMON four RMON groups 1, 2, 3, 9 (history, statistics, alarms, and events)
Port mirroring: Source/Destination/Both port mirroring
IEEE802.1ag CFM
IEEE 802.1AB LLDP
Support transceiver DDMI information (including MIB)
sFlow
Intelligent ACL (L2/L3/L4 Access List Control)
Based on MAC address
Based on VLAN
Based on IP address
Based on Protocol type
Based on TCP/UDP type
Based on DSCP
Hardware
Support of auto-negotiation
Support of auto MDI/MDI-X
Console: D-Sub 9 pin Female (DCE)
Management: 1 out-of-band management RJ-45 port
MIB Information
RFC 1066 TCP/IP-based MIB
RFC 1213, 1157 SNMP v2c/v3 MIB
RFC 2011, 2012, 2013 SNMP v2 MIB
RFC 1493 bridge MIB
RFC 2674 bridge MIB extension
RFC 1643 Ethernet MIB
RFC 2358 Ethernet-like MIB
RFC 1757 RMON group 1, 2, 3, 9
RFC 2819, 2925 Remote Management MIB
Zyxel private MIB
Accessories


10-Gigabit Module (Optional)
Model
Features
EM-412

2-port CX4 10 GbE module
Extended 10 GbE CX4 module for short distance deployment

EM-422

2-slot XFP 10 GbE fiber module
Extended 10 GbE XFP module for long distance deployment

Backup Power System (Optional)
Model
Features
BPS-120

Up to 6 switches can be connected to one BPS-120
Provides power to one switch without adding traffic, user interruption or switch reboot in case of any internal power supply failure on the switch.
Temperature, power and fan speed monitoring

FAN Module (Optional)
Model
Features
FAN4700-48F
Removable fan module for XGS4700-48F
Power Module
Model
Features
ACP4700-48F

Removable AC power module for XGS4700-48F
Requires 100 VAC to 240 VAC, 1.4 A power

DCP4700-48F

Removable DC power module for XGS4700-48F
Requires DC power supply input of -36 VDC to -72 VDC, 3 A Max no tolerance
Transceivers (Optional)
Speed
Model
Type
Description
10 Gigabit
FTLX8511D3 (XFP-SR)
LC connector
Multimode, up to 300 m reach
FTLX1611M3 (XFP-ER)
LC connector
Singlemode, up to 40 km reach
FTLX1412D3BCL (XFP-LR)
LC connector
Singlemode, up to 10 km reach
Gigabit
SFP-1000T
RJ-45 connector
Up to 100 m using standard Ethernet cable
SFP-SX-D
LC connector
SFP SX 550 m commercial type transceiver, DDMI version
SFP-LX-10-D
LC connector
SFP LX 10 km commercial type transceiver, DDMI version
SFP-BX1310-10-D
LC connector
Bidirectional singlemode, up to 10 km reach, DDMI version*
SFP-BX1490-10-D
LC connector
Bidirectional singlemode, up to 10 km reach, DDMI version*
SFP-LHX1310-40-D
LC connector
SFP LHX 1310 wavelength 40 km commercial type transceiver, DDMI version
SFP-ZX-80-D
LC connector
SFP ZX 80 km commercial type transceiver, DDMI version
*: Bi-directional SFP must be used in pairs (For example, connect 1 x SFP-BX1310-10-D and 1 x SFP-BX1490-10-D as a solution)