Zyxel Vantage Report

Network Reporting Analyzer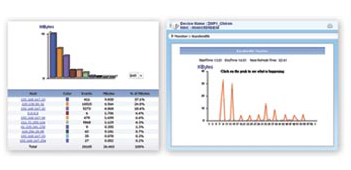 Sorry, this product is no longer available, please contact us for a replacement.
Overview:
Vantage Report (VRPT) is a reporting system for quickly and conveniently collecting and analyzing a distributed network, provides IT administrator of a simple method of monitoring multiple ZyWALL appliances. IT administrator can easily monitor UTM (AV/AS/IDP), DoS/DDoS attack, bandwidth usage and service usage to enhance control of network security.
Web-based Centralized Reporting System
Zyxel Vantage Report is a Web-based, centralized reporting system for quick and convenient collection and analysis of distributed networks, providing system administrators a simple and direct method to monitor multiple ZyWALL Internet security and IDP appliances. The intuitive user interface saves administration and installation time, while predefined dashboard and real-time syslog analysis offers administrators a quick view of network health and log analysis of important devices.
Reporting for ZyWALL Unified Threat Management (UTM)
With the Vantage Report, system administrators can easily monitor network access, site-to-site VPN traffic, attack, intrusion, anti-virus, anti-spam and bandwidth usage of network applications. The information helps IT staff to enhance controls over security and bandwidth management through auditing and tuning the configuration of ZyWALL UTM appliances.
Easy Traffic Analysis
The Vantage Report offers a comprehensive set of real-time and historical reports including firewall attacks, bandwidth usage, Web site usage, VPN site-to-site usage, user activity and more, allowing organizations to response to suspicious activities and to ensure employee productivity. The Vantage Report provides summaries of all network attack types, as well as informative reports on user behavior to identify time-wasting or bandwidth-intensive activities.
Customized Scheduled Reports
The Vantage Report supports customized report templates that administrators can easily define multiple report formats and daily or weekly reporting schedules, allowing users to generate customized reports to share with the management team or archive the reports for future use.
Access and Navigate Your Reports Anywhere
All reporting functions are performed via the Vantage Report's password-protected Web user interface to facilitate deployment and access from a local or remote system using a standard browser. The intuitive design simplifies access and navigation significantly.