Zyxel VMG9823

Wireless AC/N VDSL2 Combo WAN (VDSL+GbE WAN) Modem GbE Gateway AC2050
Zyxel Products
Zyxel VMG9823
VMG9823-B10A - Wireless AC/N VD SL2 Combo WAN 2 FXS ports (VDSL+GbE WAN) Modem GbE Gateway AC2050 with VoIP
#VMG9823
List Price:
$399.99
Our Price: $329.99
Click here to jump to more pricing!
Overview:
The Zyxel VMG4825 and VMG9823 residential gateways (RGs) provides the ultimate broadband and home connectivity experience by combining the advanced bonded VDSL2 features with carrier-grade, dual-band AC2050 WiFi for the most demanding subscribers. Sophisticated Quality of Service (QoS) for incredible video performance, both wired and wireless, and built-in voice ports (VMG4823) are just a few features that make these RGs an ideal platform for premium services. With over 25 years of experience and extensive industry-wide interoperability, Zyxel offers carrier's solid products with reduced deployment times and lasting subscriber experience.
VDSL2 bonding support up to profile 17a
G.Vector support improves broadband performance by up to 150%
AC2050, dual-band WiFi with 1.7Gbps* 802.11ac Wave 2 technology delivering performance boosting features that include Multi-User MIMO (MU-MIMO) and Beamforming
Carrier-grade Quantenna 11ac with 4x4 antenna configuration, optimized for video streaming and IPTV
High powered Wi-Fi on both the 5GHz and 2.4GHz bands for extended coverage and performance
TR-69 remote device management supporting the latest TR181 data model
2 FXS phone ports with support for extensive voice features (VMG9823) • FTTH capable with gigabit Ethernet WAN port
5 gigabit Ethernet ports and a USB port
Benefits:
Bonded VDSL2 with G.Vector
The VMG4825 and VMG9823 supports VDSL2 bonding with vectoring up to profile 17a. Vectoring support reduces cross-talk for up to 150% increase in performance and range for operators.
Carrier-class WiFi for Seamless Mobility
The VMG4825 and VMG9823 offers dual-band Wi-Fi with performance boosting features that include Multi-User MIMO (MU-MIMO) and Beamforming for simultaneous, lag-free streaming and gaming. Rated at AC2050, the new RGs deliver speeds of up to 1.7 Gbps* over 5Ghz and 300 Mbps* over 2.4Ghz. High powered Wi-Fi on both 5GHz and 2.4GHz APs extend coverage, unleashing the best wireless experience for homes with growing number of Wi-Fi devices. In addition, the ability to create multiple Wi-Fi networks with up to 4 SSIDs helps operators easily create separate WLAN networks for video, data, and guests.
Triple-Play Powerhouse
The VMG4825 and VMG9823 are built with sophisticated QoS, multicast traffic shaping features like IGMP v1/2/3 snooping and VLAN capabilities for premium video delivery service. And built-in Quantenna's 4x4, 802.11ac chip is a top choice among operators for wireless IPTV. In addition, operators can easily add voice services with VMG9823's two FXS VoIP ports.
TR-069 Remote Management with TR181 Support
The VMG4825 and VMG9823 support TR-069 that simplifies remote configuration, upgrades, and management thereby reducing cost and improving customer satisfaction. Additional support for the latest TR-181 data model enhances service provider visibility in to subscriber's LAN network for improved customer support.
Key Applications: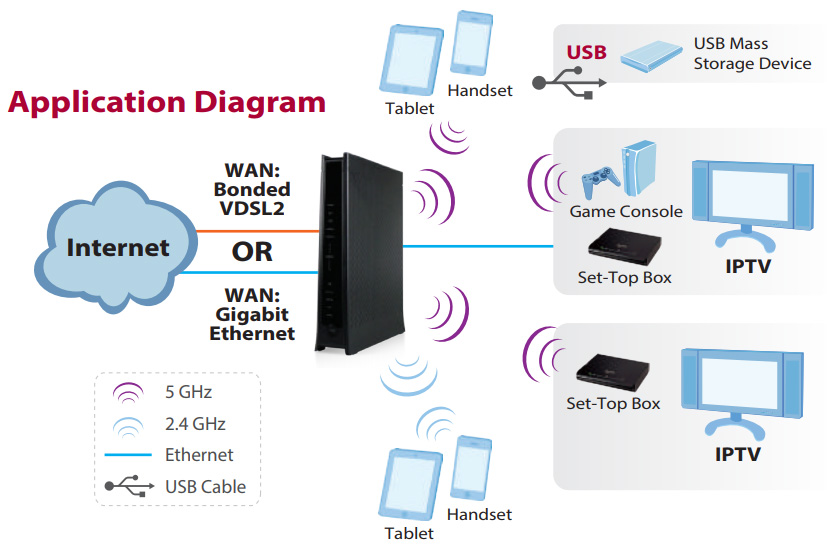 Specifications:
VMG4825 Specifications:
System Specifications
Wireless

5 GHz band

802.11ac support
1.7 Gbps* data rate
Backward compatible to 802.11a/n
4x4 antenna array
High power amplier

2.4 GHz band

802.11n support
300 Mbps* data rate
Backward compatible to 802.11b/g
2x2 antenna array
400mW high power

WEP data encryption (64/128 bit)
WPA/WPA2, WPA-PSK/WPA2-PSK (Wi-Fi Protected Access - Pre-Shared Key)
WPS (Wi-Fi Protected Setup)
Wi-Fi scheduling
Multiple SSID (up to 4)

DSL

VDSL2 (G.993.2) Bonding

200Mbps/100Mbps* down/up data rates
Bonding mode: 8a, 8b, 8c, 8d, 12a, 12b, 17a proles
Single line mode: 8a, 8b, 8c, 8d, 12a, 12b, 17a proles
G.vector (G.993.5)

ADSL/2/2+ Bonding

ADSL (T1.413), G.dmt (G.992.1), G.lite(G.992.2), ADSL2 (G.992.3), ADSL2+ (G.992.5) compliant
Reach Extended ADSL2 (Annex L)
Annex M (G.992.3 / G.992.5)
ATM/PTM transfer mode

G.INP value support up to INP=16
PhyR PHY Level Retransmission Technology
Auto detect for bonding / single line, VDSL2 prole, and ADSL/2/2+ fallback modes

Router/Bridge Features

IEEE 802.1D transparent bridge & basic spanning tree
PPPoE (RFC 2516)
PPPoA (RFC 2364)
MAC Encapsulation Routing / IPoE
Network Address Translation (NAT)
NAT virtual Server (port forwarding)
DHCP client/server/relay with DHCP option 43/60/61/125
DNS proxy/dynamic DNS
Static/Policy Route
IGMP v1, v2, v3
IPv6: Dual Stack, 6RD, DS-Lite

QoS

802.1Q VLAN tagging/un-tagging
Support exible trac classication

Networking

IGMP v1/v2/V3
IGMP snooping
IGMP fast leave

Management

Web/HTTP: 3 level log-in
CLI (Command Line Interpreter) via SSH or Telnet
Firmware upgrade via Web/TFTP/FTP/TR069 RPC method
Text based conguration (XML based)
Conguration backup/update/restore default via Web
Congurable access control for remote management (Interface and / port number)
Trust Domain(support trust domain list)
NTP (Internet Time automatically synchronize)
DSL Forum TR-069, TR-098, TR064, TR111, TR181
SNMP v1, v2
Rom-D support
UPnP port forwarding rules on page
Session login.(for multiple user conguration with login privilege.)
Conguration lter by login privileges

Firewall & Security

Generic packet lter
DoS attack prevention
Parental contro

Hardware Specifications
Interface

WAN: 1 10/100/1000Mbps Ethernet Port
LAN: 4 x 10/100/1000Mbps Ethernet Ports
FXS: 2 phone ports [VMG9823]
Reset: One reset/restore factory default button
USB
DSL

LED

Power/System
DSL 1-2
LAN 1-4
WAN/LAN
WLAN-2.4G/WPS
WLAN-5G/WPS
VoIP 1-2 [VMG9823]
Internet
USB

Power supply
12V/3A
Physical Specifications
Item dimensions (WxDxH)(mm/in.)
59 (W) x 218(D) x 218 (H) mm
Environmental Specifications
Operating Temperature
0ºC to 40 º C
Operating Humidity
10% to 90% (Non-condensing)
Storage Temperature
-30 º C to 70 º C
Storage Humidity
10% to 95% (Non-condensing)
Certification
Certification
FCC/IC/CSA
Pricing Notes:
Pricing and product availability subject to change without notice.
Zyxel Products
Zyxel VMG9823
VMG9823-B10A - Wireless AC/N VD SL2 Combo WAN 2 FXS ports (VDSL+GbE WAN) Modem GbE Gateway AC2050 with VoIP
#VMG9823
List Price:
$399.99
Our Price: $329.99