Zyxel VES-1616FE-55A

16-port Environmentally-Hardened VDSL2 Remote IP DSLAM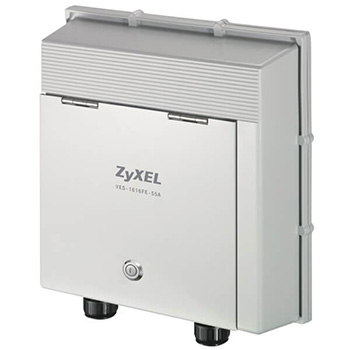 Sorry, this product is no longer available, please contact us for a replacement.
Overview:
Compact, Sealed and Full-featured OSP VDSL2 Technology
The VES-1616FE-55A provides up to two Gigabit Combo ports for the upper layer network connections. Since VDSL2 ports support only 100Mbps in a very short distance, VES-1616FE-55A can provide virtually non-blocking interconnections from the subscriber ports to the network interface ports in most environments and application scenarios.
Various Band Plans Support Different Applications
The VES-1616FE-55A defines seven different VDSL2 profiles as below to suit a variety of different applications.
| VDSL2 Profile | Maximum Downstream | Maximum Upstream |
| --- | --- | --- |
| 8a/b/c/d | 85 Mbps | 18 Mbps |
| 12a/b | 85 Mbps | 45 Mbps |
| 17a | 100 Mbps | 45 Mbps |
The DS1 frequency band of the 17a profile starts at 138 kHz and the edge frequency of the upper band of the 17a profile is 17.664 MHz. The VDSL2 profiles are programmable and they can automatically adapt to each VDSL2 line according to the conditions.