Zyxel VES-1616FE-55A

16-port Environmentally-Hardened VDSL2 Remote IP DSLAM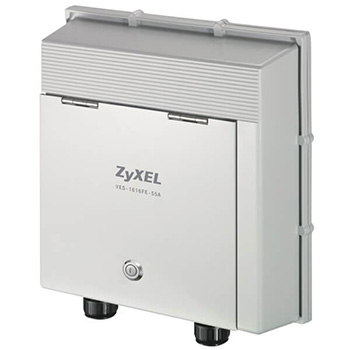 Sorry, this product is no longer available, please contact us for a replacement.
Overview:
Compact, Sealed and Full-featured OSP VDSL2 Technology
The VES-1616FE-55A provides up to two Gigabit Combo ports for the upper layer network connections. Since VDSL2 ports support only 100Mbps in a very short distance, VES-1616FE-55A can provide virtually non-blocking interconnections from the subscriber ports to the network interface ports in most environments and application scenarios.
Various Band Plans Support Different Applications
The VES-1616FE-55A defines seven different VDSL2 profiles as below to suit a variety of different applications.
| VDSL2 Profile | Maximum Downstream | Maximum Upstream |
| --- | --- | --- |
| 8a/b/c/d | 85 Mbps | 18 Mbps |
| 12a/b | 85 Mbps | 45 Mbps |
| 17a | 100 Mbps | 45 Mbps |
The DS1 frequency band of the 17a profile starts at 138 kHz and the edge frequency of the upper band of the 17a profile is 17.664 MHz. The VDSL2 profiles are programmable and they can automatically adapt to each VDSL2 line according to the conditions.
Benefits:
Completed Ethernet VLAN and multicast functions
The VES-1616FE-55A provides Ethernet VLAN features for both security and performance purposes. A VLAN is used to isolate traffics between different users/applications in order to provide better security and performance. By limiting broadcast traffics within the VLAN broadcasting domain, the performance can be enhanced. The IGMP snooping function is provided in VES-1616FE-55A to prevent unnecessary multicast traffic forwarding to all subscribers, thus optimizing bandwidth utilization for multicast applications such as broadcast video.
MVLAN consolidates same video stream requested by different VLANs
The multicast VLAN feature checks all VLANs to see if some have requested the same video stream. If they have, only one request instead of many will be issued and the stream is distributed to all requesting VLANs. The total amount of the video streams can be reduced significantly as a result.
Service Differentiation from Rate Limiting
In order to fulfill different customer needs, service providers need a network infrastructure that combines guaranteed performance and flexibility in service provisioning. Upstream rate limiting on VDSL2 subscriber ports allows services to step up with 32 Kbps increments for service providers to offer tiered services.
Upstream Access Control Mechanism
The VES-1616FE-55A supports not only 802.1x port-based access control for subscriber authentication, but also defines a limited number of MAC addresses that can access the network from a particular port. This feature denies unauthorized access to the DSCAM to significantly enhance network security. Another access control feature is the capability to limit the number of users (MAC addresses) who can access the network simultaneously on a per-port basis, allowing service providers to offer flexible billing plans. Besides that, VES-1616FE-55A provides per-port packet classification rules based on the header information of up to layer 4 and corresponding action rules to manipulate the matched packets as needed.
DHCP Snooping
The VES-1616FE-55A provides a DHCP snooping mechanism to prevent users from using static IP addresses. If a port is DHCP-enabled, IP packets from the port cannot pass through the line card if the IP addresses of the packets are not leased by the DHCP snooping mechanism.
Expanded Revenue Opportunity
In addition to the VDSL2 PTM mode service, the VES-1616FE-55A also provides ADSL2+ fallback feature. When the feature is turned on, the DSLAM will detect if one of the customer devices is an ADSL2/2+ CPE, and the operation mode of the corresponding port is switched to ADSL2/2+, and a corresponding connection is established through the port to the customer device. This feature empowers VES-1616FE-55A to become a suitable solution for Telco operators to start the migration from ADSL2+ to VDSL2 services.
Double-tagging Service
The VES-1616FE-55A provides IEEE 802.1ad VLAN stacking functions. When enabled, the function can add the provider's s-tag for incoming c-tag frames without checking c-tag value, add s-tag to untagged incoming frames, or add c-tag and s-tag simultaneously to untagged incoming frames. The added tags will be removed while the frames move toward subscribers. Moreover, different ports can apply the same s-tag and c-tag values. With the mechanism, operators can easily identify traffics from different users/applications and route the traffics to corresponding ISPs.
Specifications:
VES-1616FE-55A Specifications:
System Specifications
System Specifications

Network Interface: 2 x Gigabit Ethernet combo ports (100/1000 Based-T and SFP)
Subscriber Interface: 16 quick connectors for 16-port VDSL2 subscribers (with surge protection) and 16 quick connectors for POTS interfaces (600 Ohm)
One serial console port for local management (DB-9)
One out-band management Ethernet port
One alarm port (RJ-45 connector)
The LEDs show VDSL2 connection status
One DB9 for 4 in and 1 out alarm contract
Fiber-Optic tray
Attaching the mounting bracket
AC universal input connector

Features

ADSL2+ & VDSL2 profile management
Alarm profile management
CLI/Web GUI/Telnet/MIB
STP/RSTP
IEEE 802.1Q
TLS (Q-in-Q)
Double tagging
DHCP option 82 (circuit ID & remote ID)
DHCP relay
802.3ad and static link aggregation

Multicast

IPv4 multicasting
IGMP v1, v2 and v3 snooping/proxy
Multicast VLAN (up to 16)
Support 512 multicast groups
Support intermediate leave
Support 24 members in a multicast group
Static multicast forwarding
IGMP group count limiting per VDSL port
IGMP 128 filtering profile with each profile having 16 multicast address ranges
Support the function to limit the number of IGMP messages on each subscriber interface or each subscriber interface unit per second

Security

Port isolation
Rule-based ACL filtering based on MAC address, IP address, protocol ID, UDP/TCP port number, Ethernet type
ARP/DHCP broadcast & NetBIOS packet filtering
IGMP filtering

Hardware Specifications
Hardware Configuration

Profile 8a, 8b, 8c, 8d, 12a, 12b and 17a
INP capability: Support the capability of impulse noise protection (INP) as defined in ITU-T Rec. G.993.2. The minimum impulse noise protection (INP MIN) can be configurable (from 0 to 16)
Fixed rate and rate adaptive
Power back off (UPBO & DPBO)
Standard RFI configuration
ADSL/POTS band off
Interleave delay setting
Limit PSD mask: to reduce the impact of interference and attenuation, available options are listed as following: nus0_d32, eu32_d32, eu36_d48, eu40_d48, eu44_d48, eu48_d48, eu52_d64,eu56_d64, eu60_d64, eu64_d64, eu128_d128, 997_like
Loop diagnostics (SELT & DELT)
ADSL2+ fall back

Power Consumption
50W maximum
Physical Specifications
Dimension

Item Dimension: 380.5 (W) x 104 (D) x 390 (H) mm
Packing Dimension: 530 (W) x 280 (D) x 555 (H) mm

Weight

Item Weight: 9000 g (19.89lb)
Packing Weight: 10400 g (22.98lb)

Environmental Specifications
Operating temperature
0°C ~ 60°C
Operating humidity
10% to 95% (Non-condensing)
Storage temperature
-40°C ~ 70°C
Storage humidity
5% to 95% (non-condensing)
Certification
Reliability
EMC

FCC Part 15 Class A
EN55022 Class A
ETSI300-386

Safety

EN60950-1
CSA60950-1
UL60950-1
IEC60950-1