Zyxel UAG2100

Unified Access Gateway
Sorry, this product is no longer available. Please Contact Us for a replacement.
Overview:
The All-in-one Guest Access Solution of Tomorrow, Delivered Today
High quality Internet service is no longer optional for hospitality businesses. It is a guest expectation and a key to customer satisfaction. Yet, providing satisfactory Internet access is not simply a matter of installing Ethernet cables and wireless access points where guests need them. Hospitality businesses need to address the issues of access management, regulation compliance, and providing sufficient bandwidth for an exploding amount of wireless mobile devices.
The Zyxel UAG2100 Unified Access Gateway is a next-generation, all-in-one wireless hotspot/access gateway designed to fulfill the hospitality challenges of both today and tomorrow. In addition to account management, billing, and data retention capabilities, the UAG2100 offers premium features—like 802.11 a/b/g/n dual-radio Wi-Fi and a built-in WLAN controller—to deliver better scalability, capacity, and performance to fulfill tomorrow's guest access demands.
IEEE 802.11 a/b/g/n dual-radio (2.4 GHz and 5 GHz) design
Supports 100 concurrent logins by default and up to 200 via license upgrade
Integrated account generator,Web-based authentication portal and billing system
Supports external RADIUS servers
Per account bandwidth management
SP350E Service Gateway Printer enables one-click account and billing generation
Built-in WLAN controller
Facilitates compliance with data retention regulations
Benefits:

Increasing customer loyalty
Virtually everyone today has at least one wireless mobile device, like smartphones, tablets, and laptops computers. Yet, yesterday's hotspot gateways can no longer handle the exploding amount of wireless mobile devices that need Wi-Fi access. To satisfy this fast-growing demand, hospitality businesses need a solution that can provide greater Wi-Fi bandwidth, capacity and performance.
The Zyxel UAG2100 is a next-generation wireless hotspot/access gateway that provides better performance, capacity, and service quality than other similar solutions. Its 802.11 a/b/g/n dual-radio(2.4 GHz and 5 GHz) design provides 2x the spectrum and 2x the bandwidth to accommodate a much larger amount of wireless devices. Its high performance hardware architecture can support 100 concurrent logins by default, and up to 200 concurrent logins via license upgrade. It also offers granular bandwidth management capabilities to enforce equal bandwidth sharing, avoid bandwidth abuse, and provide the service quality necessary to increase customer loyalty and attract new customers.
Generating revenue
The Zyxel Unified Access Gateway is designed with advanced billing, user authentication, and access control features that help hospitality businesses manage guest accounts, block unauthorized access, and generate revenue with their Internet services. It gives hospitality businesses the flexibility to offer Wi-Fi access as a free service, a tiered service (premium when a purchase is made), or a paid service, depending on the preferred business model.
Guest account management: Featuring a built-in account generator and a Web-based authentication portal, the UAG2100 helps hotspots provide controlled network access to guests with ease. Simply by entering the provided account information in the captive portal, guests can get secure wired or wireless access to the Internet in a matter of seconds. Additionally, the UAG2100 supports external RADIUS servers and external portal page redirection for added deployment flexibility.
Billing system: Hotspots can create up to 10 pre-paid billing plans with the UAG2100. Billing plans can be customized with varying bandwidth speeds, service duration, and level of payment.
SP350E Service Gateway Printer: The SP350E and UAG2100 combination is the perfect solution for Wi-Fi hotspot applications. The SP350E enables one-click billing and account generation, which offers easy operation for staff members and smooth services flows in hotel lobbies, conference rooms, waiting areas and busy restaurants and cafés.
SMS ticketing: The UAG2100 supports SMS ticketing with ViaNett* to provide improved convenience for both the business owner and the customer. With support for SMS ticketing, the UAG2100 allows business owners to send Internet account and billing information directly to the customer's mobile phone, without needing to spend loads of money building an independent SMS ticketing system. This feature offers a cheaper and more environment-friendly ticketing solution compared to paper ticketing, and reduces the inconvenience related to customers loosing or forgetting paper tickets.
*UAG2100 SMS ticketing support is by license
Meeting the challenges of future audit
To address information security concerns, hospitality businesses are sometimes required to retain Internet usage records for a certain amount time; and this can become a significant burden for the businesses without the right equipment. Designed with the hospitality industry in mind, the Zyxel UAG2100 helps the businesses resolving the challenges. With a syslog server built-in, the UAG2100 can automatically record user account information, MAC addresses, source and destination IPs, data volume and protocol types for future auditing requirements.
Application Diagram:
Wi-Fi Hotspot Application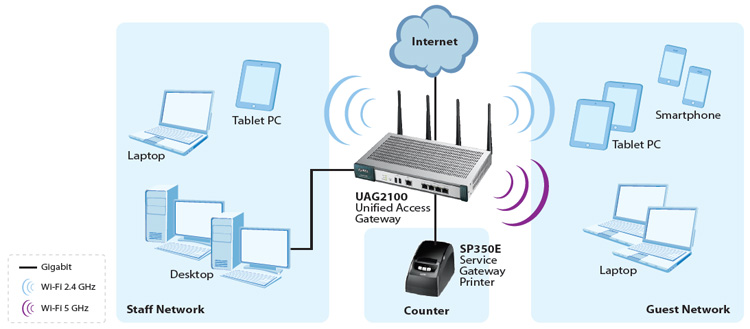 Specifications:
| | |
| --- | --- |
| | |
UAG2100 Specifications
Hardware Specifications
10/100/1000 Mbps RJ-45 ports
4 x LAN, 1 x WAN
USB ports
2
Ticket printer support
Yes (up to 10 printers)
System Capacity & Performance*1
Routing throughput (Mbps)*2
150
Concurrent logins (default/max.)
100/200
Max. concurrent sessions*3
20,000
DHCP pool size
4,096
WLAN Management
Built-in WLAN controller
Yes
Managed AP number (default/max.)
0/8
SSID
8
Wireless Specifications
Standard compliance
802.11 a/b/g/n
Radio
2
Antennas
2.4 GHz: 2T2R MIMO
5 GHz: 2T2R MIMO
(Detachable, SMA-R)
Wireless throughput (Mbps)*4
187 (2.4 GHz); 190 (5 GHz)
Max. output power (2.4 GHz)
802.11b: 12.5 dBm @ 11 Mbps
802.11g: 12 dBm @ 54 Mbps
802.11n: 12 dBm @ 20 MHz
802.11n: 13 dBm @ 40 MHz
Max. output power (5 GHz)
802.11a: 22.5 dBm @ 54 Mbps
802.11n: 23 dBm @ 20 MHz
802.11n: 23 dBm @ 40 MHz
Radio sensitivity (2.4 GHz)
802.11b: ≤ -90 dBm @ 11 Mbps
802.11g: ≤ -79 dBm @ 54 Mbps
802.11n: ≤ -72 dBm @ 20 MHz
802.11n: ≤ -70 dBm @ 40 MHz
Radio sensitivity (5 GHz)
802.11a: ≤ -79 dBm @ 54 Mbps
802.11n: ≤ -72 dBm @ 20 MHz
802.11n: ≤ -68 dBm @ 40 MHz
Power Requirements
Power input
12 V DC, 3 A max.
Max. power consumption (watt)
28
Physical Specifications
Item
Dimensions (WxDxH)(mm/in.)
272 x 171 x 36 / 10.71 x 6.73 x 1.42
Weight (kg/lb.)
1.46 / 3.22
Packing
Dimensions (WxDxH)(mm/in.)
416 x 247 x 71 / 16.38 x 9.72 x 2.80
Weight (kg/lb.)
2.3 / 5.07
Included accessories

Power adapter
Rack mounting kit
Antenna

Environmental Specifications
Operating
Temperature
0°C to 40°C (32°F to 104°F)
Humidity
10% to 90% (non-condensing)
Storage
Temperature
-30°C to 70°C (-22°F to 158°F)
Humidity
10% to 90% (non-condensing)
MTBF (hr)
497,644
Certifications
EMC
FCC Part 15 (Class B), CE EMC (Class B), C-Tick (Class B), BSMI
Safety
LVD (EN60950-1), BSMI
Note:
*1: Actual performance may vary depending on network conditions and activated applications.
*2: Routing throughput measured using the industry standard IXIA IxLoad testing tool (1,460-byte TCP packets).
*3: Maximum sessions measured using the industry standard IXIA IxLoad testing tool.
*4: Wireless throughput measured using the industry standard IXIA IxLoad testing tool (20/40 MHz, WPA2-PSK).
Features:
Networking

Universal Plug and Play (UPnP)
IP Plug and Play (iPnP)
NAT/PAT
Static routing and policy routing
DHCP client/server/relay
HTTP proxy support
SMTP redirection
VPN 1-to-1 mapping
VPN pass-through
WAN client: static, DHCP, PPPoE, PPTP
Tagged VLAN (802.1Q)
DDNS

Security

64/128-bit WEP data encryption
WPA-PSK TKIP data encryption (Wi-Fi Certified)
WPA2-PSK AES data encryption (Wi-Fi Certified)
WPA/WPA2-Enterprise
Stateful packet inspection firewall
L2 isolation
User-aware security policy
SSL login page
Session limit
IP pass-through (white list)

AAA & Billing

Web-based authentication
User agreement login
External RADIUS support
Secondary RADIUS server support
Built-in billing system

Time-to-finish accounting mode
Accumulation accounting mode

10 customizable billing profiles
Built-in account generator

50 static accounts
2,000 dynamic accounts

Multiple logins with pre-configured accounts
Bandwidth management (per account)
Credit card billing via PayPal
Thermal Printer supper (up to 10)
SMS ticketing support with ViaNett*
*UAG2100 SMS ticketing support is by license

Marketing

Advertisement link
Walled garden
Login page redirection
Portal page
Customizable login page
Customizable information window
Customizable user agreement page

System Management

Administrator access: WAN and LAN
Web Management (HTTP/HTTPS)
Secure administrator IP address
SNMP v2c (MIB-II)
Configuration backup and restoration
Role-based administration (Admin, guest operator)
Command line interface (console/web console/SSH)

Monitoring and Reporting

Email log
Syslog: account, IP, MAC, traffic & protocol (data retention)
Session list
Account list
Billing report
DHCP client list

WLAN Management

Zyxel AP Controller (APC) 1.0 compliant
Client RSSI threshold to prevent sticky clients
IEEE 802.1x authentication
Wireless Layer 2 isolation
Captive portal Web authentication
Customizable captive portal page
Dynamic guest accounts
RADIUS authentication
Wi-Fi Multimedia (WMM) wireless QoS
CAPWAP discovery protocol
Accessories
Model
SP350E Service Gateway Printer

Buttons: 3
Paper roll width: 58 (+0/-1) mm
Interface: 10/100 Mbps RJ-45 port
Power input: 12 V DC, 5 A max.
Item dimensions (WxDxH): 176 x 111 x 114 mm (6.93" x 4.37" x 4.49")
Item weight: 0.8 kg (1.76 lb.)
Pricing Notes:
Pricing and product availability subject to change without notice.
Zyxel Products
Zyxel iCard AP License Upgrade
ATP / USG FLEX / USG / ZyWALL / UAG iCard AP Controller Upgrade Add 2 APs
#ICAP2USGZW
List Price:
$110.00
Our Price: $80.00
USG / ZyWALL / UAG iCard AP Controller Upgrade Add 4 APs for USG / ZyWALL / UAG Series
#ICAP4USGZW
List Price:
$227.99
Our Price: $160.00