Zyxel Cloud CNM SecuManager

Global Network, Local Control. Large Scale, Small Expense.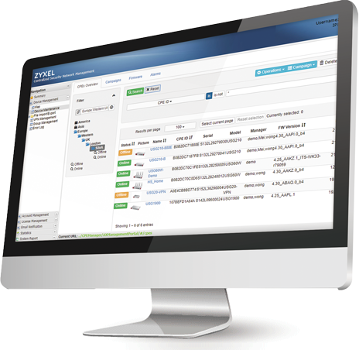 Sorry, this product is no longer available, Please contact us for a replacement.
Overview:
For both internal and global network deployments, the centralized management features of Zyxel's next-generation firewalls minimize administrative efforts and operating costs especially for multiple-site or large-scale deployments.
The Zyxel Cloud CNM SecuManager is a comprehensive network management software that provides an integrated console to monitor and manage security yateways including the ZyWALL USG and VPN Series that can be extended in the future. It offers a great set of features that come together to bring you four benefits - centralized control, easy management, smart monitoring, and advanced provisioning over your network, ultimately to unlock your business potential.
Why Cloud CNM SecuManager
Centralized Control
Boost business expansion
Minimize overhead expense.
Easily scalable
Interface to device portal
Smart Monitoring
Compartmentalize Manageability Leverage Google MAP with GeoIP.
3-Levels account Mgt
Auto GeoIP map view
Easy Management
Simplify device management
Auto-run reoccurring campaigns.
Firmware and configuration management
Group configuration
Scheduling
Advanced Provisioning
Enable versatile VPN scenarios Provisioning for single or group device(s).
Various scenarious of VPN provision
Single device provision
Benefits:
Low TCO for massive deployments and device maintenance
The Zyxel Cloud CNM SecuManager enables quick configuration of a single device or a group of devices to improve management efficiency and to reduce overhead for massive deployments.
It allows administrators to conduct firmware upgrade for multiple devices and to minimize end-user service disruption with the scheduling option. The device settings can be saved and restored on a regular basis or on demand, while the group operation design relieves network maintenance efforts for administrators.
Group tasks to save work time
IT staff often find themselves bogged down, wasting time on setting up the same configurations for multiple devices over and over again. Zyxel Cloud CNM SecuManager streamlines and simplifies such operations so that tasks can be easily added to predefined device groups. All scheduled tasks can then be executed automatically or manually in groups.
Fast, reliable VPN provisioning with ease of integration
The Zyxel Cloud CNM SecuManager provides quick and easy service activation of VPN provisioning to accelerate consistent, reliable multi-sites deployments. It also reduces time and complexity to enable cost-effective supports for varying requirements across the network as there are four types of VPN provisioning: site-to-site, full mesh, hub and spoke, and remote access. When IT staff needs to check on a deployment, the VPN connection status for either a single device or a community can be easily monitored. This makes it easy for administrators to track tunnel status to stay on top of overall network conditions and make quick comparisons for debugging. The intelligent management of Zyxel Cloud CNM SecuManager accelerates speed of service deployments for improved operating efficiency.
Automatically locate devices
When registering a device to the server, IT staff usually needs to manually input the exact country, city or even real address to determine the device location. If above information is unavailable, the location cannot be mapped. Zyxel Cloud CNM SecuManager solves this dilemma by providing a precision GeoIP service that automatically locates the device using its extensive GeoIP database.
Application: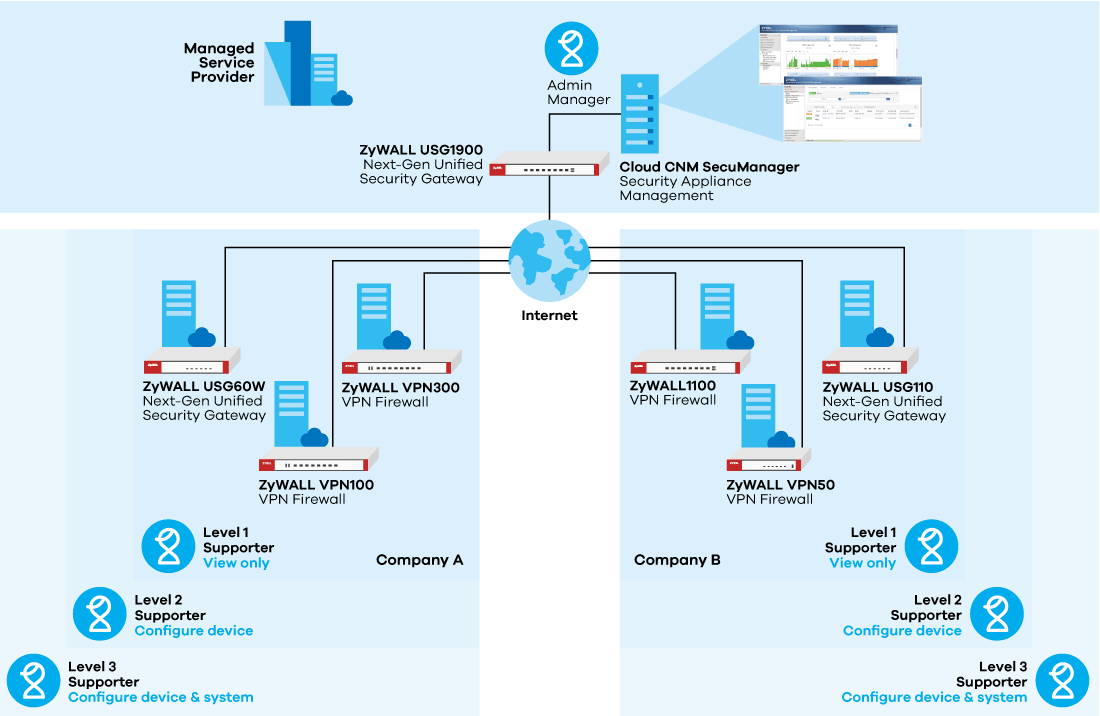 VM System Requirements
| Per Virtual Machine | Up to 50 Nodes | Up to 250 Nodes | Up to 500 Nodes | Up to 1000 Nodes |
| --- | --- | --- | --- | --- |
| Instances required | 1 | 1 | 1 | 1 |
| CPU cores | 2 | 2 | 4 | 8 |
| RAM (GB) | 8 | 16 | 24 | 32 |
| HDD size or space on theSAN (GB) | 50 | 50 | 100 | 200 |
| Number of network interfaces | 4 | 4 | 4 | 4 |
Supported VM Server:
VMware ESXi Server (v5.10 or later)
Windows Hyper-V 3.0 (Hyper-V Server 2012, Windows Server 2012 or later)
Browser Support:
Chrome : 55 +
Edge : 14 +
Safari : 9 +
Firefox : + 48 up
Account Management
Cloud CNM SecuManager provides multiple account types with different privilege levels:
Level 1 supporter: Access to support portal; read-only.
Level 2 supporter: Access to support portal; read/write operations are allowed without server-level access
Level 3 supporter: Same privileges as admin
Administrator: Application server-level access, full device access, user group definition, device database import and mass operations
* Note : License owner could use the same account to login MZC.
License Service:
SecuManager license Portfolio
Starter package with 10 nodes for 1 year
License package:

Annual maintenance to continue using device & VPN provisioning functions
Trial license offer: 90-day trial period with 10 nodes

One-time fee for multiple node options that can scale up to 1,000 capability
License activation, license transfer, scale up and management all through myZyxel.com2.0
| License | Description |
| --- | --- |
| Start up one-year package with 10 nodes | Mandatory with new installation |
| Add 10 nodes | Additional for more managed devices |
| Add 50 nodes | Additional for more managed devices |
| Add 200 nodes | Additional for more managed devices |
| Annual Maintenance | Fixed-rate activation fee required starting from the second year |