Zyxel PLA5256

1000 Mbps Powerline Pass-Thru 2-Port Gigabit Ethernet Adapter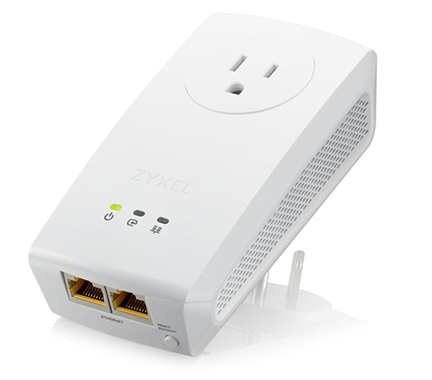 Sorry, this product is no longer available, please contact us for a replacement.
Overview:
Build Fast, Stable Home Networks with Gigabit Powerline Adapter
You have a wired network device in another room that needs Internet connection, but you don't want the mess running a long Ethernet cable to it? Grab a Zyxel PLA5256, 1000 Mbps Powerline Pass-Thru 2-Port Gigabit Ethernet Adapter. The PLA5256 utilizes the latest HomePlug AV2 technology that delivers wired speed of up to 1000 Mbps* through your power outlets — great for streaming HD video contents or playing intensive multiplayer online games. The PLA5256 features two Ethernet ports, making it perfect for connecting living room network devices such as set top boxes or video game consoles. With the convenient pass-through power outlet design, it doesn't block the existing wall power outlets from other devices that require it.
Up to 1000 Mbps powerline over latest technology for smooth HD video playback
Two Gigabit Ethernet ports to connect up to two devices
Pass-through design returns you a power outlet
Built-in Quality of Service (QoS) ensures the best networking experience for your devices
Color LED indicator lights notify you of powerline network performance
Compliance with the existing IEEE 1901 and HomePlug AV technologies
* The theoretical maximum channel data transfer rate is derived from HomePlug AV2 specifications. Actual data transfer rate will vary from network environment including: distance, network traffic, noise on electrical wires, quality of electrical installation and other adverse conditions.