Zyxel PLA4101

200 Mbps Mini Powerline Ethernet Adapter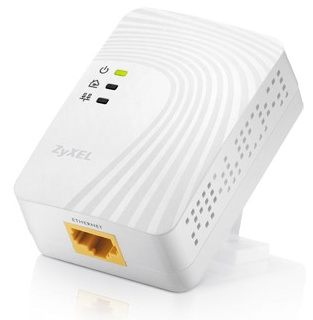 Sorry, this product is no longer available, replace by the PLA5456KIT
Overview:
Mini Powerline Adapter Enriches Your Digital Home Lifestyle
The Zyxel PLA4101 200 Mbps Mini Powerline Ethernet Adapter provides the easiest way to create a powerline network. Just plug a pair of PLA4101 into electrical outlets and connect your network devices to them and you can immediately enjoy HD media streaming, multiplayer gaming and other network applications simultaneously in every room.
Compact plug-and-play design
QoS enhances media streaming quality
Power-saving mode reduces energy waste
Encrypt button for easy security setup
128-bit AES encryption for network security
Multi-color LED indicates Powerline network quality
Benefits:
Plug-and-play, compact design for easy setup
The mini-size Zyxel PLA4101 gives you the installation flexibility to turn power lines into a home network without blocking power outlets nearby. Install a pair of plug-and-play PLA4101, and then you can easily extend your home network through any electrical outlet for Internet access by HDTVs, Bluray ™ players, DVRs, PCs and game consoles.
Enjoy stable HD videos and gaming
Powered by HomePlug AV technology*, the Zyxel PLA4101 can provide a stable, high-performance network for everyone to enjoy HD streaming, gaming and Web surfing simultaneously.
QoS-enhanced media streaming quality
The advanced Quality of Service (QoS) features improve the quality of media streaming applications such as triple-play services by traffic prioritizing, HD video streaming, high-speed Internet access and VoIP.
Green product saves energy consumption
When there is no Ethernet connection or active network usage in 60 seconds, the PLA4101 will enter a power-saving mode that consumes only 0.5 watt to save energy by over 80% comparing to adapters without this function. In addition, the PLA4101 meets 2013 EUP low-power consumption standard to save your energy expense effortlessly.
Easy security setup
Data transmission is protected by the 128-bit Advanced Encryption Security (AES) mechanism to provide a secure connection to the Internet. Encryption can be configured with a simple button press on both of the PLA4101 units—no complicated setup or additional software required.
Specifications:
System Specifications

Standard

Data transfer rate of up to 200 Mbps data rate*
Compatible with HomePlug AV standard

Access Methods

CSMA/CA channel-access schemes

Range

Max. range up to 300 meters over power line

Power Saving Mode

Without Ethernet link or out of network usage in 60 seconds

Security

Quality of Service (QoS)

ToS
Supports up to 4-level type QoS
Supports up to 8-level VLAN priority field

Frequency Band

Dynamic Neighbor Network Support

IGMP

System Requirements

Operating system independent:
Utility Software OS support:

Microsoft Windows XP/Vista/7

Hardware Specifications

Ethernet interface: One 10/100 Mbps RJ-45 connector with auto MDI/MDIX support
LED indicators:

Power on/off
Powerline network quality:

Green: Best; Amber: Better; Red: Good

Ethernet link/activity

Button: Encrypt/Reset button
Power rating: 100 to 240 V AC, 50/60 Hz
Power consumption:

Full operation: 2 watt max.
Power-saving mode: 0.5 watt max.

Plug type:

EU type: Two pins for EU 220 V
US type: Two pins for US 120 V
UK type: Three pins for UK 240 V

Physical Specifications

Item dimensions (WxDxH): 50 x 25 x 70 mm (1.97" x 0.98" x 2.75")
Item weight: 77 g (0.17 lb.)
Packing dimensions (WxDxH): 148 x 118 x 81 mm (5.83" x 4.65" x 3.19")
Packing weight: 267 g (0.59 lb.)

Environmental Specifications

Operating Environment

Temperature: 0°C to 40°C (32°F to 104°F)
Humidity: 10% to 90% (Non-condensing)

Storage Environment

Temperature: -30°C to 70°C (-22°F to 158°F)
Humidity: 10% to 95% (Non-condensing)

Certification

Safety: CE-LVD, BSMI
EMC: CE, FCC, BSMI

Packing Contents

Powerline Ethernet Adapter
Ethernet cable
Quick start guide
Support CD
Warranty card

* The theoretical maximum channel data transfer rate is derived from HomePlug AV specifications; however the maximum throughputs may be limited by the Fast Ethernet ports. Actual data transfer rate will vary with network environment conditions including: distance, network traffic, and noise on electrical wires, quality of electrical installation and other adverse limits.
Diagram: