Zyxel P-660HNU-F1

300 Mbps Ultra High-speed 802.11n ADSL2+ Wireless Security Gateway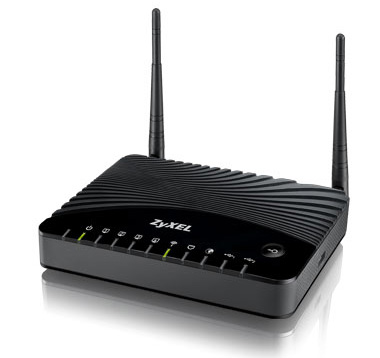 Zyxel Products
Zyxel Ethernet Gateways
Zyxel P-660HNU-F1 Wireless N ADSL2+ 4-port Security Gateway with USB
#P661HNU-F1
List Price:
$189.99
Our Price: $164.00
Click here to jump to more pricing!
Overview:
The 802.11n technology provides the ultimate solution for high-speed wireless connection with data rates of up to 300 Mbps. The 2x2 technology makes use of your home environment by bouncing wireless signals off of walls and ceilings to work around obstructions. The P-660HNU-F1 exceeds high-speed wireless access requirements for impressive performance, extended range, co-existence with other 802.11 b/g clients and access points as well as the ability to eliminate Wi-Fi dead spots.
Powerful throughput and better range with Wi-Fi 802.11n performance
Lag-free on-line gaming experience
Eco-friendly wireless power on/off button with wireless scheduling feature
Embedded QoS prioritizes traffics for time-sensitive applications
File sharing and exchange via USB 2.0
Stylish, user-friendly GUI
Benefits:
Lag-free on-line gaming experience
The P-660HNU-F1 has friendly QoS settings for gamers to enable a group of users to experience the benefits from smooth network connections. A simple click turns on the setting and allows users to enjoy high ADSL transmission speed for online gaming over the Internet without concerning about traffic congestion.
Stylish, user-friendly GUI
The fashionable Web-based user interface makes it extremely easy for users to install and manage the P-660HNU-F1. The intuitive Web interface and user-friendly configuration steps will bring a fresh feeling to users.
Applications with Firewall
The P-660HNU-F1 provides the stateful inspection filtering capability and Firewall network protections. With the default firewall setting, outgoing and incoming traffics from the protected LAN are blocked. The firewall supports TCP/UDP inspection, Denial of Services (DoS) detection and prevention, real time alert, reports and logs.
Specifications: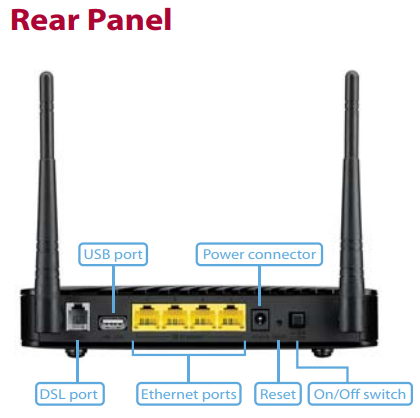 P-660HNU-F1 Specifications:
System Specifications
ADSL Compliance

Support Multi-Mode standard (ANSI T1.413, Issue 2; G.dmt (G.992.1); G.lite (G992.2)). EOC specified in ITU-T G.992.1
ADSL2 G.dmt.bis (G.992.3)
ADSL2 G.lite.bis (G.992.4)
ADSL2+ (G.992.5)
Seamless Rate Adaptation (SRA)
Support PPP over ATM AAL5 (RFC2364)
PPP over Ethernet support for DSL connection (RFC 2516)
Support up to 7 PVCs
I.610 F4/F5 OAM
G.998.4 G.INP

WLAN

IEEE 802.11 b, g, n compliance
2.4 GHz frequency band
Data rate up to 300 Mbps
OFDM Multiplexing
WEP, TKIP, AES data encryption
32 MAC address filter
WPA-PSK, WPA2-PSK support
Multiple SSID (4 SSID support)
Wireless Scheduling
WPS support

Router

NAT (enhance to 6144 NAT sessions)
SIP ALG pass-through
Protocol and generic packet filter
DNS proxy
DHCP client/server/relay
RIP I/RIP II supported
IGMP v1 and v2
UPnP support
Parental Control
Game list for QoS upstream
Game list for NAT port forwarding

QoS

Support flexible packet classification
Queue management
Forward policy

Security/Firewall

Firewall with Stateful Packet Inspection, DoS support
URL blocking
50 ACL filter rule

Management

SNMP v1 & v2c with MIB II
Embedded FTP/TFTP server for firmware upgrade and romfile backup and restore
User GUI friendly design for gaming and media enable/disable
Multi language support

Hardware Specifications
ADSL connection
One RJ-11 over POTS
LAN
Four Ethernet RJ-45 ports
Wireless LAN
Two 3 dBi detachable external antennas
USB
Two USB 2.0 hosts
WLAN/WPS button
One real button for WLAN on-off and WPS configuration
Reset
Restore factory defaults/reboot button
Power switch
One push power switch button
Status LEDs indicator
POWER, ETHERNET, INTERNET, USB, DSL, WLAN/WPS
Physical Specifications
Item dimensions (WxDxH)(mm/in.)
186 x 121 x 33 mm (7.32" x 4.76" x 1.3")
Item weight (kg/lb.)
350 g (0.771 lb.)
Packing dimensions (WxDxH)(mm/in.)
238 x 170 x 90 mm (9.37" x 6.69" x 3.54")
Packing weight (kg/lb.)
660 g (1.33 lb.)
Environmental Specifications
Operating temperature
0°C to 40°C (32°F to 104°F)
Operating humidity
20% to 90% (Non-condensing)
Storage temperature
-25°C to 65°C (-13°F to 149°F)
Storage humidity
20% to 90% (Non-condensing)
Certification
Safety

IEC 60950-1: 2005 (2nd Edition)
EN 60950-1: 2006 + A11: 2009

EMC
CE, FCC
Application Diagram:

Pricing Notes:
Pricing and product availability subject to change without notice.
Zyxel Products
Zyxel Ethernet Gateways
Zyxel P-660HNU-F1 Wireless N ADSL2+ 4-port Security Gateway with USB
#P661HNU-F1
List Price:
$189.99
Our Price: $164.00