Zyxel MC1000-SFP-FP Gigabit Ethernet Media Converter

Flexible solution for mixed Copper and Fiber Network Environments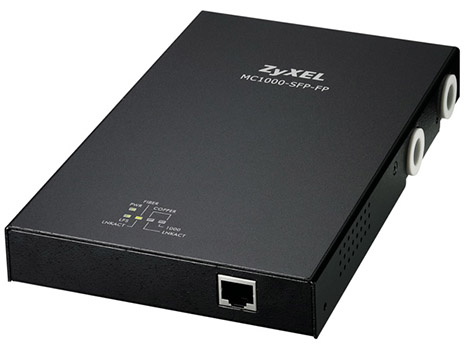 Sorry, this product is no longer available, please contact us for a replacement.
Overview:
Zyxel GbE Media Converter provides Gigabit-class traffic conversion capability. It's specially designed for active Ethernet ETTx deployment to ensure extra bandwidth and future-proof investment. Unique features like fiber protection and wall-mount design allow users to easily deploy the GbE Media Converter for fiber connectivity at customer premises.

The open Gigabit SFP slot accepts a wide range of SFP transceivers such as the latest bi-directional single fiber (BX) or traditional ones for maximum deployment flexibility. In addition, network span can also be extended easily with appropriate fiber transceivers.
1000BASE-T RJ-45 to Gigabit fiber
Fiber protection mechanism
1 mini-GBIC SFP slot for flexible choice of SFP
Multimode and singlemode supported
Up to 80 km reach (depends on mini-GBIC SFP)
Max. power consumption: 9.6 watt