Zyxel LTE7480

LTE-A Pro Outdoor Router
Sorry, this product is no longer available, please contact us for a replacement.
Overview:
Fixed Wireless Access (FWA) is an alternative means to provide Internet connectivity that utilizes wireless network technology rather than fixed lines. With a fixed wireless access offering, network operators can supply a vast amount of new customers with broadband Internet connectivity. By delivering broadband over the existing LTE mobile networks, operators can rapidly increase revenue from the untapped markets.
CBRS offers capacity expansion functions without the complexity of sharing the band with WiFi, while its 10 MHz channels can be combined using CA to increase data rates; unlicensed GAA frequencies can also be used to transport signal and data traffics. In both cases, network quality delivered by an LTE-based solution is better than that of WiFi. As cable operators have few spectrum holdings, CBRS also allows them to enter the wireless industry by deploying LTE networks to effectively become Mobile Virtual Network Operators (MVNOs).
The Zyxel LTE7480-S905 4G LTE-A Pro Outdoor Router sports a routing mode with both bridge and router functions, high-gain antenna for better signal performance and robust IP66 outdoor hardware designed for harsh environments – all the necessary features that benefit the critical "second WAN" design. No matter you have a router or not, the LTE7480-S905 can be easily deployed and integrated into your existing environment.
You can set 4G LTE as your main connection or use it as a backup in case performance of the main connection drops. The Zyxel LTE7480-S905 is good for any venue like suburban areas, public locations, homes and offices. Enjoy 4G LTE-Advanced technology effortlessly with the LTE7480-S905.

Download speeds of up to 573 Mbps, UE cat-16, B48

Built-In 4x4 MIMO, high-gain antenna of up to 10 dBi per element

Standard 802.3af PoE

IP66 hardened enclosure with industrial grade components

Embedded bridge/router mode

Remote throughput testing

Mobile apps (iOS and Android)
Benefits:
Lightning-fast Internet connectivity
The Zyxel LTE7480-S905 4G LTE-A Pro Outdoor Router employs 3GPP UE Category 16 – the best-practice LTE technology with downlink data rates of up to 573 Mbps through 8 Spatial Streams on two component carriers.
Easy installation
Easy Installation is made possible with the integrated IEEE 802.3at PoE support, dedicated WiFi AP with mobile apps content graphics and sounds for Donor eNB alignment.
Built-In 4x4 MIMO high-gain antenna
The Zyxel LTE7480-S905 LTE Outdoor Router provides 4x4 MIMO high-gain antennas of up to 10 dBi per element that work effectively in outdoor environments. The outdoor design enables it to work under near non-line-of-sight conditions to increase coverage and bandwidth as well as to eliminate edge corners having difficulty accessing good signals.
Remote management, TR-069 and Web GUI
Through the LTE radio interface, the Zyxel LTE7480-S905 supports TR-069 and remote GUI to be fully configurable and software upgradeable through events triggered by the operators. Thanks to remote throughput testing, the trouble shooting can be performed locally or remotely with better efficiency.
Non-stop connectivity with LTE 2nd WAN for fail-over
Multi-WAN fail-over relieves the risk of network outage due to the dependence on single WAN connection. Even better, the wireless LTE allows you to take advantage of the 2nd WAN without a cabling plan. As long as the gateway supports "multi-WAN fail-over", you can just connect Zyxel LTE7480-S905 to the existing gateway and set LTE as the fail-over WAN.
Application Diagram: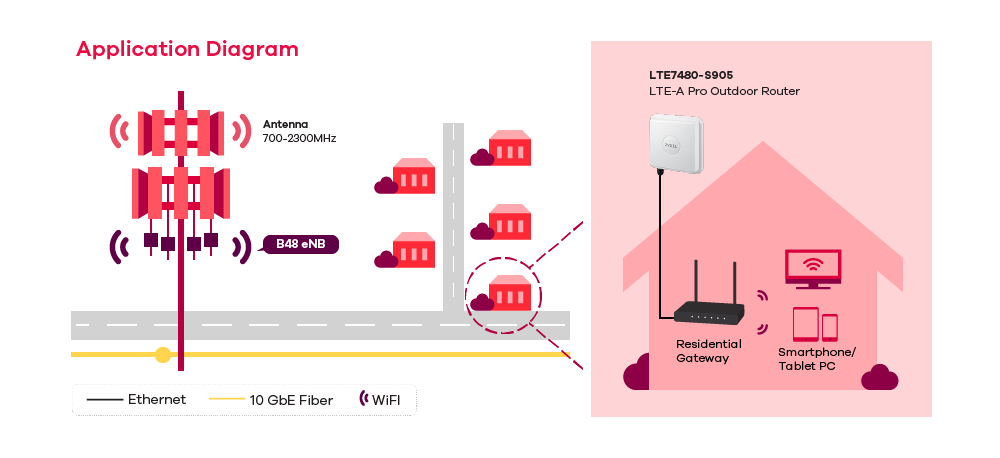 Specifications:
IP Networking
Support IPv4/IPv6 dual stack (NDP IPv6)
DHCP server
ICMP supported
Virtual Private Network (VPN) pass through
Support NAT/NAPT
Support DMZ
Support port forwarding/triggering
Support ALG
Routing
Support Bridge (Router) Mode
Support Dynamic DNS for first APN
Support Remote Management under Bridge Mode
IP Firewall
Firewall can be enabled or disabled via GUI
DoS Attack Prevention
Support SPI
Application-Level Firewall
Filters LAN MAC address
Filters LAN IP address
Filters URLs
Management
Support Local/Remote device management and firmware upgrade via TR-069 and Web GUI
APN management
PIN/PUK management
Network selection
Network preference
Operating frequency band selection
CLI/SSH (Local and remote SSH access)
Support UPNP IGD
Support SSH with key access
Support Bandwidth/Quota management
Support mobile apps (iOS and Android)
Support remote throughput testing (TR-143)
Interface Description: