Zyxel IES-5000 Series

6.5U MSAN/DSLAM with DC Power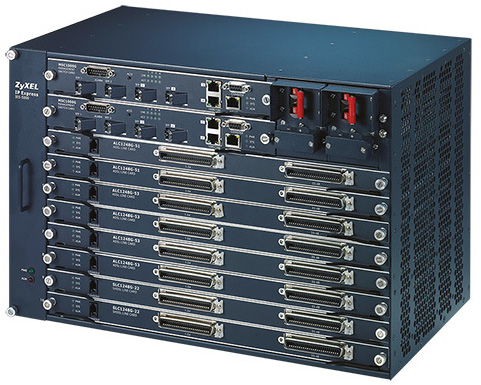 Sorry, this product is no longer available, please contact us for a replacement.
Overview:
The IES-5000/5005 Series is equipped with non-blocking gigabit backplane, failover-enabled Management Switch Cards (MSC), dual power modules, high-port density DSL line cards and VoIP line cards. With embedded IP-centric QoS, security and multicasting features, the IES-5000/5005- chassis-based system facilitates Telco/ISP delivering high degree of quality of experience to today's demanding residential and business customers, and achieving its infrastructure provisioning criteria of reliability, flexibility and scalability at competitive CAPEX/OPEX. The IES-5000/5005 Series is temperature-hardened and can be installed in street cabinet, suitable for outside plant deployment.
The IES-5000 is a 6.5U height and 10-slot chassis-based system with separated 5U splitter frame. Two of the 10 slots are reserved for Management Switch Cards (MSC) and the remaining 8 slots are for DSL, VoIP and Ethernet line cards. The compact design of IES-5005 offers a 3.5U height and 5-slot chassis-based system with a separated 3U splitter frame. One slot is reserved for MSC card and the remaining 4 slots are for DSL, VoIP and Ethernet line cards.
The MSC has 4 GE ports for uplink and subtending. With the subtending feature, the IES-5000/5005 Series can be cascaded in the rack at a central office, or be connected to remote IES products in the form of a tree, ring, or daisy-chained as needed. The uplinks can be used as a traffic aggregation and can be plugged in trunk or set to work in 1+1 redundant mode. Additionally, two Management Switch Cards (MSC) for link redundancy and failover support. In case when one MSC fails, the second MSC takes over control within 1 second.
The ADSL2/ADSL2+ line cards have two options: 48-ports and 72-ports. G.SHDSL.bis/VoIP line cards have 48 ports, the VDSL2 line card comes with 24/48 ports and 20 ports for fiber-based Fast Ethernet line card.
Non-blocking Gigabit backplane
Multi-service Interfaces including ADSL2/2+, G.SHDSL.BIS, VDSL2, VOIP (SIP & H.248), Fiber-based FE and E1 IMA
Comprehensive QoS to enhance triple play users' experience
Field proven IGMP snooping and proxy for IPTV deployment
Flexible ACL, VLAN-aware DHCP and anti-IP/MAC address spoofing to prevent malicious attack
DHCP option 82 and PPPoE IA features support versatile IP address assignment
Benefits:
Multiple standard DSL services
ADSL line card provides 48/72 ports with transmission bandwidth up to 25 Mbps/2.4 Mbps. ADSL line cards also provide G.bond port bonding to increase service range or double transmission bandwidth. VDSL line cards provide with a ADLS2+ fallback function (Annex A and Annex B) allows Telco operators migrating existing ADSL2+ services to VDSL2 services seamlessly. SHDSL line cards provide 48 ports with transmission bandwidth up to 5.69 Mbps/22.76 Mbps/45.52 Mbps in ATM/EFM mode. VDSL line cards provides 24/48 ports with transmission bandwidth up to 100 Mbps/100 Mbps. All DSL cards are hot swappable to ensure system stability.
Advanced triple play functionality
The IES-5000/5005 provides complete ATM QoS (UBR/VBR/CBR) and Ethernet L2 QoS on the line cards. The IP QoS (Packet classification/Rate Limiting/Queue Scheduling) is provided on the Network Termination cards as well. Sophisticated PVC to VLAN bridging and aggregation enables end-to-end QoS and various service allocation and provisioning. In addition, the IES-5000/5005 supports non-blocking traffic forwarding and multicast features with up to 256 multicast groups. For security, the IES-5000/5005 provides anti MAC/IP address spoofing, broadcast storm prevention, MAC count limiting, and policy-based packet filtering. All these features allow ISPs/Telco operators to provide High Speed Internet access, VoIP, Near VOD, Broadcast TV and TV on demand, and other features easily.
Robust physical safety design
The IES-5000/5005 guarantees physical safety by embedding voltage, temperature and FAN speed sensors. When an abnormal condition is detected, the LED displays and/or the corresponding alarms will come up to alert the operators. In cases when the system temperature goes higher than the configured threshold, thermal cutoff protection kicks into action and the system will shut down automatically.
Sophisticated OAM&P Element Management System (EMS)
The IES-5000/5005 provides various management methods: local console port, Web-based configuration, Telnet, and SNMP v1/v2/v3-based EMS (NetAtlas Access EMS). Included management functions are Alarm and Status Surveillance, Configuration management, Performance management, and Fault management. The IES-5000/5005 allows operators to create multiple administrative accounts and 3 levels of access rights. Accounts with the first-level privilege have full access rights. Second-level privilege accounts have the same access rights as first-level accounts except for account management. Third-level accounts can only view configuration settings and performance statistics. NetAtlas Access EMS also provides view-based MIB management and XML-based north bound interface. These features allow Telco operators to provide wholesale service to smaller CLECs and ISPs.
Distributed and QoS-assured media gateway
The IES-5000/5005 provides a parallel and distributed media gateway architecture to empower VoIP services taking advantage of POTS voice signals, in addition to FAX and modem services. With the architecture, each media gateway serves up to 48 POTS ports and operates independently with each other. As part of the benefit, there is no throughput bottleneck or single-point failure issue in this architecture, the performance and reliability of the VoIP/fax/modem services are outstanding as well. The media gateway provides G.711, G.723, G.726, G.729a/b and T.38 codecs while RFC3261 SIP and H.248 network signaling protocols are supported as well.
Specifications:
IES-5000 Series Specifications:
System Specifications
DSL Compliant

ADSL:   

G.992.1 Annex A, G.992.3 Annex A, G.992.5 Annex A
G.992.1 Annex B, G.992.3 Annex B, G.992.5 Annex B

Support G.992.3 and G.992.5 spectral mask
Support Annex M and Annex L in G.992.3 and G.992.5
Support EOC and Overhead channel access
Support the latency path function
Support loop diagnostic function specified
Support the power management capability
Support the capability of the Seamless Rate Adaptation (SRA) on-line configuration
Single and dual end loop test
G.998.1 port bonding

SHDSL: G.991.2, G.991.2.bis, G.998.1 
VDSL2: G.993.2, G.994.1, G.997.1.

ATM Traffic Management

Support 8 PVC per DSL port
Support UBR, CBR, rt-VBR, nrt-VBR QoS mechanisms
Support ATM Forum TM 4.0 peak cell rate traffic parameter
Support downstream traffic shaping function per ATM PVC
Support ATM F5 OAM cells for end-to-end loop back test (ITU-T Rec. I.610)

Performance

Eight queues with packet priority scheduling (SPQ, WRR)
Support 256 IGMP multicast groups
The maximum channel zapping processing time is 250 ms
DSCP to 802.1p mapping

Security

Per port and per VLAN isolation
IEEE 802.1X (authentication)
Rule-based packet filtering (L2 ~L4 ACL)
MAC count limiting
ARP broadcast filtering
DHCP broadcast filtering
VLAN aware DHCP snooping 
NetBiOS filtering
IGMP filtering
Anti IP/MAC address spoofing
Support TACACS+ remote authentication

VLAN

4096 IEEE 802.1Q compliant VLAN tagging
VLAN stacking (Q-in-Q)
VLAN bridge function (multiple PVCs to one VLAN) (N:1)
PVC and VLAN one to one mapping (1:1)
VLAN trunking (single PVC join multiple VLAN) (1:N)
Support GVRP function

Traffic Management

Bandwidth control and broadcast/multicast/unknown unicast control on Gigabit Ethernet ports
STP : IEEE 802.1d, IEEE 802.1w, IEEE 802.1s
IP bridge
IEEE 802.3ad (Link aggregation control protocol)
IP multicast forwarding
IGMP v1, v2, v3 snooping/proxy
IGMP multicasting channel limiting
VLAN aware DHCP snooping
DHCP relay option 82 with sub-option 1 & 2
TR-101 compliant PPPoE intermediate agent
Multicast bandwidth control
L2~L4 ACL
IGMP group count / filtering profile

VoIP Features

Codes : G.711, G.726, G.729 a/b G.723.1
Network signaling protocols : ITU-T H.248 v2, SIP v2 (RFC3261)
RTP (RFC 1889)
RTCP (RFC 1890)
FAX/Modem pass through (T.38) via RTP
Tone detection and generation (bi-directional)-RFC2833 RTP Payload for DTMF
Echo cancellation and auto gain control ( G.165, G.168)
Voice Activity Detection (VAD)
Comfort Noise Generation (CNG)
Caller ID generation and detection
Supplementary services

Local dial available
Emergency call local route
Do not disturb
Selective/anonymous call rejection
Call waiting
Call transfer (blind and attended transfer)
Call return and call back on busy
Off hook warning tone

Network Management

Local management through a craft terminal
Web-based management interface
Cluster management (up to 8 cluster members)
View-based network management
Support XML-based North Bound Interface NetAtlas Access EMS
In-band and out-of-band IP interface for management (SSH, SFTP)
SNMP management (through Zyxel NetAtlas Access EMS)

SNMPv1/v2c/v3 agent/traps
Standard MIBs

RFC 1213 MIB II
ADSL line MIB (RFC 2662)/extension line MIB (RFC 3440)
SHDSL line MIB (RFC 3276)
VDSL line MIB (RF 3728)
Bridge MIB/extension MIB
RMON MIB (RFC 1757)

Vendor specific MIBs, e.g.,

Chassis management MIB (fan speed, voltage, temperature)

Hardware Specifications
IES-5000M

10-slot rack mountable enclosure, 19" or 23" chassis
8 slots for line termination cards
2 slot for management and switch cards
2 DC power input module and filter
One FAN and dust filter module

Management Switch Card— MSC1000G

Failover-enabled network termination card
Embedded 24G, non-blocking full duplex switching fabric
Two 1000M interface modules (SFP + copper) for subtending
Two 1000BASE-SX/LX/EX/ZX (mini-GBIC, SFP) interface for uplink
One RS232 (DB-9) serial console port
One 10/100M out-of-band Mgmt interface
One external alarm IO port

E1 IMA Card - IMA1408G-81

Hot swappable 8-port E1 IMA card, 8 groups per card
Support G.703, G.704
Full-duplex bandwidth up to 16M
One mini-RJ11 console port
Support RFC1483/1577/2364/2684
Support ATM Forum Rec UNI 3.0, UNI 3.1, UNI 4.0
Support ITU-TI.361, I.371, G.804

Ethernet Line Card - ELC1220G-55

Support 20 open slots for Fast Ethernet SFP (100BASE-FX/BX/LX/EX)
One mini-RJ-11 console
Aggregates layer-2 traffic from Fast Ethernet subscribers to the chassis system
Support multicast VLAN, IGMP snooping, IGMP filter and static multicast functions for MoD services
Support DHCP relay, option82 and snooping functions
Support ACL, anti-IP address spoofing and anti-MAC address spoofing security functions

VDSL Line Card - VLC1424G-56

Hot swappable 24-port VDSL2 line card
Support G.993.2, G.994.1, G.997.1
Maximum transmission rate up to 100 Mbps/100 Mbps
One mini-RJ11 console port
Two gigabit backplane
Support VDSL2 profiles 8a, 8b, 8c, 8d, 12a, 12b, 17a and 30a
Support frequency allocation bandplan 998 and 997
Support customer PSD, RFI notch, single latency in PTM mode and INP
Support trellis coding
Support IEEE 802.1ag Connectivity Fault Management (CFM)

VDSL Line Cards - VLC1348G-51/ VLC1348-53/ VLC1324G-51/ VLC1324G-53

Hot swappable 48-port/24-port VDSL2 line card over POTS and over ISDN
Support G.993.2, G.994.1, G.997.1
Maximum transmission rate up to 100Mbps/50Mbps
One mini-RJ11 console port
Two gigabit backplane
Support VDSL2 profiles 8a, 8b, 8c, 8d, 12a, 12b and 17a 
Support frequency allocation bandplan 998 and 997
Support U0 band, customer PSD, RFI notch, single latency in PTM mode and INP
Support UPBO and DPBO, Reed Solomon and Trellis coding
Support ADSL fall back with ADSL/ADSL2/ADSL2+ CPE in Annex A, J, M, L modes
Support IEEE 802.1ag Connectivity Fault Management (CFM)

ADSL Line Cards - ALC1372G-51/AL1248G-51

Hot swappable 72-port/48-port ADSL2/ADSL2+ Annex A line card
Maximum transmission rate up to 25 Mbps/2.4 Mbps for ADSL2+
One mini-RJ11 console port
One gigabit backplane
Support G.992.3 and G.992.5 spectral mask
Support EOC and overhead channel access defined in G.992.3 and Rec.G.997.1
Support the latency path function specified in G.992.3 and G.992.5
Support Annex L and Annex M specified in G.992.3 and G.992.5
Support loop diagnostic function specified in G.992.3 and G.992.5
Support the power management capability specified in G.992.3 and G.992.5
Support the capability of the Seamless Rate Adaptation (SRA) on-line configuration specified in G.992.3 and G.992.5
Support ADSL2+ 2-port bonding (G.998.1)

ADSL Line Cards - ALC1248G-53

Hot swappable 48-port ADSL2/ADSL2+ Annex B line card
Support Annex M and Annex L specified in G.992.3 and G.992.5
Maximum transmission rate up to 25 Mbps/2.4 Mbps for ADSL2+
One mini-RJ11 console port
One gigabit backplane

SHDSL Line Card - SLC1248G-22

Hot swappable 48-port SHDSL/SHDSL.bis line card
Support ETSI TS 101 524 V 1.2.1, ITU-T G.991.2, ITU-T G.991.2.bis
ATM-based multi-pair bonding (G.998.1) up to 8 ports
Symmetric transmission rate of 5.69 Mbps/port
One mini-RJ11 console port
One gigabit backplane
Support IEEE EFM

VoIP Line Card - VOP1248G-61

48-port VoIP line card
Support H.248 version 2 or SIP singling protocol
Compatible CPE including POTS phone, Fax, analog modem and pay phone
Support G.711 a/µ, G.726, G.729 a/b, G.723.1
20 K Busy Hour Call Attempts (BHCA)
Configurable jitter buffer
Support the generation of dial tone, second dial tone, ringing tone (ring-back tone), busy tone, off-hook warning tone
Support call waiting, call hold, call transfer, return and call back on busy
Emergency call local route
Local dial available
MLT (Metallic loop Testing for subscriber lines) and GR-909 loop diagnostic
Ringer Max output power : 15 Watt

Physical Specifications
IES-5000M

Item dimensions (W x D x H): 440 x 285 x 289 mm (17.32" x 11.22" x 11.38")
Item weight: 10 kg (22.1 lb)
Packing dimensions (W x D x H): 547 x 358 x 455 mm (21.53" x 14.09" x 17.91")
Packing weight: 13.2 kg (29.17 lb)

Management Switch Card - MSC1000G

Item dimensions (WxDxH): 267.4 x 240 x 37.55 mm (10.55" x 9.45" x 1.5")
Item weight: 0.4 kg (0.88 lb.)
Packing dimensions (WxDxH): 348 x 348 x 150 mm (13.7" x 13.7" x 5.9")
Packing weight: 2.22 kg (4.86 lb.)

E1 IMA Card - IMA1408G-81

Item dimensions (WxDxH): 390.6 x 240 x 13.8 mm (15.39" x 9.45" x 0.55")
Item weight: 0.8 kg (1.77 lb.)
Packing dimensions (WxDxH): 462 x 342 x 123 mm (18.18" x 13.46" x 4.84")
Packing weight: 1.8 kg (3.96 lb.)

Ethernet Line Card - ELC1220G-55

Item dimensions (WxDxH): 390.6 x 240 x 13.8 mm (15.39" x 9.45" x 0.55")
Item weight: 0.5 kg (1.1 lb.)
Packing dimensions (WxDxH): 462 x 342 x 123 mm (18.18" x 13.46" x 4.84")
Packing weight: 2.48 kg (5.48 lb.)

VDSL Line Card - VLC1424G-56

Item dimensions (WxDxH): 390.6 x 240 x 13.8 mm (15.39" x 9.45" x 0.55")
Item weight: 1 kg (2.2 lb.)
Packing dimensions (WxDxH): 462 x 342 x 123 mm (18.18" x 13.46" x 4.84")
Packing weight: 2.54 kg (5.61 lb.)

VDSL Line Cards - VLC1348G-51/ VLC1348-53

Item dimensions (WxDxH): 390.6 x 240 x 13.8 mm (15.39" x 9.45" x 0.55")
Item weight: 1.3 kg (2.87 lb.)
Packing dimensions (WxDxH): 462 x 342 x 123 mm (18.18" x 13.46" x 4.84")
Packing weight: 2.62 kg (5.79 lb.)

VDSL Line Cards - VLC1324G-51/ VLC1324G-53

Item dimensions (WxDxH): 390.6 x 240 x 13.8 mm (15.39" x 9.45" x 0.55")
Item weight: 1 kg (2.2 lb.)
Packing dimensions (WxDxH): 462 x 342 x 123 mm (18.18" x 13.46" x 4.84")
Packing weight: 2.72 kg (6.01 lb.)

ADSL Line Card - ALC1372G-51

Item dimensions (WxDxH): 390.6 x 240 x 13.8 mm (15.39" x 9.45" x 0.55")
Item weight: 1.1 kg (2.43 lb.)
Packing dimensions (WxDxH): 462 x 342 x 123 mm (18.18" x 13.46" x 4.84")
Packing weight: 2.2 kg (4.86 lb.)

ADSL Line Cards - ALC1248G-51/ ALC1248G-53

Item dimensions (WxDxH): 390.6 x 240 x 13.8 mm (15.39" x 9.45" x 0.55")
Item weight: 0.5 kg (1.1 lb.)
Packing dimensions (WxDxH): 462 x 342 x 123 mm (18.18" x 13.46" x 4.84")
Packing weight: 2.56 kg (5.66 lb.)

SHDSL Line Card - SLC1248G-22

Item dimensions (WxDxH): 390.6 x 240 x 13.8 mm (15.39" x 9.45" x 0.55")
Item weight: 0.5 kg (1.1 lb.)
Packing dimensions (WxDxH): 462 x 342 x 123 mm (18.18" x 13.46" x 4.84")
Packing weight: 2.1 kg (4.64 lb.)

VoIP Line Card - VOP1248G-61

Item dimensions (WxDxH): 390.6 x 240 x 13.8 mm (15.39" x 9.45" x 0.55")
Item weight: 0.5 kg (1.1 lb.)
Packing dimensions (WxDxH): 462 x 342 x 123 mm (18.18" x 13.46" x 4.84")
Packing weight: 2.48 kg (5.481 lb.)

Environmental Specifications
Operating temperature
-40°C to 65°C (-40°F to 149°F)*
Storage temperature
-40°C to 85°C (-40°F to 185°F)
Humidity
10% to 95% (Non-condensing)
Power Supply
-48V DC
Full load power consumption

IES-5000M : 30W
MSC1000G: 30 W 
IMA1408G-81: 32 W
ELC1220G-55: 40 W
VLC1424G-56: 66 W
VLC1348G-51/53: 93 W
VLC1324G-51: 90 W
VLC1324G-53: 70 W
ALC1372G-51: 85 W
ALC1248G-51/53: 70 W
SLC1348G-22: 45 W
VOP1248G-61: 95 W

Certification
Safety

CE
UL 60950, CSA 60950
FCC part 15 Class A
ITU-T K.20

EMC

ETSI 300 019
EN55022 class A
EN55024 class A
ETSI 300 386
Line Cards:
MSC1000G
Management Switch Signaling Card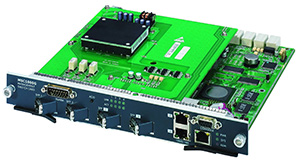 IMA1408G-81
8-port E1 IMA Uplink Line Card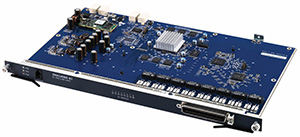 ALC1248G-51
ADSL Line Card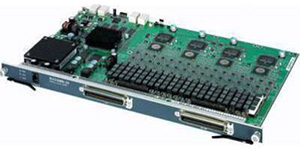 ALC1248G-53
ADSL Line Card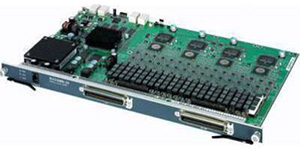 ALC1272G-51
ADSL Line Card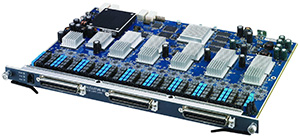 ELC1220G-55
Ethernet Line Card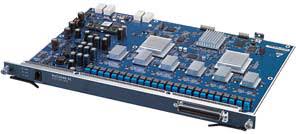 SLC1348G-22
48-port SHDSL Line Card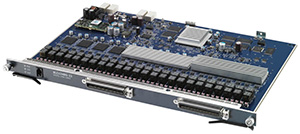 VLC1324G-51
VDSL2 Line Card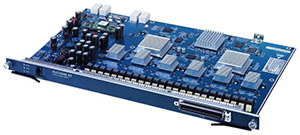 VLC1324G-53
VDSL2 Line Card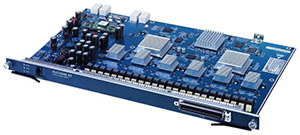 VLC1424G-56
24-port 30a Annex A VDSL2 Line Card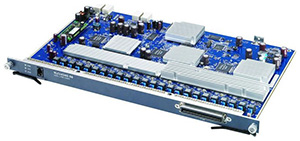 VLC1348G-51
48-port 17a Annex A VDSL2 Line Card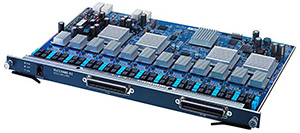 VLC1348G-53
48-port 17a Annex B VDSL2 Line Card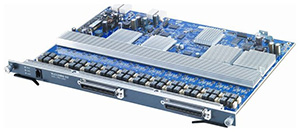 VOP1248G-61
48-port VoIP Line Card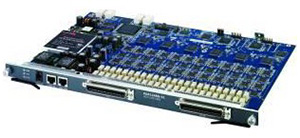 Application Diagram: