Zyxel IES-1248-5x Series

48-port Temperature-Hardened ADSL2+ Box DSLAM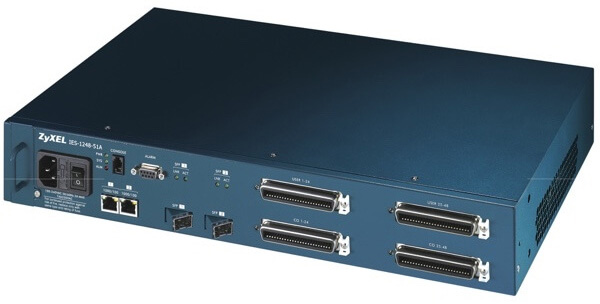 Zyxel Products
Zyxel MSANs / DSLAMs
IES-1248-51 - ADSL2/2+ 48 Port Switch DC Power
#IES1248-51
List Price:
$4,099.99
Our Price: $3,000.00
IES-1248-51A - ADSL2/2+ 48 Port Switch AC Power
#IES1248-51A
List Price:
$3,699.99
Our Price: $2,700.00
IES-1248-51V - ADSL2/2+ 48 Port Switch w/VOIP Termination DC Power
#IES1248-51V
List Price:
$5,999.99
Our Price: $4,200.00
Click here to jump to more pricing!
Overview:
A Complete Offering for High Bandwidth Asymmetrical Services — Residential Data, Voice, and Multiple Video Channels
Zyxel IES-1248-5x/IES-1248-5xA Series (DC Power Input) is an IP-based DSLAM that terminates all the ATM circuits and converts traffic directly to deliver the most popular broadband IP services. It also provides a distinct advantage over typical ATM-based DSL access system due to the fact that IP is the natural approach for data transmission. It offers better bandwidth utilization, ease of use, as well as the low-cost advantage. With the highly compact and temperature-hardened design, simple installation and easy adaptation to local POTS/ISDN splitter requirements, the IES-1248-5x/IES-1248-5xA Series can be deployed in indoor and outdoor enclosures.
Complete ADSL2/2+ Standard Compliance
ADSL2+ Port Bonding*
SIP v2 and H.248 v2* Media Gateway Signaling
Voice Codec of G.711 a/µ law, G.726, G.729 a/b and G.723.1
Fax/Modem Signal Pass Through
Supplementary Service Support
Local Dial Available*
Loop Diagnostic

SELT (Single End Loop Test)
DELT (Dual End Loop Test)
MLT (Metallic Loop Test)
Test Out/Test In Terminals
*Firmware upgradeable for future enhancement
Benefits:
A robust, capable ADSL2+ solution
With this standalone ADSL2+ IP DSLAM, service providers can offer residential and business users access to high-bandwidth services on demand; such as streaming video, online gaming, multimedia applications and multiple video channels on a single network connection. The IES-1248-5x/IES-1248-5xA Series also offers medium/small businesses and home offices IP connectivity, VPNs, VLANs, high-quality video conferencing, long-reach Ethernet and legacy service interconnection, as well as asymmetric connectivity as fast as 24Mbps. The IES-1248-5x/IES-1248-5xA Series DSL solution for POTS/ISDN is a sophisticated ADSL2+ device wielding full compliance to existing standards, the latest DSL technology, compactness, low power consumption, integration with existing platforms and network managemeability. The combination of a superior line code, modern signal processing techniques and state-of-the-art ASIC design add up to a compact, energy-saving ADSL2+ modem with excellent performance, transparent backward ADSL/ADSL2 compatibility, robust interference resistance and flexible configurability.
Temperature Harden and Friendly Remote-Installation Design
The IES-1248-51V provides state-of-the-art ADSL2+ connectivity to subscribers. The latest technologies like various line coding, power spectral mask fitting, dual latency path selection, loop diagnostic and power management capabilities, Seamless Rate Adaptation (SRA) and Impulse Noise Protection (INP) are all supported. Up to 24 Mbps (downstream) and 2.3 Mbps (upstream) per port facilitates high-bandwidth services such as streaming video, online gaming and IP TV. ADSL2+ port bonding is also provided for subscribers who need even more bandwidth or located with loop length longer than 5000 ft.
VoIP Media Gateway Embedded
The IES-1248-51V has a built-in POTS splitter and can act as the media gateway of a packet voice network. Through the communication with the softswitch or media gateway controller, the IES-1248-51V digitalizes and encapsulates the POTS voice into VoIP packets and delivers them to the IP network with higher priority in SIP or H.248 signal protocols. Telco operators can provide voice over broadband (VoBB) service without changing existing customer premises network and keep the OAM&P as usual.
Sophisticated Features for Triple-Play Services
The IES-1248-51V comes with complete ATM and Ethernet QoS, as well as various IP QoS features (Packet classification/Rate Limitation/Queue Scheduling). The seamless QoS-mapping not only allows consistent and appropriate traffic treatment of packets, but also enables fulfillment of triple-play services.
The number of the supported multicast groups is 512, while each group can have 50 members. At least 30 multicast IGMP join/leave requests can be processed in one second and the maximum channel processing time is less than 250 ms. For security, anti MAC address spoofing, broadcast storm prevention, MAC count limiting and packet filtering features are provided. With these features provided, Telco operators can easily offer Triple-play services like high-speed Internet access, VoIP, Near VOD, Broadcast TV and TV on Demand.
Specifications:
IES-1248-5x/IES-1248-5xA Series Specifications:
System Specifications
ADSL2/ADSL2+ Interface

Support G.992.1 Annex A
Support G.992.3 Annex A, Annex L, Annex M
Support G.992.5 Annex A, Annex M
Support G.994.1 G.hs
Support G.992.3 and G. 992.5 ATM Transmission Convergence (ATM-TC) function
Support G.992.3 and G.992.5 Spectral Mask
Support EOC and Overhead Channel Access defined in ITU-T Rec. G.992.3 and ITU-T Rec. G.997.1
Support the latency path function specified in ITU-T Rec. G.992.3 and G.992.5
Support loop diagnostic function specified in ITU-T Rec. G.992.3 and G.992.5
Support the power management capability specified in ITU-T Rec. G.992.3 and G.992.5
Support the capability of the Seamless Rate Adaptation (SRA) on-line configuration specified in ITU-T Rec. G.992.3 and G.992.5
SELT and DELT

Network Interface

IEEE 802.3u 100BASE-TX
IEEE 802.3ab 1000BASE-T
IEEE 802.3z 1000BASE-LX/1000BASE-SX
SFP mini GBIC

ATM Functionality

Support Point-to-Point Virtual Circuit Connection (VCC) in the Network
Provide the Peak Cell Rate (PCR) configurable parameter for UBR services specified in ATM Forum Traffic Management 4.0
Provide the Peak Cell Rate configurable parameter for CBR services specified in ATM Forum Traffic Management 4.0
Provide the Peak Cell Rate (PCR) and Sustainable Cell Rate (SCR) configurable parameters for rt-VBR and nrt-VBR services specified in ATM Forum Traffic Management 4.0
The over-subscription of bandwidth is permitted, i.e., total DSL bandwidth can be larger than bandwidth of DSLAM network interface for UBR service
Support the downstream traffic shaping function for each ATM PVC connection
Support the Fault Management (FM) functions of the ATM layer F5 OAM cells for End-to-End Loopback defined in ITU-T Rec. I.610
8 PVC per port
Support upstream rate limiting per PVC
Support G.998.1 ADSL 2-port bonding

IP Functionality

Support ICMP (Internet Control Message Protocol) function, and respond the ICMP request message sent from NMS or other system
IP bridging

Subscriber Management

Support the Ethernet MAC filtering function
Support 14k MAC addresses
Support the DHCP relay agent option 82 function
Support 802.1x
Support port isolation function
Support RFC2684 bridged mode payload encapsulation method
Support the IPSec/L2TP/PPTP VPN pass-through function
Support RFC2516 PPPoE packet forwarding function
Support configurable MTU (1526~1600 bytes)
Support TR-101 compliant PPPoE intermediate agent
Support DHCP option 82 feature per port or per VLAN
Support DHCP snooping and static IP address feature
Support TR-101 compliant DHCP option 82 packet format

VLAN & VLAN Bridge Functions

Provide 1024 configurable VLANs
The VLAN tagging complies with IEEE 802.1Q
Support VLAN bridge function of mapping of multiple PVCs to one VLAN ID
Support the IEEE 802.1Q VLAN tagging
Support GVRP function
Support per-VLAN isolation
Support OUI filter function

Reliability
Support 802.1w RSTP
QoS

Support configurable IEEE 802.1p priority queue function and support 4 levels
Support configurable mapping function between ATM PVC and 802.1p priority queue

Multicast capability for IP network interface

Support RFC2684 bridged mode multicast service
Support Internet Group Management Protocol (IGMP) version 2 specified in RFC2236
Support IGMP snooping function
Support 512 multicast groups
Support 50 members for each multicast group
Support IGMP v3 packet recognition
Support multicast group filter function

Management

Local management through a craft terminal
Support the In-band IP interface for managing the Network
Support SNMP (Simple Network Management Protocol) v1.0 & v2c (RFC1157)
The management activities can be performed by SNMP operations
Support SNMP MIB(s)
Support standard SNMP traps so that these traps can be reported to other NMSs
Centralized Management Software – EMS supporting

Hardware Specifications
Hardware Configuration

Two TELCO-50 connectors for 48-port ADSL/ADSL2/ADSL2+
Two TELCO-50 connectors for 48-port splitter card
One mini RJ11 console port for local management
Two 100Base-TX/1000Base-T or two mini GBIC for uplink/subtending
One DB9 for 3 in and 1 out alarm contact
Hot-swappable fan module
DC Input connector

Power Requirements

Voltage: -48 VDC (-36 ~ -72VDC)
Power: max. 90Watts

Physical Specifications
IES-1248-5x

19" and 23" Rack-mountable
Force cooling by FAN
Temperature hardening
Built-in splitter

Dimension
442.7 (W) x 250 (D) x 66 (H)mm (17.3" x 9.88" x 2.6")
Weight
7.2 Kg (15.87lb)
Environmental Specifications
Operating temperature
-40°C to 65°C (-40°F to 149°F)
Operating humidity
10% to 95% (Non-condensing)
Storage temperature
-40°C to 85°C (-40°F to 185°F)
Storage humidity
5% to 95% (non-condensing)
Certification
EMC/ESD

FCC part 15 Class A
EN 55022, EN 55024 Class A
ETS 300 386

Safety

ITU-T K.20, Appendix C
CSA 60950
EN 60950
IEC 60950
UL 60950

Reliability
ETS 300 019
NEBS
NEBS Compliant
Pricing Notes:
Pricing and product availability subject to change without notice.
Zyxel Products
Zyxel MSANs / DSLAMs
IES-1248-51 - ADSL2/2+ 48 Port Switch DC Power
#IES1248-51
List Price:
$4,099.99
Our Price: $3,000.00
IES-1248-51A - ADSL2/2+ 48 Port Switch AC Power
#IES1248-51A
List Price:
$3,699.99
Our Price: $2,700.00
IES-1248-51V - ADSL2/2+ 48 Port Switch w/VOIP Termination DC Power
#IES1248-51V
List Price:
$5,999.99
Our Price: $4,200.00