Zyxel IES-1248-5x Series

48-port Temperature-Hardened ADSL2+ Box DSLAM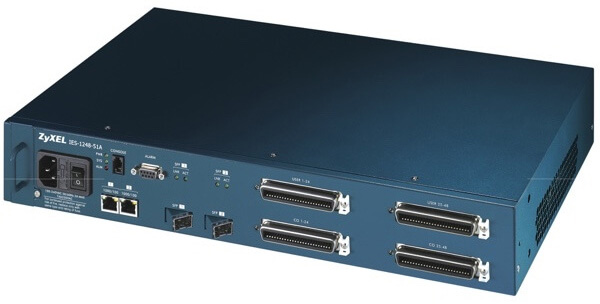 Sorry, this product is no longer available, please contact us for a replacement.
Overview:
A Complete Offering for High Bandwidth Asymmetrical Services — Residential Data, Voice, and Multiple Video Channels
Zyxel IES-1248-5x/IES-1248-5xA Series (DC Power Input) is an IP-based DSLAM that terminates all the ATM circuits and converts traffic directly to deliver the most popular broadband IP services. It also provides a distinct advantage over typical ATM-based DSL access system due to the fact that IP is the natural approach for data transmission. It offers better bandwidth utilization, ease of use, as well as the low-cost advantage. With the highly compact and temperature-hardened design, simple installation and easy adaptation to local POTS/ISDN splitter requirements, the IES-1248-5x/IES-1248-5xA Series can be deployed in indoor and outdoor enclosures.
Complete ADSL2/2+ Standard Compliance
ADSL2+ Port Bonding*
SIP v2 and H.248 v2* Media Gateway Signaling
Voice Codec of G.711 a/µ law, G.726, G.729 a/b and G.723.1
Fax/Modem Signal Pass Through
Supplementary Service Support
Local Dial Available*
Loop Diagnostic

SELT (Single End Loop Test)
DELT (Dual End Loop Test)
MLT (Metallic Loop Test)
Test Out/Test In Terminals
*Firmware upgradeable for future enhancement