Zyxel IES-1000 Series

1U 2-slot Remote MSAN and Line Cards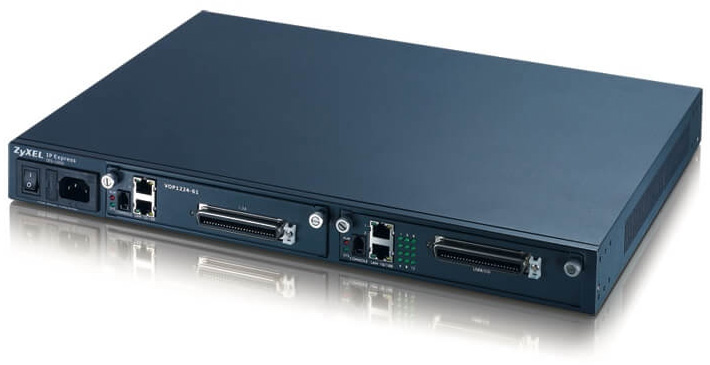 Zyxel Products
Zyxel MSANs / DSLAMs
IES-1000M - DC Power Mini-Chassis
#IES1000DC
List Price:
$199.99
Our Price: $150.00
Click here to jump to more pricing!
Overview:
The IES-1000 has two slots for various combinations of DSL and VoIP line modules to provide ADSL2+, G.SHDSL and VoIP services to residential and business customers. IES-1000 is a pizza box IP-based multi-service access node (MSAN). It has two slots for various combinations of DSL and VoIP line modules to provide ADSL2+, G.SHDSL and VoIP services to residential and business customers. It terminates the ATM traffic of DSL connections and POTS voice signals to make them IP packets and route them through IP networks. With the highly compact design (1U heigh), AC and DC power input as well as simple installation, IES-1000 can be deployed at Telco and SMB environment to meet all kinds of market demands.
Benefits:
Lease Line G.SHDSL Service for Enterprise
With G.SHDSL technology, the IES-1000 is applicable for lease line replacement. Using the TC-PAM modulation technique, IES-1000 is compatible with other existing transmission technologies, allowing service providers to deploy at locations where broadband services already exist.
M-Pair Bonding G.SHDSL.bis Solution
IES-1000 supports the new-generation G.SHDSL.bis line module to provide transmission rate up to 4096kbps symmetrically in a single pair. It also comes with two 100Mbps Ethernet interfaces toward Ethernet aggregation network. One IES-1000 can accommodate two SAM1216-22 modules to support 32 SHDSL connections. In addition, the SAM1216-22 supports ITU G.991.2 m-pair bonding in a physical layer manner. The m-pair bonding can be 2 or 4 pairs and the aggregated payload rate is around 16Mbps
VoIP line module to provide media gateway feature
In addition to FAX and modem services, VoIP line module provides a parallel and distributed media gateway architecture to empower VoIP services by taking advantage of POTS voice signals,. With the architecture, the line module serves up to 24 POTS ports. As part of the benefit, there is no throughput bottleneck or single-point failure issue in this architecture, The media gateway provides G.711, G.723, G.726, G.729a/b and T.38 codecs while RFC3261 SIP network signaling protocols is supported
Extensive Management Capabilities
The entire IES-1000 system can be administrated remotely with the Windows-based NetAtlas Access EMS (Element Management System) based on the SNMP-manageable SNMPc platform. NetAtlas Access EMS provides powerful advanced remote management capabilities that help service providers minimize daily operational costs. Its loop-back design helps isolating network problems while the new firmware and IP Express configuration allow changes to be done remotely, eliminating the need for "truck rolls" in order to provision services to new customers or to reconfigure services for existing customers
Specifications:
System Specifications
Delivery of Ethernet in the first mile using legacy LAN technologies
End-to-end provisioning by offering DSL circuit configuration through NetAtlas Access EMS
Support expandable configuration with plug-and-play line cards
SNMP v1, v2 manageable
Web management
FTP/TFTP for firmware upload
Console port configuration (RS-232)
Telnet configuration and monitoring
Spanning tree algorithm (802.1D) for loop free connection
Configurable MTU value
PPPoE intermediate agent compliant with TR-101
G.998.1 ATM bonding
802.1Q VLAN aware bridging

IGMP snooping supports multicast traffic
QoS support with 802.1p
DHCP relay agent option 82 per VLAN
Port isolation/per VLAN isolution
256 static VLAN entries (full-range VLAN ID 1~4094)
4 K MAC address entries

Packet prioritizing per 802.1p (QoS)

Static configuration – default priority setting
4 priority queues per PVC (up to 4 PVCs)

Multicast

IPv4 multicast forwarding (through L2 MAC)
Static multicast membership configuration
IGMP v1, v2 snooping & IGMP proxy mode support
Shared VLAN multicast
256 multicast groups and each group can contain 18 members
IGMP filtering profile
IGMP count limiting
MVLAN
DSL port multicast bandwidth control

Management support

CLI-based management from console/Ethernet port
SNMPV1,v2 and telnet through Inband Ethernet interface and NetAtlas Access, PC-based EMS management support
Web-based management through Inband Ethernet interface
Secured Host: configure remote host IP addresses for management
UNIX syslog
F/W upgrade, configuration backup & restore via FTP and Web
Text-based configuration file support

Port configuration
Alarm/Status Surveillance
Performance monitoring
Security and Memory Backup
Self diagnostics
Remote reset
EMS Management support
MIB
SNMP MIB II (RFC1213)
SNMP v1
SNMP v2
RFC1493 Bridge MIB
RFC1643 Ethernet MIB
RFC1757 Four group of RMON
RFC2674
RFC2662 ADSL line MIB
RFC4319 (formerly RFC3276) SHDSL Line MIB
Hardware Specifications
IES-1000M

19"1U rack mountable, 2 card slots chassis
Dimension : 440 mm (W) x 320 mm (D) x 46 mm (H)
2 line cards to accommodate different types of DSL services as well as VoIP services
Fully hot-swappable design
Support 8 to 32 ports in MDU/central office environment
Temperature monitoring and alarm
Auto-shutdown for over temperature
Surge protection to prevent lightning damage

SAM1216-22 line module

One Telco 50 connectors for 16-port G.SHDSL.bis
One mini RJ11 console port for local management
Two 10/100Base-TX for uplink
In-band Ethernet management
Status LEDs- System Status, Ethernet Link Status, Ethernet Active Status, G.SHDSL.bis ports status, Alarm
Line coding: TC-PAM
Transmit power: up to 16.8 dBm
Density: 16 ports per chip
SHDSL payload format: ATM
Rate Adaptation Mode: fixed, line probing
Up to 4096kbps in single pair, m-pairs (2/4 pairs mode) bonding support up to  16.384Mbps
Annex A and annex B PSD mask
SHDSL line profile
SHDSL alarm profile
Power backoff
Standard Compliant

ETSI SDSL (ETSI TS 101 524 V 1.2.1)
ITU G.shdsl (ITU-T G.991.2 (2001)
ITU G.shdls.bis (ITU-T G.991.2 (2004)
Physical Specifications
IES-1000M

Dimension: 440 (W) x 320 (D) x 46 (H)mm
Weight : 3.7Kg

SAM1216-22

Dimension: 170 (W) x 320 (D) x 35 (H)mm
Weight : 0.9Kg
Environmental Specification
Power supply (AC/DC)

AC Power: 100~240V AC, 50 ~ 60Hz
DC Power:  -36 ~ -72 V DC

Power consumption

AAM1212-51: 25W
SAM1216-22: 25W
VOP1224-61 : 30W

Operating Temperature:0°C~ 50°C
Storage temperature:-40°C~ 70°C
Operating Humidity:10% ~ 90% (non-condensing)
Storage Humidity:10% ~ 95% (non-condensing)
Certification
Safety

UL 60950-1
CSA 60950-1
EN60950-1
IEC 60950-1

EMC

FCC Part 15B Class A
EN55022 Class A
EN55024 Class A
ETSI 300386

Reliability

ETSI 300019
Telecom
ITU-T K20
Pricing Notes:
Pricing and product availability subject to change without notice.
Zyxel Products
Zyxel MSANs / DSLAMs
IES-1000M - DC Power Mini-Chassis
#IES1000DC
List Price:
$199.99
Our Price: $150.00
Zyxel Line Cards
SAM1316-22 - 16 Port ATM/EFM G.SHDSL.bis Line Card for IES-1000M
#SAM1316-22
List Price:
$3,899.99
Our Price: $2,900.00
VOP1224-61 - 24 port VoIP line Card for IES-1000 Chassis
#VOP1224-61
List Price:
$2,699.99
Our Price: $2,000.00