Zyxel GS2200-24P

A powerful, silent, and easy to use solution for Ethernet connectivity.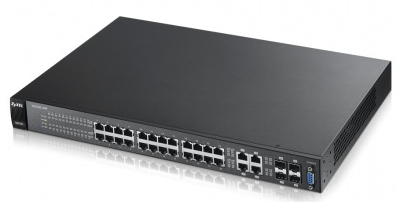 Sorry, this product is no longer available, please contact us for a replacement.
Overview:
Efficient, Productive Gigabit Solutions for Evolving Access Networks
The Zyxel GS2200 Series is a line of Gigabit L2 switches designed to provide high-speed Gigabit connectivity, guaranteed access security, and advanced traffic prioritization and monitoring features for businesses. It consists of three Gigabit switches, providing 8/24/44 Gigabit Ethernet ports (GS2200-8/24/48), and two Gigabit PoE switches, providing 8/24 Gigabit PoE ports (GS2200-8HP/24P). The complete GS2200 Series comes with 2/4 dual-personality GbE interfaces for added deployment flexibility, while the GS2200-48 comes with two additional Gigabit open SFP slots for bandwidth-intensive applications.
Comprehensive L2 switching features
20, 56 and 100 Gbps non-blocking switch fabric (GS2200-8/8HP, GS2200-24/24P and GS2200-48)
2/4 dual-personality (RJ-45/SFP) GbE interfaces
Port security and enhanced 802.1X port authentication
MAC freeze and intrusion lock
8 IEEE 802.1p hardware priority queues
WFQ, WRR and SPQ queuing algorithms
IEEE 802.3at PoE Plus support (GS2200-8HP)
IEEE 802.3af PoE support (GS2200-8HP/24P)
PoE power consumption mode for enhanced energy efficiency (GS2200-8HP/24P)
Dual-speed (100/1000 Mbps) fiber connectivity (GS2200-8/8HP)
IPv6 Ready Logo approved
Benefits:
Non-blocking GbE performance for modern access networks
The Zyxel GS2200 Series is designed with high-performance switching architecture that provides 20/56/100 Gbps non-blocking switch fabric, 14.9/41.7/74.4 Mpps forwarding rates and wire-speed performance for bandwidth-demanding applications in corporate networks. For branch offices and small to medium-sized businesses, the GS2200 Series enables the delivery of converged applications and adapts to changing business needs with flexible configurations.
Secure, enhanced management functionality
The GS2200 Series is easy to use and manage for applications needed to support business operations as well as to increase productivity. The CPU protection feature can greatly reduce the likelihood of malfunctions. Zyxel iStacking™ clustering management technology can manage devices across different floors and routing domains to locate other iStacking-capable switches in the same management cluster. This allows administrators to manage up to 24 switches with one single IP address. Zyxel iStacking™ greatly reduces operating costs and offers more flexible maintenance of Zyxel Switches. IT staff can opt for the Web or command line interface to suit their needs, and even encrypt their instructions with SSHv1/v2 and SSL. With these sophisticated functionalities, the IT staff is empowered to build a highly secure and efficient corporate network with minimum effort.
Rich IPv6 and other features built-in for future-proof network expansions
Zyxel considers IPv6 management features as future trend, and therefore added complete IPv6 management capability to the 8/24-port GS2200. The great features are not only beneficial for high-density Gigabit Ethernet deployments, but also perfectly suitable for both network cores and edges.
Besides, the GS2200 Series provides rich features including VLANs, CoS/QoS, Port Trunking, Rapid Spanning Tree, Security (Port Security and 802.1X authentication) and network management to meet evolving SME requirements. Meanwhile, the GS2200 Series delivers one of the most cost-effective Gigabit Ethernet solutions to empower Gigabit converged networking for branch offices and SME users.
Intelligent PoE for cost saving (GS2200-8HP/24P)
Zyxel's Intelligent PoE features provide two power supply modes:
Classification Mode: the switch reserves the maximum power (W) to each powered device (PD) according to the priority levels.
Consumption Mode: the switch manages the entire power supply, so each connected PD gets the actual power it needs.
In the Consumption Mode, Zyxel's intelligent PoE, GS2200-8HP/24P, will reserve the required power automatically, and you can set power feeding priorities on different ports to get the best use of power resource. This capability can increase the number of devices connected and deliver a better ROI for the business.
The GS2200-8HP provides 180 W of total budget power to port 1-4 with 30 W each and to 5-8 with 15.4 W each; this is sufficient for full loading to support all needs. Besides, the GS2200-24P provides a total budget power up to 220 W. With the PPS250 external PoE power supply, the GS2200-24P can provide 15.4 W per port to 24 PoE ports simultaneously.
Key Applications:
Deploying Gigabit to the desktop to boost performance of networks and bandwidth-intensive applications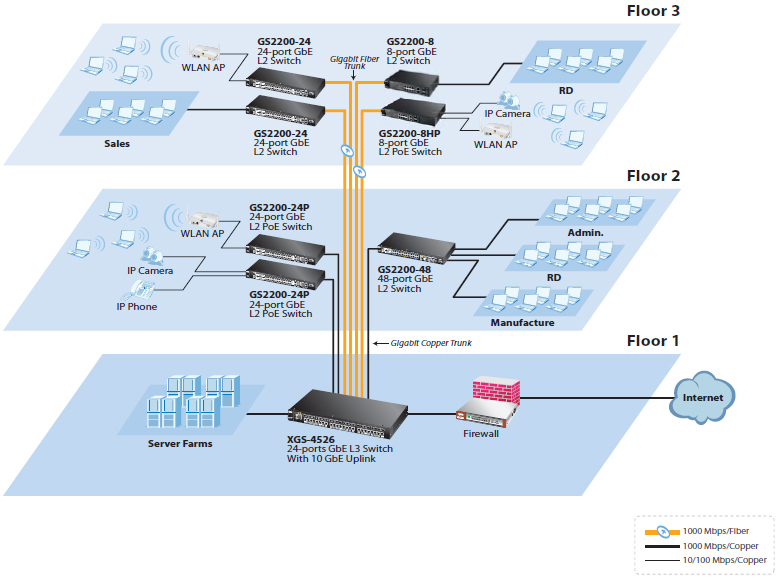 Specifications:
Model
GS2200-8
GS2200-8HP
GS2200-24
GS2200-24P
GS2200-48
Product Name
8-Port GbE L2 Switch
8-Port GbE L2 PoE Switch
24-Port GbE L2 Switch
24-Port GbE L2 PoE Switch
48-Port GbE L2 Switch
Port Density
10/100/1000Base-T
8
-
24
-
44
10/100/1000Base-T PoE
-
8
-
24
-
Open SFP (GbE)
-
-
-
-
2
Dual Personality GbE Ports
2
2
4
4
4
Performance
Switching capacity (Gbps)
20
20
56
56
100
Switching forwarding rate (Mpps)
14.9
14.9
41.7
41.7
74.4
Packet buffer (Bytes)
448K
448K
448K
448K
512K
MAC address
16K
16K
16K
16K
8K
Power Requirement
Input voltage of AC
100 - 240 V AC, 50/60 Hz
Maximum power consumption (Watt)
12.3
230
28
260
92.8
Physical Specifications
Dimensions (WxDxH)(mm)(in.)
250 x 150 x 44/9.84 x 5.9 x 1.73
330 x 230.5 x 44/12.99 x 9.07 x 1.73
440 x 172 x 45/17.32 x 6.77 x 1.77
440 x 330 x 45/17.32 x 12.99 x 1.77
438 x 300 x 44.5/17.24 x 11.81 x 1.75
Weight (kg/lb.)
1.34/2.95
2.66/5.86
2.44/5.38
4.86/10.71
4.5/9.92
Environmental Specifications
Operating temperature
0°C to 50°C/32°F to 122°F
0°C to 45°C/32°F to 113°F
Storage temperature
-40°C to 70°C/-40°F to 158°F
-25°C to 70 °C/-13°F to 158°F
Operating humidity
10% to 95% (non-condensing)
10% to 90% (Non-condensing)
Features:
Standard Compliance

IEEE 802.3 10BASE-T Ethernet
IEEE 802.3u 100BASE-TX Ethernet
IEEE 802.ab 1000BASE-T Ethernet
IEEE 802.3z 1000BASE-X Ethernet
IEEE 802.3x flow control
IEEE 802.1D spanning tree protocol
IEEE 802.1w rapid spanning tree protocol
IEEE 802.1s multiple spanning tree protocol
IEEE 802.1p class of service, priority protocols
IEEE 802.1X port authentication
IEEE 802.3ad LACP aggregation
IEEE 802.3af PoE (GS2200-8HP/24P)
IEEE 802.3at PoE Plus (GS2200-8HP)
IEEE 802.3az EEE (Energy Efficient Ethernet) support (GS2200-8/8HP)

Traffic Management and QoS

Rate limiting: Rule-based/port-based bandwidth control, 64 kbps granularity
Dual-Rate-Three-Color (GS2200-48)
Port-based egress traffic shaping
Broadcast storm control
IEEE 802.1p with 8 priority queues per port for different traffic types
Weighted Round Robin (WRR)/SPQ/WFQ scheduling algorithm
Supports DSCP
Supports DSCP to 802.1p priority mapping
Supports IGMP/IGMP snooping v1, v2, v3
Congestion control on all ports

Link Aggregation

IEEE 802.3ad LACP link aggregation compliant
Support static manually port trunking
Up to 8 aggregation groups, 8 ports/per group randomly selected (GS2200-48 remains 6/8)

Resilient Network

IEEE 802.1w Rapid Spanning Tree Protocol (RSTP)
IEEE 802.1s Multiple Spanning Tree Protocol (MSTP)
Backup Power System (BPS) power supply redundancy (GS2200-48)
PoE Power Supply (PPS) support to be a full power budget PoE device (GS2200-24P)

User Security and Authentication

MAC filtering per port secures access to each port
IEEE 802.1Q tag-based and port-based VLAN
Guest VLAN (Port based/MAC based) 9 MAC per port (Exclusive with protocol-based & IP subnet-based VLAN, for 8/24 port devices)
Support GVRP, automatic VLAN member registration
256 static VLAN, up to 4K dynamic VLAN (GS2200-48)
1K static VLAN, up to 4K dynamic VLAN (GS2200-8/8HP/24/24P)
Full range 4K PVID support
Port-base VLAN & VLAN isolation
Intrusion lock
MAC freeze
Specific MAC forwarding per port: only specified MAC addresses can access the network (Port security)
Limited MAC number per port
IP source guard
Loop guard
RADIUS MAC login
IP filtering
TCP/UDP socket filtering
BPDU transparency
802.1X port-based authentication, compensated assignment over VLAN and bandwidth for valid access
TACACS+
Password encryption (GS2200-8/8HP/24/24P)

Network Administration Security

User name/password required for Web/Telnet/local console administrators
Two-level security by specific SNMP read/write community
Multiple login session
Multiple access permission management
SSH v1/v2
SSL

IPv6 Support

IPv6 over Ethernet
IPv6 Addressing
IPv6 Path MTU
ICMPv6
DualStack
Neighbordiscovery
DHCPv6 client
DHCPv6 relay

Network Management

Supports Zyxel iStacking™, up to 24 switches can be managed by one IP address
Web-based management
Telnet CLI
SNMP v1, v2c, v3
RS-232c local console
IP management: Static IP or DHCP client
RMON four RMON groups 1, 2, 3, 9 (history, statistics, alarms, and events) for enhanced traffic management, monitoring, and analysis
Port mirroring: supports source/destination/ both port mirroring

Intelligent ACL (L2/L3/L4 Access List Control)

Based on MAC address
Based on VLAN
Based on IP address
Based on protocol type
Based on TCP/UDP type
Based on DSCP

MIB Information

RFC 1066 TCP/IP-based MIB
RFC 1213, 1157 SNMP v2c/v3 MIB
RFC 2011, 2012, 2013 SNMP v2 MIB
RFC 1493 bridge MIB
RFC 2674 bridge MIB extension
RFC 1643 Ethernet MIB
RFC 2358 Ethernet-like MIB
RFC 1757 RMON group 1, 2, 3, 9
RFC 2819, 2925 Remote Management MIB
RFC 3621—Power Ethernet MIB (GS2200-8HP/24P)
Zyxel private MIB

Certification

UL (GS2200-8/8HP)
CSA (GS2200-48)
CE-LVD
FCC, CE
BSMI
EU RoHS compliant
Accessories


Backup Power System (Optional)(GS2200-48)
Model
Features
BPS-120

Up to 6 switches can be connected to one BPS-120
Provides power to one switch without adding traffic, user interruption or switch reboot in case of any internal power supply failure on the switch
Temperature, power and fan speed monitoring
Dimensions (WxDxH): 438 x 270 x 44.5 mm (17.32" x 10.63" x 1.77")
Weight: 4.0 kg (8.82 lb.)

PoE Power Supply (Optional)(GS2200-24P)
Model
Features
PPS250

Power module for Zyxel Ethernet PoE Switch
Provides extra power budget to GS2200-24P of up to 400 W for PoE support
Temperature and fan monitoring
Dimensions (WxDxH): 280 x 206 x 44 mm (11.02" x 8.11" x 1.73")
Weight: 2 kg (4.41 lb.)
SFP Transceivers (Optional)
Transceiver Class
Gigabit SFP
SFP-1000T
SFP-SX-D
SFP-LX-10-D
SFP-BX1310-10-D
Connector
RJ-45
LC
LC
LC
Wavelength
-
850 nm
1310 nm
1310 nm (TX) 1490 nm (RX)
Max Transmission Distance
100 m
550 m
10 km
10 km
Support DDMI Features
-
Yes
Yes
Yes
SFP Transceivers (Optional)
Transceiver Class
Gigabit SFP
SFP-BX1490-10-D
SFP-LHX1310-40-D
SFP-ZX-80-D
Connector
LC
LC
LC
Wavelength
1490 nm (TX) 1310 nm (RX)
1310 nm
1550 nm
Max Transmission Distance
10 km
40 km
80 km
Support DDMI Features
Yes
Yes
Yes
SFP Transceivers (Optional)
Transceiver Class
Fast Ethernet SFP
SFP-100FX-2
SFP-100TX
SFP-100LX-20
SFP-100BX1310-20-D
SFP-100BX1550-20-D
Connector
LC
RJ-45
LC
LC
LC
Wavelength
1550 nm
-
1310 nm
1310 nm (TX) 1550 nm (RX)
1550 nm (TX) 1310 nm (RX)
Max Transmission Distance
2 km
-
20 km
20 km
20 km
Support DDMI Features
-
-
-
Yes
Yes