Zyxel GS2200-24P

A powerful, silent, and easy to use solution for Ethernet connectivity.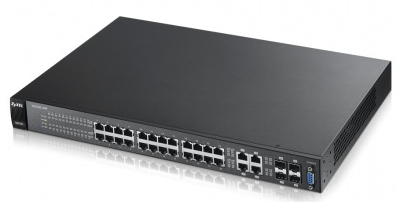 Sorry, this product is no longer available, please contact us for a replacement.
Overview:
Efficient, Productive Gigabit Solutions for Evolving Access Networks
The Zyxel GS2200 Series is a line of Gigabit L2 switches designed to provide high-speed Gigabit connectivity, guaranteed access security, and advanced traffic prioritization and monitoring features for businesses. It consists of three Gigabit switches, providing 8/24/44 Gigabit Ethernet ports (GS2200-8/24/48), and two Gigabit PoE switches, providing 8/24 Gigabit PoE ports (GS2200-8HP/24P). The complete GS2200 Series comes with 2/4 dual-personality GbE interfaces for added deployment flexibility, while the GS2200-48 comes with two additional Gigabit open SFP slots for bandwidth-intensive applications.
Comprehensive L2 switching features
20, 56 and 100 Gbps non-blocking switch fabric (GS2200-8/8HP, GS2200-24/24P and GS2200-48)
2/4 dual-personality (RJ-45/SFP) GbE interfaces
Port security and enhanced 802.1X port authentication
MAC freeze and intrusion lock
8 IEEE 802.1p hardware priority queues
WFQ, WRR and SPQ queuing algorithms
IEEE 802.3at PoE Plus support (GS2200-8HP)
IEEE 802.3af PoE support (GS2200-8HP/24P)
PoE power consumption mode for enhanced energy efficiency (GS2200-8HP/24P)
Dual-speed (100/1000 Mbps) fiber connectivity (GS2200-8/8HP)
IPv6 Ready Logo approved