Zyxel XGS3600-28

24-Port GbE FIber Layer 2 Managed Switch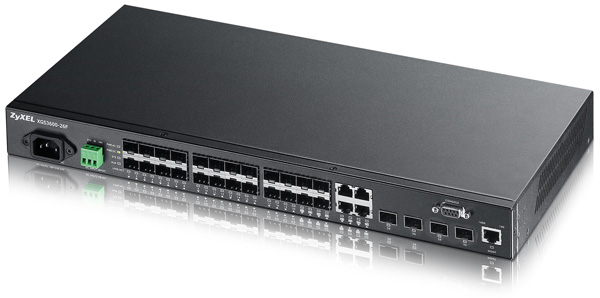 Sorry, this product is no longer available, please contact us for a replacement.
Click here to jump to more pricing!
Overview:
The Zyxel XGS3600 Series are Layer 2 Ethernet switches ideal for Ethernet service pre-aggregation and extension. The Series meet all IEEE 802.3/u/x/z/ab/ae standards and are an excellent solution that provides an ideal combination of affordability with capabilities for Carrier Access networking which include: IEEE 802.3ah MAC Layer OAM; IEEE 802.1ag Ethernet CFM, ITU-T Y.1731 Ethernet OAM Performance Monitoring; ITU-T G.8031 Ethernet Linear Protection and ITU-T G.8032 Ethernet Ring Protection Switching.
QoS for significant services
Consistent service quality and reliable connecting ability in a converged network is the key to connect and satisfy customers; therefore the ability to control traffic flow and set traffic policy becomes more critical than ever. The Zyxel XGS3600 series L2 GbE Switches offer wire-speed flow control that classifies and prioritizes the incoming packets according to the predefine QoS policies that meet requirements of service providers.
In terms of classification, the Differentiated Services Code Point (DSCP) field and the 802.1p Class of Service (CoS) field are identified to assess the priority of incoming packets. Classification and reclassification can be based on criteria as specific as rules based on IP, MAC addresses, VLAN ID or TCP/UDP port number. For bandwidth management, the XGS3600/MGS3600 series provide 8 priority queues per port for different types of traffics, allowing service providers to set policy-based rate limitations that take full advantage of constrained network resources and guarantee the best performance.
Enhanced security for protection among customers
Avoiding subscribers affecting each other on a shared network or shared device is a major concern for service providers. The Zyxel XGS3600 series offers a complete set of security features to protect user data while administrating the traffics. Port security provides the ability to deny unauthorized users from accessing the network. Moreover, the 802.1X feature cooperating with RADIUS is useful to prevent unauthorized access based on username and password (or other credentials) and acts as powerful access control for converged networks with mixed wired and wireless access.
The XGS3600 series provide a multilayer (L2/L3/L4) ACL suite of sophisticated policybased control mechanisms that enables service providers to deploy easily based on actual network environment needs via a Web GUI or command line interface to prevent abnormal or illegal access. The policies can be defined to deny packets based on source and destination MAC addresses, IP addresses or TCP/UDP ports.
Resilient and redundant design
A quick recovery and round-the-clock network is vital for service providers to establish a robust network. The XGS3600 series provides comprehensive features to make sure network is well operated. The IEEE 802.3ad Link Aggregation feature reduces network downtime by providing redundant paths and bandwidth aggregation to critical connections, while IEEE 802.1w Rapid Spanning Tree Protocol (RSTP) and IEEE 802.1s Multiple Spanning Tree Protocol (MSTP) allow immediate recovery from failed connections by sending packets via the backup link.
---
Pricing Notes:
Pricing and product availability subject to change without notice.