Zyxel iCard Services

The ZyWALL series correspond iCard Type and activation note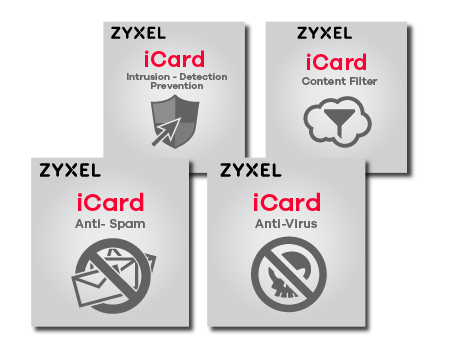 All iCard Services products can be found on their own individual product pages or purchase them below, more options can be found on individual product pages. Can't find the part you are looking for? Contact us today!
Overview:
iCard is used to activate the external services bundled with the ZyWALL Series. There are three external services that require activation via myZyxel.com with the iCard Service License Key.
The iCard services list:
AV + IDP (AntiVirus + Intrusion detection & protection)
AntiSPAM
Content Filter
The iCard levels:
There are three levels of iCard to work with different ZyWALLs: Platinum, Gold, and Silver. Some examples include:
Platinum: ZyWALL 100
Gold: ZyWALL 35/ZyWALL 70
Silver: ZyWALL 5/ZyWALL 2
There is also a label on the back of each iCard package indicating the ZyWALL model it supports.
Note: External services can't be activated if the iCard and the ZyWALL model don't match correctly.
How to Activate:
How to register and activate
For device firmware 3.64 and before: Please refer to the document link.
For device firmware 4.00 and after:
Log into Web GUI, the default setting is http://192.168.1.1. Switch to the registration page and apply for a myZyxel.com account if this is a new device or you wish to register the device with your existing account. Trial services are available after registering the device.
User can find their iCard service license key in the iCard package. The license key format may vary for different services.
User can activate standard services by entering the iCard service license key found in the service page. The device will automatically judge the type of service being activated by the iCard service license key.
Application Diagram:
Pricing Notes:
Pricing and product availability subject to change without notice.
Zyxel Products
Zyxel iCard Bitdefender Anti-VirusBack to Top
Back to top
USG1100 / ZyWALL 1100 iCard Anti-Virus 1 Year for USG1100 / ZyWALL 1100
#ICAV1YUSG1100B
List Price:
$420.00
Our Price: $300.00
USG110 / ZyWALL 110 iCard Anti-Virus 1 Year for USG110 / ZyWALL 110
#ICAV1YUSG110B
List Price:
$164.99
Our Price: $115.00
USG1900 iCard Anti-Virus 1 Year for USG1900
#ICAV1YUSG1900B
List Price:
$840.00
Our Price: $600.00
USG210 iCard Anti-Virus 1 Year for USG210
#ICAV1YUSG210B
List Price:
$204.99
Our Price: $145.00
USG310 / ZyWALL 310 iCard Anti-Virus 1 Year for USG310 / ZyWALL 310
#ICAV1YUSG310B
List Price:
$249.99
Our Price: $175.00
USG40 / USG40W Series iCard Anti-Virus 1 Year for USG40 / USG40-NB / USG40W / USG40W-NB / USG40HE / USG40HE-CA
#ICAV1YUSG40B
List Price:
$87.99
Our Price: $60.00
USG60 / USG60W iCard Anti-Virus 1 Year for USG60 / USG60-NB / USG60W /
#ICAV1YUSG60B
List Price:
$144.99
Our Price: $100.00
USG1100 / ZyWALL 1100 iCard Content Filtering 1 Year for USG1100 / ZyWALL 1100
#ICCF1YUSG1100C
List Price:
$1,039.99
Our Price: $740.00
USG110 / ZyWALL 110 iCard Content Filtering 1 Year for USG110 / ZyWALL 110
#ICCF1YUSG110C
List Price:
$297.99
Our Price: $210.00
USG1900 iCard Content Filtering 1 Year for USG1900
#ICCF1YUSG1900C
List Price:
$1,109.99
Our Price: $790.00
USG210 iCard Content Filtering 1 Year for USG210
#ICCF1YUSG210C
List Price:
$324.99
Our Price: $230.00
USG40 / USG40W Series iCard Content Filtering 1 Year for USG40 / USG40-NB / USG40W / USG40W-NB / USG40HE / USG40HE-CA
#ICCF1YUSG40C
List Price:
$129.99
Our Price: $90.00
USG60 / USG60W iCard Content Filtering 1 Year for USG60 / USG60-NB / USG60W /
#ICCF1YUSG60C
List Price:
$262.99
Our Price: $185.00
USG / ZyWALL / UAG iCard AP Controller Upgrade Add 8 APs for USG / ZyWALL / UAG Series
#ICAP8USGZW
List Price:
$389.99
Our Price: $275.00
USG / ZyWALL iCard SSL VPN License Upgrade Add 10 Users for USG/ZyWALL Series
#ICSSL10USGZW
List Price:
$254.99
Our Price: $180.00
USG / ZyWALL iCard SSL VPN License Upgrade Add 5 Users for USG/ZyWALL Series
#ICSSL5USGZW
List Price:
$157.99
Our Price: $110.00
USG / ZyWALL iCard SSL VPN License Upgrade Add 50 Users for USG/ZyWALL 110-2200 Series
#ICSSL50USGZW
List Price:
$750.00
Our Price: $560.00