Zyxel ZyWALL 1100

VPN Firewall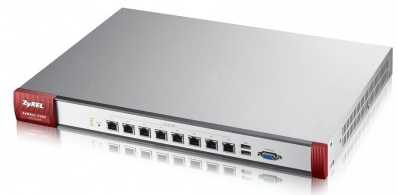 Sorry, this product is no longer available, replaced by the VPN1000.
Overview:
Ultra-fast Performance for Tomorrow's VPN Deployments
Business operations have become more mobile than ever. New and advanced business applications have also created demand for faster VPN performance, which legacy fi rewall and UTM appliances cannot satisfy. To keep up with the dynamic business environment, business networks today need to provide branch offi ces, chain stores and mobile employees faster remote access to headquarter resources. Moreover, they must do so without exposing company resources and customer information to threat and data breach.
Zyxel's new ZyWALL Series VPN Firewalls are business-grade VPN gateways purpose-built to deliver the fastest performance for multi-site VPN deployments. These high performance VPN Firewalls feature multi-core CPUs and are fi ne-tuned to deliver ultra-fast performance with up to 3.6 Gbps fi rewall and 800 Mbps VPN throughputs. The new ZyWALL Series VPN Firewalls also feature the most advanced VPN functionality—SHA-2 encryption, VPN HA and L2TP—for more secure, more reliable and more mobile VPN connectivity.
Multi-core CPUs deliver up to 3.6 Gbps fi rewall throughput and 800 Mbps VPN throughput
Up to 9x the fi rewall performance and 4.4x the VPN performance of preceding models
More secure VPN connections with SHA-2 encryption
VPN High Availability (HA) with dual-WAN failover and fallback support
L2TP support for iOS, Android and Windows mobile devices
Auto-provisioned client-to-site IPsec setup with Easy VPN
Zyxel Products
Upgrade AP Controller
USG / ZyWALL / UAG iCard AP Controller Upgrade Add 4 APs for USG / ZyWALL / UAG Series
#ICAP4USGZW
List Price:
$227.99
Our Price: $160.00