Zyxel XS3700-24

24-port 10GbE L2+ Switch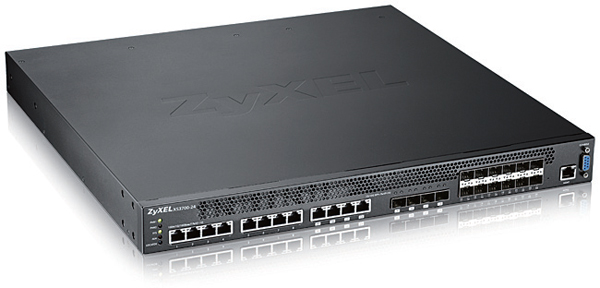 Sorry, this product is no longer available, please contact us for a replacement.
Overview:
Zyxel's 10GbE L2+ Managed Switch Offers Line-rate Performance for Virtualization and Convergence
Zyxel designed its next-generation 10GbE L2+ Managed Switch—the XS3700-24—for unmatched resilience and non-blocking performance in server virtualization, as well as managing Gigabit traffic from the network edge. The XS3700-24 is not only capable of providing a complete array of L2+features; it also handles basic layer-3 routing. This includes both static route and policy routes to ensure flexible deployments and uninterrupted network availability. The XS3700-24's redundancy support for both its hardware and software makes it the ideal enterprise-grade 10GbE backbone.
Flexible 10GbE connectivity with 12 SFP+ ports, 8 10G BASE-T ports and 4 SFP+ combo ports
Layer-2 plus (L2+) feature set equipped with static , policy route and VRRP
Hot-swappable power supply and fan modules
No single-point of failure hardware and software design
Future-proofed with IPv6 support
Comprehensive security features to ensure network availability
Limited life-time warranty*
Feature Highlights
10GbE Connectivity

Distinct from Gigabit Ethernet switches, 10 Gigabit Ethernet switches offer higher levels of scalability and efficiency for network infrastructure. The XS3700-24 comes with a combination of 10GbE RJ-45, 10GbE SFP+ and 10GbE combo (RJ-45/SFP) connectivity, allowing simple and flexible upgrading and deployment of 10GbE networks.

IPv6

Supported with comprehensive IPv6 management features, the XS3700-24 helps businesses stay ahead and prepare for future IPv6 networks. Full IPv6 support features include auto configuration, duplicate address prevention, dual-stack and neighbor discovery to ensure a business's investment is protected.

Zyxel One Network Utility

The XS3700-24 comes with ZON Utility to facilitate streamlined network management. Administrators can check locations, assign IP, reboot and upgrade firmware for multiple switches from just one platform. There's no need for administrators to use direct access or expensive, overly specific network management tools.

CLI Management

Administrators are able to manage the network via both Web-based GUI and command line interface (CLI) for more advanced control. The CLI of XS3700-24 brings highly efficient for rolling out new configurations on multiple switches. Additionally, Zyxel CLI is consistent throughout all models of the Switch 2210, 3700 and 3900 series.

Neighbor Device Discovery

Part of the Zyxel One Network experience, the XS3700-24 is able to discover all connected Zyxel networking devices, as well as other hardware supporting LLDP devices. This allows administrators to see what devices are connected to the network, what ports are in use, device IP and even firmware version.

Internal Redundant Power Supply

With dual internal power supplies, the XS3700-24 ensures 100% uptime in the event of a power supply failure, while at the same time saving rack space usually taken up by external power supplies. In addition, power supply modules support hot swapping to avoid interruption during trouble shooting.

Web GUI Redirection

Often, when administrators need to update or change configuration of devices, they must do so by looking for the device's IP address and login. Now, a simple click on the displayed devices brings administrators to the Web GUI for additional configuration. It is no longer necessary to look up the latest inventory list to confirm the IP address of a specific device.

Hot-Swappable Fan

For uninterrupted network availability, the fan module of the XS3700-24 is hot-swappable to enable zerodowntime troubleshooting.
* Warranty terms, service availability, and service response times may vary from country or region to country or region.