Zyxel XS3700-24

24-port 10GbE L2+ Switch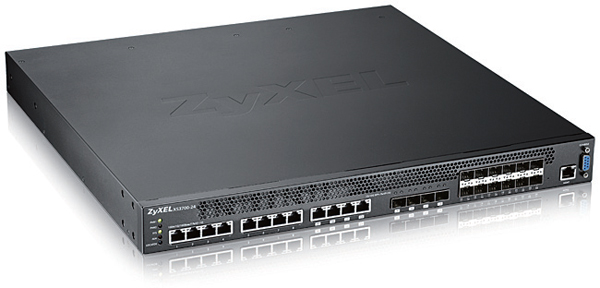 Sorry, this product is no longer available, please contact us for a replacement.
Overview:
Zyxel's 10GbE L2+ Managed Switch Offers Line-rate Performance for Virtualization and Convergence
Zyxel designed its next-generation 10GbE L2+ Managed Switch—the XS3700-24—for unmatched resilience and non-blocking performance in server virtualization, as well as managing Gigabit traffic from the network edge. The XS3700-24 is not only capable of providing a complete array of L2+features; it also handles basic layer-3 routing. This includes both static route and policy routes to ensure flexible deployments and uninterrupted network availability. The XS3700-24's redundancy support for both its hardware and software makes it the ideal enterprise-grade 10GbE backbone.
Flexible 10GbE connectivity with 12 SFP+ ports, 8 10G BASE-T ports and 4 SFP+ combo ports
Layer-2 plus (L2+) feature set equipped with static , policy route and VRRP
Hot-swappable power supply and fan modules
No single-point of failure hardware and software design
Future-proofed with IPv6 support
Comprehensive security features to ensure network availability
Limited life-time warranty*
Feature Highlights
10GbE Connectivity

Distinct from Gigabit Ethernet switches, 10 Gigabit Ethernet switches offer higher levels of scalability and efficiency for network infrastructure. The XS3700-24 comes with a combination of 10GbE RJ-45, 10GbE SFP+ and 10GbE combo (RJ-45/SFP) connectivity, allowing simple and flexible upgrading and deployment of 10GbE networks.

IPv6

Supported with comprehensive IPv6 management features, the XS3700-24 helps businesses stay ahead and prepare for future IPv6 networks. Full IPv6 support features include auto configuration, duplicate address prevention, dual-stack and neighbor discovery to ensure a business's investment is protected.

Zyxel One Network Utility

The XS3700-24 comes with ZON Utility to facilitate streamlined network management. Administrators can check locations, assign IP, reboot and upgrade firmware for multiple switches from just one platform. There's no need for administrators to use direct access or expensive, overly specific network management tools.

CLI Management

Administrators are able to manage the network via both Web-based GUI and command line interface (CLI) for more advanced control. The CLI of XS3700-24 brings highly efficient for rolling out new configurations on multiple switches. Additionally, Zyxel CLI is consistent throughout all models of the Switch 2210, 3700 and 3900 series.

Neighbor Device Discovery

Part of the Zyxel One Network experience, the XS3700-24 is able to discover all connected Zyxel networking devices, as well as other hardware supporting LLDP devices. This allows administrators to see what devices are connected to the network, what ports are in use, device IP and even firmware version.

Internal Redundant Power Supply

With dual internal power supplies, the XS3700-24 ensures 100% uptime in the event of a power supply failure, while at the same time saving rack space usually taken up by external power supplies. In addition, power supply modules support hot swapping to avoid interruption during trouble shooting.

Web GUI Redirection

Often, when administrators need to update or change configuration of devices, they must do so by looking for the device's IP address and login. Now, a simple click on the displayed devices brings administrators to the Web GUI for additional configuration. It is no longer necessary to look up the latest inventory list to confirm the IP address of a specific device.

Hot-Swappable Fan

For uninterrupted network availability, the fan module of the XS3700-24 is hot-swappable to enable zerodowntime troubleshooting.
* Warranty terms, service availability, and service response times may vary from country or region to country or region.
Benefits:

Flexible port configuration for transitioning networks
The XS3700-24 features a host of connectivity options for flexible port configuration, including eight 10GbE copper connection ports, 12-port SFP+ for 10GbE uplink and four 10GbE SFP+ combos for fiber links. This allows businesses to leverage copper connectivity in their existing 10GbE servers. It is now possible to increase network flexibility to incrementally meet growing bandwidth demands by aggregating current 10GbE switches with fiber links through this 24-port 10GbE switch.
Enterprise-grade network backbone for SMBs
Faster speeds, increased bandwidth and enhanced reliability are a must for any business network undergoing data center consolidation and virtualization. The XS3700-24's built-in 10GbE aggregation capabilities allow the device to deliver 480 Gbps switching capacity and 357.14 Mpps forwarding rates with an added 4MB packet buffer. Static route and policy route ensure zero overhead on traffic for the best possible quality of service (QoS). Finally, the XS3700-24 makes virtualization and convergence easy with its high-density line-in performance.
Zyxel One Network experience
Aiming for relieving our customers from repetitive operations of deploying and managing a network, Zyxel One Network is designed to simplify the configuration, management, and troubleshooting, allowing our customers to focus on the business priorities. Zyxel One Network presents an easy-to-use tool, Zyxel One Network Utility (ZON Utility), to realize speed network setup. Zyxel Smart Connect allows Zyxel networking equipment to be aware and recognize each other and further facilitating the network maintenance via one-click remote functions such as factory reset or power cycling. Zyxel One Network redefines the network integration across multiple networking products from switch to Wi-Fi AP and to Gateway.
Resiliency and availability for non-stop business continuity
The XS3700-24 features no single point of failure (NSPOF) in both its hardware and software design, providing the reliability necessary for uninterrupted service in a business environment. This is made possible by the device's high-redundancy hardware architecture, which includes dual internal power supplies, dual image on dual flash and high-availability software design via Virtual Router Redundancy Protocol (VRRP). This last feature—VRRP—allows several first-hop virtual routers to dynamically share an IP address by assigning one the role of master while the remainder are designated as backups.
Comprehensive security and access protection
Security is on the mind of every user and network administrator these days. That is why Zyxel equips the XS3700-24 with the most comprehensive array of security features to enhance isolation and control while avoiding service interruptions, making it the ideal SMB solution for virtualization and convergence. Once such feature is loop guard, which helps avoid breaks in service caused by switching loops. Other advanced defense mechanisms include TACAS+ and RADIUS authentication, both of which can increase system security by blocking unauthorized logons. Finally, features like IP source guard, DHCP snooping and ARP inspection can detect and block international network attacks.
Application Diagram:
SMB core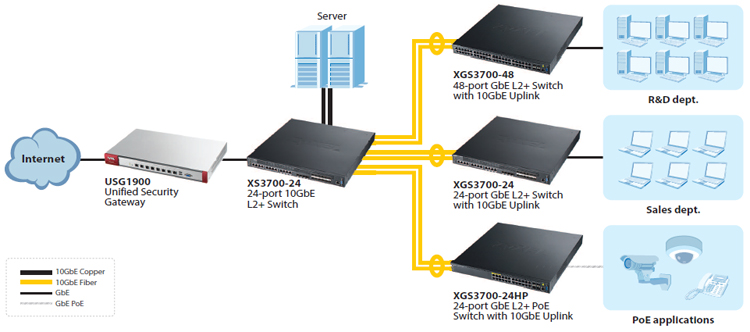 Specifications:
Model:
XS3700-24
Product Name
24-port 10GbE L2+ Switch
Switch class
Layer 2 Plus (Layer 3 Lite)
Port Density
Total port count
24
1000/10GBASE-T
8
10-Gigabit SFP+
12
10 Gigabit combo (SFP/RJ-45)
4
Performance
Switching Capacity(Gbps)
480
Switching Forwarding Rate (Mpps)
357.14
Packet Buffer (byte)
4M
MAC Address
16k
System memory/flash
512 MB/32 MB
Power Requirement
Input
100 - 240 V AC, 50/60 Hz
Max. power consumption (watt)
• Single PSU: 143.1
• Dual PSU: 161
Physical Specification
Item dimensions (WxDxH)(mm/in.)
440 x 438 x 44/17.32 x 17.24 x 1.73
Item weight (kg/lb)
7.392/16.3
Packing dimensions (WxDxH)(mm/in.)
615 x 550 x 115/24.21 x 21.65 x 4.53
Packing weight (kg/lb)
9.721/21.43
Included accessories
Power cord
Rack mounting kit
Environmental Specification
Operating Temperature
0°C to 50°C / 32°F to 122°F
Operating Humidity
10% to 95% (non-condensing)
Storage Temperature
-40°C to 70°C / -40°F to 158°F
Storage Humidity
10% to 90% (Non-condensing)
MTBF (hr)
446034.72
Heat dissipation (BTU/hr)
Single PSU: 487.971
Dual PSU: 549.01
Acoustic noise
53.7 dBA
Features:
Standard Compliance

IEEE 802.3z 1000BASE-X
IEEE 802.3an 10G BASE-T Ethernet
IEEE 802.3ae 10 Gbit/s Ethernet over fiber
IEEE 802.3x flow control
IEEE 802.3az EEE support
IEEE 802.1p CoS support
IEEE 802.1AB LLDP/LLDP-MED
IEEE 802.3ah EFM (Link Discovery, Loopback)(V380)
IEEE 802.1ag CFM
Store and forward
N-way auto-negotiation

Resilience and Availability

IEEE 802.1D Spanning Tree Protocol (STP)
IEEE 802.1w Rapid Spanning Tree Protocol (RSTP)
IEEE 802.1s Multiple Spanning Tree Protocol (MSTP)
IEEE 802.3ad LACP
VRRP
Loop guard
ErrDisable recovery
MRSTP (Zyxel proprietary)
Dual configuration files
Redundant power supply support
Dual flash images

Traffic Control

802.1Q static VLANs/dynamic VLANs: 1 K/4 K
Port-based VLAN
Protocol-based VLAN
IP subnet-based VLAN
Private VLAN
Voice VLAN
VLAN trunking
VLAN translation
VLAN ingress filtering
802.1ad VLAN stacking (Q-in-Q)
LACP algorithm of source/destination IP
GVRP
Selected Q-in-Q (V390)
L2PT

Security

802.1X
Port security
MAC authentication
Layer 2 MAC filtering
Layer 3 IP filtering
Layer 4 TCP/UDP socket filtering
BPDU transparency
Static MAC forwarding
Multiple RADIUS servers
Multiple TACACS+ servers
802.1x VLAN and bandwidth assignment by RADIUS
Login authentication by RADIUS
Login authentication by TACACS+
TACACS+ accounting
RADIUS accounting
Authorization on TACACS+
Authorization on console
SSH v1/v2
SSL
Intrusion lock
MAC freeze
DHCP snooping
ARP inspection
ARP freeze (V410)
Static ARP setting
Static IP/MAC binding
Policy-based security filtering
Port isolation
IP source guard
Limit number of MAC per VLAN
MAC search
Guest VLAN
ACL packet filtering (IPv4/IPv6)
PPPoE relay agent
PPPoE option82
PPPoE IA
CPU protection
MAC pinning
Interface related trap enable/disable (by port)

Quality of Service (QoS)

No. of hardware queues per port: 8
802.1p queuing method: SPQ, WRR, WFQ
Storm control: broadcast, multicast, unknown unicast (DLF)
Port-based rate limiting (Ingress/Egress): */64 kbps
Rate limiting, per IP/TCP/UDP per port
Policy-based rate limiting
Ingress CIR for bandwidth control
802.3x flow control
Port-based egress traffic shaping CIR/PIR supported
Policy based prioritization
Two Rate Three Color Marking (TRTCM)
802.1p Class of Service (SPQ, WFQ, SPQ/WFQ combination capable)
DiffServ (DSCP)

Layer 2 Multicast

L2 multicast (Group)
IGMP snooping (v1, v2, v3)
IGMP snooping fast leave
Configurable IGMP snooping timer and priority
IGMP snooping statistics
IGMP throttling
MVR support
IGMP filtering
IGMP snooping immediate leave
IGMP snooping and proxy
IPv6 MLD snooping proxy

Routing

Static route
Policy-based route
IP port moving

Manageability

SNMP v1, v2c, v3
SNMP trap group
RMON (1, 2, 3, 9)
ICMP echo/echo reply
Syslog

IPv6 Management

IPv6 over Ethernet (RFC 2464)
IPv6 addressing architecture (RFC 4291)
Dual stack (RFC 4213)
ICMPv6 (RFC4884)
Path MTU (RFC 1981)
Minimum path MTU size of 1280 (RFC 5905)
Encapsulation for maximum PMTU of 1500
Neighbor discovery (RFC 4861)
DHCPv6 relay

Device Management

iStacking
Web interface
Management through console, telnet, SNMP
Firmware upgrade by FTP
Remote firmware upgrade by FTP/Web
Configuration saving and retrieving
Multiple login supported
Configure clone
Multilevel CLI
CLI (Cisco like)
DHCP servers
DHCP relay per VLAN
DHCP option 82
Daylight Saving
NTP
Port mirroring
Policy-based port mirroring
RJ-45 out-of-band management port
RS-232 out-of-band console port
sFlow
Remote port monitoring

MIB Information

Zyxel new private MIB
RFC 1066 TCP/IP-based MIB
RFC 1213, 1157 SNMPv2c/v3 MIB
RFC 1493 bridge MIB
RFC 1643 Ethernet MIB
RFC 1757 RMON Group 1, 2, 3, 9
RFC 2011, 2012, 2013 SNMPv2 MIB
RFC 2233 SMIv2 MIB
RFC 2358 Ethernet-like MIB
RFC 2674 bridge MIB extension
RFC 2819, 2925 remote management MIB (V350)
RFC 3621 Power Ethernet MIB
RFC 4022 management information base for transmission control protocol
RFC 4113 management information base for user datagram protocol
RFC 4292 IP forwarding table MIB
RFC 4293 Management Information Base (MIB) for IP

Certifications

Safety
EMC

FCC Part 15 (Class A)
CE EMC (Class A)
BSMI EN

RoHS


Zyxel One Network

ZON Utility

Discovery of Zyxel switches, APs and gateways*
Centralized and batch configurations

IP configuration
IP renew
Device reboot
Device locating
Web GUI access
Firmware upgrade
Password configuration
One-click quick association with Zyxel AP Configurator (ZAC)

Smart Connect

Discover neighboring devices
One-click remote management access to the neighboring Zyxel devices

* Gateway supporting ZON utility is scheduled for future release.
Accessories


10-Gigabit Module (Optional)
RPS300
Power supply unit
FAN500
Fan module
Transceivers (Optional)
Model
Speed
Connector
Wavelength
Max. Distance
DDMI
SFP10G-SR
Gigabit
Duplex LC
850 nm
300 m (328 yd)
Yes
SFP10G-LR
Gigabit
Duplex LC
1310 nm
10 km (10936 yd)
Yes
SFP-1000T
Gigabit
RJ-45
-
100 m (109 yd)
-
SFP-BX1310-10-D
Gigabit
LC
1310 nm (Tx)
1490 nm (Rx)
10 km (10936 yd)
Yes
SFP-BX1490-10-D
Gigabit
LC
1490 nm (Tx)
1310 nm (Rx)
10 km (10936 yd)
Yes
SFP-LHX1310-40-D
Gigabit
LC
1310 nm
40 km (43744 yd)
Yes
SFP-LX-10-D
Gigabit
LC
1310 nm
10 km (10936 yd)
Yes
SFP-SX-D
Gigabit
LC
850 nm
550 m (601 yd)
Yes
SFP-ZX-80-D
Gigabit
LC
1550 nm
80 km (87488 yd)
Yes
Direct Attach Cables (Optional)
Model
Connector
Cable Length
DAC10G-1M
SFP+ to SFP+
1 m (39.37 inch)
DAC10G-3M
SFP+ to SFP+
3 m (118.11 inch)