Zyxel XGS1910-48

Embracing Greater Bandwidth and Future-proof Technologies

Zyxel Products
Zyxel XGS1910-48
Zyxel XGS1910-48
- 44 Port GbE L2 Advanced Web Managed Switch + 4 GbE Combo GbE/SFP + 4x 10GbE SFP+ ports
#XGS1910-48
List Price:
$1,369.99
Our Price: $1,110.00
Click here to jump to more pricing!
Overview:
Smart Managed Switch Embracing Greater Bandwidth and Future-proof Technologies
The Zyxel XGS1910/GS1910 Series 24/48-port GbE Smart Managed Switch is smart switches with optional 10GbE uplink for maximum throughput to fulfill increasing network demands for Small and Medium Businesses (SMB). The Series consists of six models—XGS1910-24, XGS1910-48, GS1910-24, GS1910-24HP, GS1910-48 and GS1910-48HP—that provide 24/48 10/100/1000BASE-T PoE Plus or non-PoE copper ports. The XGS1910 models provide 2/4 10GbE connectivity for uplinks.
The XGS1910/GS1910 Series is ideal for securing 10/100, Gigabit and 10GbE connectivity; it also offers IEEE 802.3az, access security, advanced prioritization, traffic-monitoring capabilities and a fanless design. Meanwhile, the Series supports smooth IPv6 migration for future expansions. As a result, the XGS1910/GS1910 Series is suitable for fulfilling SMB network needs with cost-effective, valuable frameworks.
Advanced Smart GbE L2 ACL switching features
48/88/104/176 Gbps non-blocking switch fabric (XGS1910-24: 88, XGS1910-48: 176, GS1910-48/48HP: 104, GS1910-24/24HP: 48)
2/4 10GbE uplink SFP+ ports (XGS1910-24/XGS1910-48)
IEEE 802.3at Power over Ethernet Plus (PoE+, GS1910-24HP/GS1910-48HP)
Supports IPv6
Fanless design (GS1910-24)
Benefits:
Smart Layer 2 features enrich access networks
The Zyxel XGS1910/GS1910 Series consists of full-featured GbE Ethernet switches providing comprehensive Layer 2 switching capabilities such as Access Control List (ACL) rules and 802.1AB LLDP and LLDP-MED, etc. The Series delivers the essential network features for businesses with easy-to-use management at a right price. That is, the XGS1910/GS1910 Series is the best Edge switch range for small- and medium-size businesses to build high-performance network efficiently.
GbE bandwidth for desktops
When videos of higher resolution and data flow constantly evolve, network user demands might not be satisfied and business operations hampered by insufficient bandwidth. The Zyxel XGS1910/GS1910 Series provides GbE bandwidth to desktops to ensure sufficient bandwidth for all business communications, data delivery and daily operations. Taking advantages of GbE, businesses can create premium worry-free IT environment and expand operations with desirable efficiency and productivity
Energy management with IEEE 802.3az and IEEE 802.3at PoE Plus
As operating overheads such as electric bills increase constantly due to the rising green awareness, businesses have to avoid unnecessary energy waste. The built-in IEEE 802.3az Energy Efficient Ethernet (EEE) features of Zyxel XGS1910/GS1910 Series can reduce energy consumption of Ethernet devices through defining low-power modes and adjusting the operating timeframe to help saving the related costs effectively.
Meanwhile, although IEEE 802.3af is insufficient for providing power to large-scale network deployments or high-power devices such as outdoor Wi-Fi APs, IP cams and IP phones, fortunately the Zyxel GS1910 Series features IEEE 802.3at PoE Plus with up to 30 W power per port to flexibly extend network deployments. 802.3at PoE Plus makes the switch ideal for connecting numerous powered devices to form a flawless business network.
Optional 10GbE uplink for flexible data delivery
Ready for the future 10 Gigabit Ethernet, the Zyxel XGS1910 Series collocates 2/4 10GbE connectivity for uplinks that allow SMBs to deliver higher bandwidth for congestion relief and smooth data delivery. Furthermore, 10GbE Gigabit uplinks to desktops also allow businesses to become highly efficient IT environments for secure, smooth daily online operations.
Application Diagram: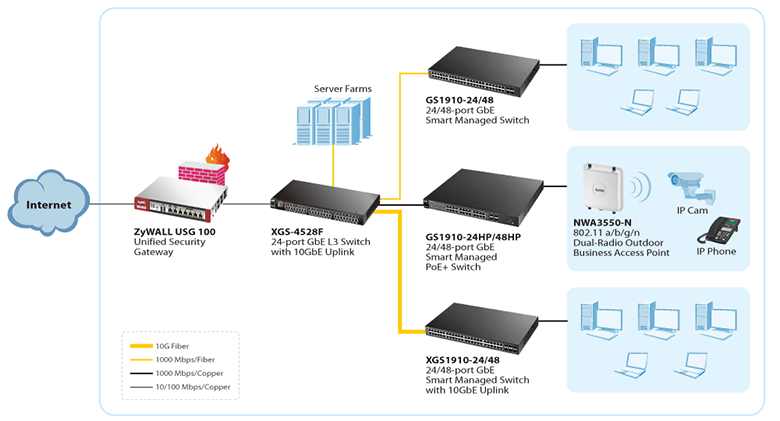 Specifications:
Model
XGS1910-24
XGS1910-48
GS1910-24
GS1910-24HP
GS1910-48
GS1910-48HP
Product Name
24-port GbE Smart Managed Switch with 10GbE Uplink
48-port GbE Smart Managed Switch with 10GbE Uplink
24-port GbE Smart Managed Switch
24-port GbE Smart Managed PoE+ Switch
48-port GbE Smart Managed Switch
48-port GbE Smart Managed PoE+ Switch
Port Density
10/100/1000 BASE-T, fixed
20
44
20
-
48
-
10/100/1000 BASE-T, PoE, fixed
-
-
-
20
-
48
Open SFP (GbE)
-
-
-
-
4
4
Dual-personality GbE ports
4
4
4
4
-
-
10GbE port
2
4
-
-
-
-
Performance
Switching capacity (Gbps)
88
176
48
48
104
104
Switch forwarding rate (Mpps)
65.5
131
35.7
35.7
77.4
77.4
Packet buffer (byte)
4 M
4 M
512 K
512 K
4 M
4 M
MAC address
32 K
32 K
8 K
8 K
32 K
32 K
Power
Input voltage of AC
AC Power input (100 V - 240 V)
50 - 57 V output for PoE
Max. power consumption (watt)
32
61
18
484
49
519
PoE power budget (watt)
-
-
-
370
-
370
Physical Specifications
Item
Dimensions
(WxDxH)(mm/in.)
430 x 180 x 44/16.93 x 7.09 x 1.73
430 x 250 x 44/16.93 x 9.84 x 1.73
430 x 180 x 44/16.93 x 7.09 x 1.73
430 x 350 x 44/17.32 x 13.78 x 1.73
430 x 250 x 44/16.93 x 9.84 x 1.73
440 x 350 x 44/17.32 x 13.78 x 1.73
Weight (kg/lb.)
2.1/4.63
3.1/6.83
2.1/4.63
4.7/10.36
3/6.61
4.9/10.80
Packing
Dimensions
(WxDxH)(mm/in.)
545 x 303 x 95/21.46 x 11.93 x 3.74
540 x 362 x 87/21.26 x 14.25 x 3.43
545 x 303 x 95/21.46 x 11.93 x 3.74
568 x 452 x 100/22.36 x 17.80 x 3.94
540 x 362 x 87/21.26 x 14.25 x 3.43
568 x 452 x 100/22.36 x 17.80 x 3.94
Weight (kg/lb.)
3.1/6.83
4.11/9.06
2.95/6.5
5.97/13.16
3.66/8.06
6.67/14.7
Environmental Specifications
Operating environment
Temperature
0°C to 50°C/32°F to 122°F
Humidity
10% to 95% (non-condensing)
Storage environment
Temperature
-40°C to 70°C/-40°F to 158°F
Other Specifications
MTBF (hr)
> 100000
Heat dissipation (BTU/hr)
109.1
206.3
61.4
1650.4
167.1
1769.8
Features:
Standard Compliance

IEEE 802.3
IEEE 802.3u
IEEE 802.3ab
IEEE 802.3z 1000BASE-X
IEEE 802.3x flow control
IEEE 802.3az EEE support
IEEE 802.1p CoS support
IEEE 802.3af/at (PoE models only)
Full-duplex and half duplex operation with IEEE 802.3x flow control and backpressure
Store and forward
N-way auto-negotiation

Traffic Management and QoS

Port-based VLAN
MAC-based VLAN
Protocol-based VLAN
IEEE 802.1Q VLAN tagging
Guest VLAN
Voice VLAN
Storm control
802.1p priority queues per port
IEEE 802.1p queuing method (scheduler)
Input priority mapping
QoS control list (QCL mode)
Port-based rate limiting (ingress/egress)
Rate limiting by IP/TCP/UDP
IEEE 802.3x flow control
Policy-based prioritization

Class of Service (CoS)

IEEE 802.1p class of service
DiffServ (DSCP)
Policy-based CoS

Resilience and Availability

IEEE 802.1D STP/802.1w RSTP/802.1s MSTP
IEEE 802.3ad LACP
Port error recovery

Security

IEEE 802.1x
Port security
MAC authentication
MAC address limit
Layer 2 MAC filtering
Layer 3 IP filtering
Layer 4 TCP/UDP socket filtering
BPDU guard
Static MAC forwarding
Multiple RADIUS servers
Multiple TACACS+ servers
RADIUS
TACACS+
SSL
DHCP snooping
ARP inspection
UPNP
Policy-based security filtering
Port isolation
IP source guard
ACL packet filtering

Layer 2 Multicast

IGMP snooping (v1, v2, v3)
MVR support
IGMP filtering
IPv6 MLD snooping

IPv6

IPv6 management
IPv6 over Ethernet (RFC 2464)
Dual-stack (RFC 4213)
ICMPv6 (RFC 4884)
Neighbor discovery (RFC 4861)
IPv6 addressing architecture (RFC 4291)

Discovery

IEEE 802.1AB LLDP
LLDP-MED

Network Management

Web-based management
SNMP v1, v2c, v3
RMON groups 1, 2, 3, 9
Dual-image
NTPv4
DHCP relay
Syslog
Port mirroring
DNS
sFlow
EEE

MIB Information

RFC 1213 MIB II
IEEE 802.1Q bridge MIB
RFC 2819 RMON (group 1, 2, 3, 9)
RFC 3414 user-based security model for SNMPv3
RFC 3415 view-based access control model for SNMP
RFC 4133 entity MIB v3
RFC 4188 bridge MIB
IEEE 802.1 MSTP MIB
IEEE 802.3AB LLDP-MIB
IEEE 802.3ad LACP MIB

Certifications

Safety: LVD
EU RoHS compliant
EMI: FCC, CE, CNS, ICES
BSMI: CNS14336 & CNS13438
Pricing Notes:
Pricing and product availability subject to change without notice.
Zyxel Products
Zyxel XGS1910-48
Zyxel XGS1910-48
- 44 Port GbE L2 Advanced Web Managed Switch + 4 GbE Combo GbE/SFP + 4x 10GbE SFP+ ports
#XGS1910-48
List Price:
$1,369.99
Our Price: $1,110.00