Zyxel PLA5236

1000 Mbps Powerline AC900 Wireless Extender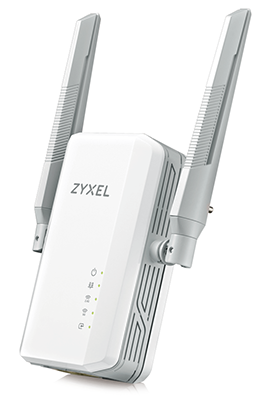 Sorry, this product is no longer available, please contact us for a replacement.
Overview:
A Little Box of Brilliance
Can't get a good wireless signal in certain parts of your home? Grab a Zyxel PLA5236 1000 Mbps Powerline AC900 Wireless Extender to fix the problem. Powered by the HomePlug AV2 and 802.11ac technology, this device provides fast wireless and wired speed for all your networked devices – excellent for smooth 4K/UHD video streaming and lag-free online gaming experience. It comes with two Gigabit Ethernet ports to connect a video game console, Bluray players, networked set-top box, smart TVs or any other Ethernet network device that requires Internet connectivity.
Quick setup with Zyxel smartphone apps Easy Setup & ONE Connect
3 wireless modes, so you can choose between fast speeds or best coverage
Extend or create an 802.11ac wireless network to get the fastest speed on your latest smartphones, tablets and laptops
HomePlug AV2 enables a powerline network of up to 1000 Mbps
Transform a power outlet into two Gigabit Ethernet ports for Internet routers, game consoles, smart TVs and much more