Zyxel NWA5121-NI

802.11 a/b/g/n Unified Access Point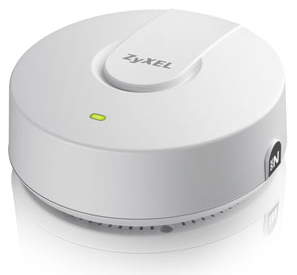 Sorry, this product is no longer available, please contact us for a replacement.
Overview:
Solving the WLAN Problems of Tomorrow, Today
The Zyxel NWA5120 Series 802.11 a/b/g/n Unified Access Point is a highly future-proof WLAN solution perfect for growing business, hospitality and education environments. With a 2-in-1 standalone/managed AP design, users can initially use it as a standalone AP, and convert it to a controller-managed AP when Wi-Fi demand grows. The Series is designed with industry-leading technology to provide trouble-free wireless quality to lower IT overhead. The embedded antennas and signal output are fine-tuned to provide easy RF planning and maximum signal coverage. It also supports such features as dynamic channel selection, load balancing and pre-authentication for superb Wi-Fi experience.
Ceiling and wall mountable
Plenum rated housing
2-in-1 standalone/managed AP design
CAPWAP management supported
2.4 GHz and 5 GHz concurrent dual-band (NWA5123-NI)
High-performance RF technology: Tx Beamforming and Rx Maximum Likelihood Demodulation (MLD)
Benefits:
Ceiling-mount design blends into environments
Different from traditional business routers, the slick "smoke detector" ceiling-mount design of Zyxel NWA5120 Series provides better coverage and performance. The NWA5120 Series is a PoE AP with a multifunction design that solves all problems by offering internal as well as external antennas to enhance wireless performance and to eliminate coverage dead spots. Moreover, the signal outputs have been fine-tuned to provide easy RF planning and excellent signal coverage especially for hospitality and education environments.
The Zyxel NWA5120 Series has been designed with plenum rating and made of non-toxic materials without hazardous emission – the safe design makes it more suitable for public indoor wireless deployments.
Effortless conversion from standalone to centrally-managed
The Zyxel NWA5120 Series Unified APs can be configured as a fully functional standalone AP and also capable to work with Wireless LAN Controller to form a robust controller-based WLAN solution with centralized management when Wi-Fi demand grows, as well as auto AP provisioning over both LAN and WAN connections. After being installed and powered on, the APs automatically look for the Wireless LAN Controller and establish connections. Utilizing the CAPWAP protocol, connections can be established between the controller and APs without needing to change the existing LAN infrastructure.
Easy to RF planning with the same 2.4 GHz and 5 GHz signal coverage (NWA5123-NI)
As more and more mobile or laptop devices support both 2.4 GHz and 5 GHz bands, users can choose 5 GHz as the first priority for default searching and balance heavy network loading with the 2.4 GHz band, besides, to have always on and stable connection become one of the essential elements of Wi-Fi network. The Zyxel NWA5123-NI 802.11 a/b/g/n Dual-Radio Unified AP consists of 2.4 GHz and 5 GHz dual-band radio to match the concurrent Wi-Fi services with either frequency. The higher frequency of the 5 GHz band provides a shorter signal range compared to the 2.4 GHz band with the same transmit output power. The NWA5123-NI consist of high 5 GHz transmit output power can boost the 5 GHz signal range, providing signal coverage equal to the 2.4 GHz wireless network. Therefore, the complexity of deployment can be considerably reduced.
Continuous wireless services for better reliability and network quality
The Zyxel NWA5120 Series 802.11n PoE AP features coverage-enhancing 11n technologies such as TX Beamforming, LDPC and MLD to eliminate issues of dead spots and inefficient coverage. With MLD, the NWA5120 Series boosts the Signal-to-Noise Ratio (SNR) to 3 dB for more stable wireless services and better performance. Meanwhile, TX Beamforming also eliminates dead spots by expanding the coverage with continuous, dynamic changing of signal phases. With non-stop wireless services, the NWA5120 Series provides reliable network connectivity for better business productivity.
Application Diagram: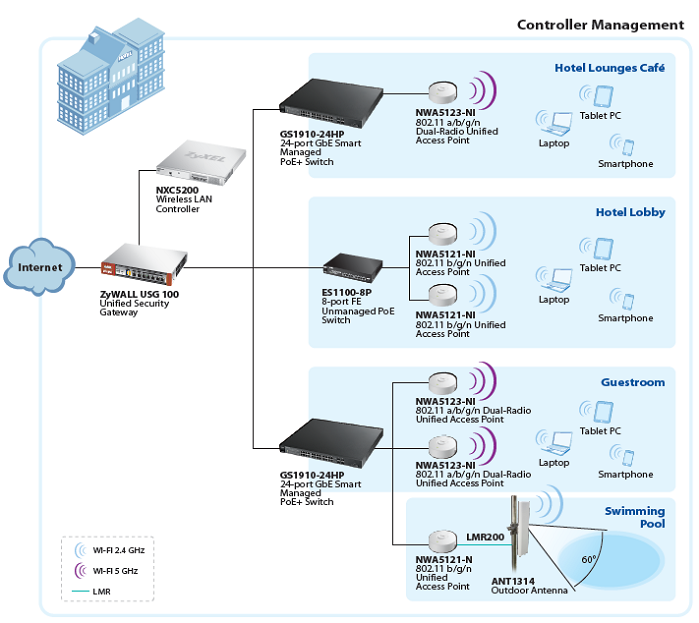 Specifications:
Model
NWA5121-NI
NWA5121-N
NWA5123-NI
802.11 b/g/n Unified Access Point
802.11 b/g/n Unified Access Point
802.11 a/b/g/n Dual-Radio Unified Access Point
Product name
Main Design
Wireless frequency
2.4 GHz
2.4 GHz
2.4 GHz & 5 GHz
Radio
1
1
2
Antenna
Embedded 2x2 4.5 dBi antenna
2 External 3 dBi dipole antenna
Embedded 2x2 3 dBi/2 dBi antenna
RF Specifications
Frequency band
2.4 GHz (11 g/n)
2.4 GHz (IEEE 802.11 b/g/n)
USA (FCC): 2.412 to 2.462 GHz
Europe (ETSI): 2.412 to 2.472 GHz
Taiwan (TW): 2.412 to 2.462 GHz
2.4 GHz (IEEE 802.11 b/g/n)
USA (FCC): 2.412 to 2.462 GHz
Europe (ETSI): 2.412 to 2.472 GHz
Taiwan (TW): 2.412 to 2.462 GHz
5 GHz (11 a/n)
-
5 GHz (IEEE 802.11 a/n)
USA (FCC): 5.15 to 5.35 GHz;
5.725 to 5.850 GHz
Europe (ETSI): 5.15 to 5.35 GHz;
5.470 to 5.725 GHz
Taiwan (TW): 5.15 to 5.35 GHz;
5.725 to 5.850 GHz
Typical Transmit Output Power (Conducted)
FCC
11 b/g
20 dBm
20 dBm
23 dBm
11 g/n
20 dBm
20 dBm
23 dBm
11 a
-
-
26 dBm
11 a/n
-
-
26 dBm
EU
11 b/g
17 dBm
17 dBm
17 dBm
11 g/n
17 dBm
17 dBm
17 dBm
11 a
-
-
26 dBm
11 a/n
-
-
26 dBm
LAN
Number of 10/100/1000 Mbps LAN ports
1
1
1
PoE
Yes
Yes
Yes
PoE power draw
4 W
4 W
7 W
WLAN Features
Support data rate
802.11g: 1, 2, 5.5, 6, 9, 11, 12, 18, 24, 36, 48 and 54 Mbps
802.11n: up to 300 Mbps in MCS15 (40 MHz; GI=400 ns)
802.11g: 1, 2, 5.5, 6, 9, 11, 12, 18, 24, 36, 48 and 54 Mbps
802.11n: up to 300 Mbps in MCS15 (40 MHz; GI=400 ns)
802.11 a/g: 1, 2, 5.5, 6, 9, 11, 12, 18, 24, 36, 48 and 54 Mbps 802.11n: up to 300 Mbps in MCS15 (40 MHz; GI=400 ns)
WMM (Wi-Fi certified)
Yes
Yes
Yes
WEP
Yes
Yes
Yes
WPA/WPA2-PSK
Yes
Yes
Yes
WPA2 (Wi-Fi certified)
Yes
Yes
Yes
WPA/WPA2-Enterprise
Yes
Yes
Yes
Network
VLANs
Yes
Yes
Yes
DHCP client
Yes
Yes
Yes
QoS
WMM
Yes
Yes
Yes
WMM power saving
Yes
Yes
Yes
Management Features
CLI
Yes
Yes
Yes
Others
Plenum rating
Yes
Yes
Yes
MTBF (hr)
627,152
627,152
781,396
Standard Compliance
Ethernet
IEEE 802.3, IEEE 802.3u
IEEE 802.3, IEEE 802.3u
IEEE 802.3, IEEE 802.3u
PoE
IEEE 802.3af
IEEE 802.3af
IEEE 802.3af
Radio modulation
IEEE 802.11 a/g (OFDM/DSSS)

48/54 Mbps (QAM-64)
24/36 Mbps (QAM-16)
12/18 Mbps (QPSK)
6/9 Mbps (BPSK)

IEEE 802.11b (DSSS)

5.5/11 Mbps (CCK)
2 Mbps (DQPSK)
1 Mbps (DBPSK)

IEEE 802.11n (OFDM/DSSS)

Certification
Radio
ETSI EN 300 328 V1.7.1: 11-2006
FCC Part 15.247
LP0002
EN 60601-1-2: 2007
ETSI EN 300 328 V1.7.1: 11-2006
EN 301 893 V1.5.1
FCC Part 15.247
FCC Part 15E
LP0002
EN 60601-1-2: 2007
EMC
EN 301 489-1 V1.8.1: 04-2008
EN 301 489-17 V2.1.1: 05-2009
EN55022: 2010
EN55024: 2010
EN61000-3-2/-3
FCC Part 15.107
BSMI CNS13438.99; CNS14336: 99
EN 301 489-1 V1.8.1: 11-2008
EN 301 489-17 V2.1.1: 05-2009
EN55022: 2010
EN55024: 2010
EN61000-3-2/-3
FCC Part 15.107
BSMI CNS13438.99;
CNS14336: 99
Safety
EN 60950-1: 2006 + A11: 2009 + A1: 2010 + A12: 2011
IEC 60950-1: 2005
BSMI
EN 60950-1: 2006 + A11: 2009 +
A1: 2010 + A12: 2011
IEC 60950-1: 2005
BSMI
Power Requirement
Power supply
12 V DC, 1 A
12 V DC, 1 A
12 V DC, 1 A
Physical Specifications
Item
Dimensions (WxDxH)(mm/in.)
130 x 130 x 54.5/5.12 x 5.12 x 2.17
130 x 130 x 54.5/5.12 x 5.12 x 2.17
130 x 130 x 54.5/5.12 x 5.12 x 2.17
Weight (kg/lb.)
0.23/0.51
0.23/0.51
0.25/0.55
Packing
Dimensions (WxDxH)(mm/in.)
282 x 207 x 71/11.10 x 8.15 x 2.80
282 x 207 x 71/11.10 x 8.15 x 2.80
282 x 207 x 71/11.10 x 8.15 x 2.80
Weight (kg/lb.)
0.61/1.34
0.61/1.34
0.63/1.39
Environmental Specifications
Operating environment
Temperature
0°C to 50°C/32°F to 122°F
0°C to 50°C/32°F to 122°F
0°C to 50°C/32°F to 122°F
Humidity
10% to 90% (non-condensing)
10% to 90% (non-condensing)
10% to 90% (non-condensing)
Storage environment
Temperature
-30°C to 70°C/-22°F to 158°F
-30°C to 70°C/-22°F to 158°F
-30°C to 70°C/-22°F to 158°F
Humidity
10% to 90%
10% to 90%
10% to 90%