Zyxel NWA3560-N 802.11a/b/g/n Dual Radio Business AP

The N-Generation Access Point Tailor-made for Growing SMB Needs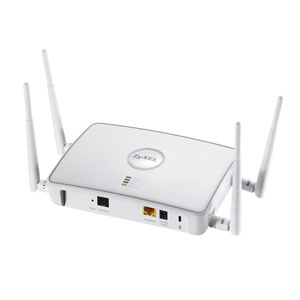 This product is no longer available, contact us for a replacement!
Overview:
Multipurpose Access Point Tailor-made for Growing SMB Needs
Mobility and BYOD (Bring Your Own Device) in the workplace are trends that businesses today need to address to stay competitive. Yet with fewer resources, small- and medium-sized businesses need to plan their wireless networks carefully to get the most out of their investments. Growing SMBs need a solution that is flexible enough to satisfy the wireless needs of today, but also prepare them for future expansion.
Featuring a special 3-in-1 design (standalone, managed and controller modes), the Zyxel NWA3000-N Series Unified Pro Access Points provide ultra-high versatility and investment protection. They can function as a standalone AP when the company is small, and become a controller AP that manages up to 24 other APs when the company grows. The complete NWA3000-N range supports PoE, auto-discovery and auto-provisioning to make deployment effortless. They also provide high-speed, dual-band Wi-Fi for maximum wireless quality and performance.
Multipurpose 3-in-1 design with controller AP mode, managed AP mode and standalone AP mode
Manages up to 24 APs in controller AP mode
Complies with IEEE 802.11 a/b/g/n standards with data rates up to 300 Mbps
Complies with IEEE 802.11 a/b/g/n standards with data rates up to 300 Mbps
Enterprise grade Wi-Fi security with WPA/WPA2-Enterprise
Features built-in RADIUS server
Built with Low Smoke Zero Halogen (LSOH) materials for UL 2043 compliance