Zyxel NWA3560-N 802.11a/b/g/n Dual Radio Business AP

The N-Generation Access Point Tailor-made for Growing SMB Needs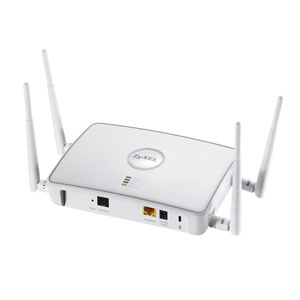 This product is no longer available, contact us for a replacement!
Overview:
Multipurpose Access Point Tailor-made for Growing SMB Needs
Mobility and BYOD (Bring Your Own Device) in the workplace are trends that businesses today need to address to stay competitive. Yet with fewer resources, small- and medium-sized businesses need to plan their wireless networks carefully to get the most out of their investments. Growing SMBs need a solution that is flexible enough to satisfy the wireless needs of today, but also prepare them for future expansion.
Featuring a special 3-in-1 design (standalone, managed and controller modes), the Zyxel NWA3000-N Series Unified Pro Access Points provide ultra-high versatility and investment protection. They can function as a standalone AP when the company is small, and become a controller AP that manages up to 24 other APs when the company grows. The complete NWA3000-N range supports PoE, auto-discovery and auto-provisioning to make deployment effortless. They also provide high-speed, dual-band Wi-Fi for maximum wireless quality and performance.
Multipurpose 3-in-1 design with controller AP mode, managed AP mode and standalone AP mode
Manages up to 24 APs in controller AP mode
Complies with IEEE 802.11 a/b/g/n standards with data rates up to 300 Mbps
Complies with IEEE 802.11 a/b/g/n standards with data rates up to 300 Mbps
Enterprise grade Wi-Fi security with WPA/WPA2-Enterprise
Features built-in RADIUS server
Built with Low Smoke Zero Halogen (LSOH) materials for UL 2043 compliance
Benefits:
Low-cost WLAN expansion for growing businesses
The Zyxel NWA3000-N Unified Pro Series is a highly versatile WLAN solution that offers optimal investment protection for growing businesses. NWA3000-N Series Unified Pro APs feature a 3-in-1 design that allows them to function as either a standalone AP, managed AP, or controller AP. Small businesses can initially use the NWA3000-N Series in standalone AP mode; and as the company grows and more APs are added to the network, they can be set to controller AP mode to offer centralized management of up to 24 other APs. This solution can be further expanded with a Zyxel NXC5200 Wireless LAN Controller, which can manage up to 240 APs with granular access control.
Double the bandwidth, better performance
Mobility and the trend of BYOD have ushered in the need for more Wi-Fi bandwidth and higher Wi-Fi capacity in the workplace. Companies today need a faster, more reliable wireless network to satisfy the access needs of a growing amount of mobile Internet devices. Designed in compliance with IEEE 802.11 a/b/g/n standards, the Zyxel NWA3000-N Series can provide dual-band Wi-Fi with data rates up to 300 Mbps to solve the network overloading and signal interference problems of crowded Wi-Fi environments. The NWA3160-N dual-band model allows users to set it to work in either the 2.4 or 5 GHz band for added deployment flexibility, while the NWA3560-N and NWA3550-N dual-radio models provide concurrent 2.4 and 5 GHz wireless connectivity. These solutions allow IT administrators to direct some of the wireless traffic to the 5 GHz band to balance network loading and provide better Wi-Fi quality for a larger amount of users.
Effortless deployment with PoE, auto-discovery and auto-provisioning
Zyxel NWA3000-N Series Unified Pro APs provide a variety of features to make configuration and installation quick and effortless. With Power over Ethernet (PoE) support, all models in the NWA3000-N Series can be powered by PoE switches via Ethernet cable, which makes installation more flexible and eliminates the need to install electrical outlets near every access point. Once installed and powered up, NWA3000-N Series APs use the auto-discovery function to look for the controller and join the management group automatically. The auto-provisioning function enables secure, automatic provisioning to be established between the controller and the managed APs effortlessly.
Conveniently designed for SMB deployments
Zyxel NWA3000-N Series Unified Pro APs provide enterprise-grade security for SMBs with WPA/WPA2-Enterprise authentication. NWA3000-N Series Unified Pro APs are also conveniently designed with embedded RADIUS servers that help SMBs save the expenses and maintenance effort on using standalone RADIUS servers. Additionally, all indoor models of the NWA3000-N Series adopt LSOH material and comply with the UL 2043 standard. These plenum-rated APs can be conveniently installed in plenum spaces, and would produce the least amount of toxic or corrosive smoke should a fire occur.
Application Diagram:
An NWA3000-N Series Unified Pro AP in controller mode managing up to 24 NWA3000-N Series APs in managed mode.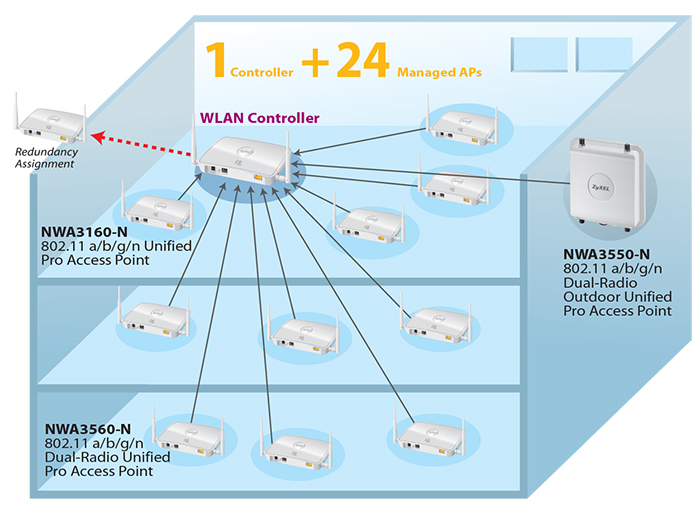 NWA3000-N Series Unified Pro APs in a large campus deployment managed by the Zyxel NXC5200 WLAN Controller.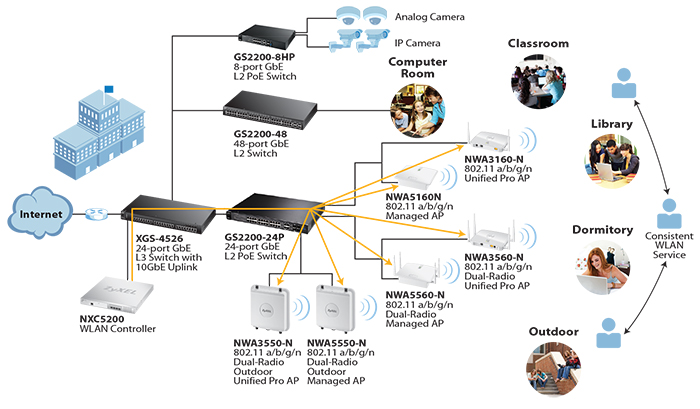 Specifications:
Feature/Model:
NWA3160-N
NWA3560-N
NWA3550-N
Product Name
802.11 a/b/g/n Unified Pro Access Point
802.11 a/b/g/n Dual-Radio Unified Pro Access Point
802.11 a/b/g/n Dual-Radio Outdoor Unified Pro Access Point
Main Design
Wireless frequency
2.4 GHz or 5 GHz
2.4 GHz & 5 GHz
2.4 GHz & 5 GHz
Radio
1
2
2
Antenna
2 external dipole
4 external dipole
4 N-type connectors*
Supported data rates
802.11 a/g: 1, 2, 5.5, 6, 9, 11, 12, 18, 24, 36, 48 and 54 Mbps
802.11n: up to 300 Mbps in MCS15 (40 MHz; GI = 400 ns)
RF Specifications
Frequency band
2.4 GHz (11 g/n)
USA: 2.412 to 2.462 GHz
ETSI: 2.412 to 2.472 GHz
5 GHz (11 a/n)
USA: 5.150 to 5.250 GHz; 5.725 to 5.850 GHz
ETSI: 5.15 to 5.35 GHz; 5.470 to 5.725 GHz
Typical Transmit Output Power (Conducted)
FCC
11 b/g
24 dBm
24 dBm
24 dBm
11 g/n
21 dBm
21 dBm
21 dBm
11a
21 dBm
21 dBm
21 dBm
11 a/n
21 dBm
21 dBm
21 dBm
EU
11 b/g
17 dBm
17 dBm
17 dBm
11 g/n
17 dBm
17 dBm
17 dBm
11a
21 dBm
21 dBm
21 dBm
11 a/n
21 dBm
21 dBm
21 dBm
LAN
Number of 10/100/1000 Mbps LAN ports
1
1
1
PoE
Yes
Yes
Yes
PoE power draw
11 W
14 W
28 W
WLAN Features
Maximum throughput
Up to 120 Mbps
Up to 140 Mbps
Up to 140 Mbps
WMM (Wi-Fi certified)
Yes
Yes
Yes
WEP
Yes
Yes
Yes
WPA/WPA2-PSK
Yes
Yes
Yes
WPA2 (Wi-Fi certified)
Yes
Yes
Yes
WPA/WPA2-Enterprise
Yes
Yes
Yes
EAP-TLS, TTLS, PEAP, SIM
Yes
Yes
Yes
Network
VLANs
Yes
Yes
Yes
DHCP client
Yes
Yes
Yes
Security
IEEE 802.1X
Yes
Yes
Yes
MAC filtering
Yes
Yes
Yes
RADIUS authentication
Yes
Yes
Yes
Embedded RADIUS server
Yes
Yes
Yes
EAP-type
EAP-TLS, EAP-TTLS, PEAP, SIM, FAST, AKA
Rogue AP detection
Yes
Yes
Yes
Rogue AP containment
Yes
Yes
Yes
WLAN Management
Controller mode
Yes
Yes
Yes
Standalone AP mode
Yes
Yes
Yes
Managed AP mode
Yes
Yes
Yes
CLI with SSH
Yes
Yes
Yes
Web UI with SSL
Yes
Yes
Yes
SNMP
Yes
Yes
Yes
Others
Plenum rating
Yes
Yes
-
Kensington lock support
Yes
Yes
-
Standard Compliance
Ethernet
IEEE 802.3, IEEE 802.3u, IEEE 802.3ab, IEEE 802.3z, IEEE 802.3az
PoE
IEEE 802.3af, IEEE 802.3at
Propriatery
Radio modulation
IEEE 802.11a: BPSK, QPSK, 16-QAM, 64-QAM
IEEE 802.11b: DBPSK, DQPSK, CCK
IEEE 802.11g: BPSK, QPSK, 16-QAM, 64-QAM
IEEE 802.11n: BPSK, QPSK, 16-QAM, 64-QAM
Certification
Radio
FCC Part 15C 15.247, FCC Part 15E, ETSI EN 300 328 V1.7.1
ETSI EN 301 893 V1.2.3: 08-2003, DGT LP0002
EMC
FCC Part 15B (Class B)
EN 301 489-17 V1.2.1: 08-2002 (Class B)
EN 301 489-1 V1.5.1: 11-2004 (Class B)
Safety
EN 60950-1 (Class B)
EN 60601-1-2: 2002 (Medical Electrical Equipment)(Class B)
Power Requirement
Power supply
12 V DC, 1.5 A
PoE only
Physical Specifications
Item
Dimensions
(WxDxH)(mm/in.)
198 x 138 x 45/7.80 x 5.43 x 1.77
198 x 138 x 45/7.80 x 5.43 x 1.77
257 x 257 x 51/10.12 x 10.12 x 2.01
Weight (g/lb.)
439/0.97
462/1.02
1,360/3.01
Packing
Dimensions
(WxDxH)(mm/in.)
295 x 192 x 93/11.61 x 7.56 x 3.66
295 x 192 x 93/11.61 x 7.56 x 3.66
382 x 415 x 154/15.04 x 16.34 x 6.06
Weight (g/lb.)
1,164/2.57
1,227/2.71
3,600/7.96
Environmental Specifications
Operating environment
Temperature
0°C to 40°C/32°F to 104°F
-40°C to 60°C/-40°F to 140°F
Humidity
10% to 90% (non-condensing)
10% to 90% (non-condensing)
Storage environment
Temperature
-30°C to 70°C/-22°F to 158°F
-40°C to 70°C/-40°F to 158°F
Humidity
10% to 90% (non-condensing)
10% to 90% (non-condensing)
MTBF (hr)
189,393
173,386
155,600
* Antennas separately sold