Zyxel NWA1123-NI

802.11 a/b/g/n Dual-Radio Ceiling Mount PoE Access Point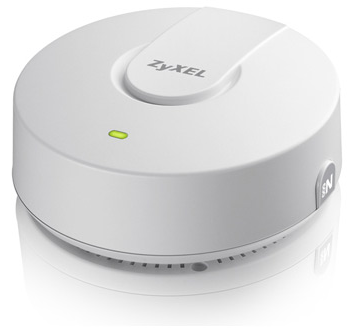 Sorry, this product is no longer available, please contact us for a replacement.
Overview:
Superior Coverage from Multifunction Ceiling Mount Access Point
The Zyxel NWA1120 Series is a standard-based, SNMP-managed PoE Access Point (AP) that includes two 802.11n models: the 2.4 GHz NWA1121-NI and concurrent 2.4/5 GHz NWA1123- NI as well as the newly introduced NWA1123-AC featuring the advanced 802.11ac technology. The smoke detector look exterior makes the NWA1120 Series perfect for indoor ceiling-mount installation; with the optimized antennas built-in, its design solves the common interference issue in ceiling-mount deployments. The NWA1120 Series supports multiple operating modes, such as wireless client and repeater, which make it an ideal, flexible solution for small business, hotels and school environments.
Compact ceiling-mount design with optimized RF performance
High performance for better Wi-Fi experiences (IEEE 802.11n/IEEE 802.11ac)
Easy RF planning with the same 2.4 GHz and 5 GHz signal coverage (NWA1123-NI, NWA1123-AC)
Flexible operating modes (standalone, client mode, root-AP/ repeater mode)