Zyxel NWA1123-NI

802.11 a/b/g/n Dual-Radio Ceiling Mount PoE Access Point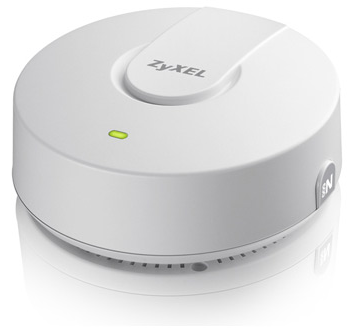 Sorry, this product is no longer available, please contact us for a replacement.
Overview:
Superior Coverage from Multifunction Ceiling Mount Access Point
The Zyxel NWA1120 Series is a standard-based, SNMP-managed PoE Access Point (AP) that includes two 802.11n models: the 2.4 GHz NWA1121-NI and concurrent 2.4/5 GHz NWA1123- NI as well as the newly introduced NWA1123-AC featuring the advanced 802.11ac technology. The smoke detector look exterior makes the NWA1120 Series perfect for indoor ceiling-mount installation; with the optimized antennas built-in, its design solves the common interference issue in ceiling-mount deployments. The NWA1120 Series supports multiple operating modes, such as wireless client and repeater, which make it an ideal, flexible solution for small business, hotels and school environments.
Compact ceiling-mount design with optimized RF performance
High performance for better Wi-Fi experiences (IEEE 802.11n/IEEE 802.11ac)
Easy RF planning with the same 2.4 GHz and 5 GHz signal coverage (NWA1123-NI, NWA1123-AC)
Flexible operating modes (standalone, client mode, root-AP/ repeater mode)
Benefits:
Ceiling-mount design with best interior wireless performance
Different from traditional business wireless APs struggling between performance and environment cohesion, the Zyxel NWA1120 Series of PoE AP features embedded antennas and ceiling-mount capability without sacrificing wireless performance. In typical ceiling-mount installations, the access points with external antennas are mostly hidden in the plenum area; to prevent performance degradation, the antennas usually stick out of the ceiling—messy for indoor deployments. The smoke detector-style exterior of Zyxel NWA1120 Series is suitable for ceiling installation that prevents equipment theft. Although the NWA1120 Series uses built-in antennas, it outperforms APs with internal antennas and blends into the interior better as well.
In addition, the Zyxel NWA1120 Series adopts non-toxic casing material, since it's usually placed in plenum areas, to prevent hazardous vapor emission in case of fire; this is especially important to public venues such as offices, hotels and schools.
High-density with high-quality user experience
It's now common for a user to carry two or more devices that use different Wi-Fi bands; this challenges many places that still use legacy Wi-Fi AP with insufficient capability to serve the high-bandwidth devices. Both NWA1123-NI and NWA1123-AC are compatible with concurrent 2.4 GHz and 5 GHz Wi-Fi bands to support more users at the same time. Featuring the latest IEEE 802.11ac technology, including the expanded channel binding of 80 MHz and the highest 256 QAM (Quadrature Amplitude Modulation), the new NWA1123-AC delivers data speeds of up to 3 times faster. This brings the best user experience through higher number of parallel video data streams for minimized latency on the network.
Easy RF planning with same 2.4 GHz and 5 GHz signal coverage (NWA1123-NI, NWA1123-AC)
Most Wi-Fi devices around us operate in the crowded 2.4 GHz band where only three non-overlapping channels can be used for deployments, and complaints for the unsatisfactory network performance are not uncommon. As many recent mobile or laptop devices support both 2.4 GHz and 5 GHz bands, users tend to choose the 5 GHz band as their first priority; as a result, serving the 5 GHz devices becomes more important than before. However, the coverage of the higher-frequency 5 GHz band is inherently smaller comparing to the 2.4 GHz band, given the same output power. With a fine-tuned 5 GHz radio mechanism that boosts performance at the frequency, the coverage of NWA1123-NI and NWA1123-AC becomes comparable to which at the 2.4 GHz band to reduce the complexity of deployments considerably.
Multi-operation flexibility and practical business features
The NWA1120 Series of PoE Access Points supports multiple operating modes including stand-alone access point, wireless client and repeater/root-AP mode. The wireless client mode enables office peripherals like printers or fax machines to connect to the network in case they are located in places difficult for cabling. The NWA1120 Series also extends Wi-Fi services utilizing the repeater or root-AP mode to prevent excessive cable constructions. The NWA1120 Series is the best choice for small businesses for its practical features designed for business deployments: multiple SSID, solid Wi-Fi security of WPA2 Enterprise, Layer-2 isolation and 802.1 x radius authentication. All these practical features along with the high-performance RF design make the Zyxel NWA1120 Series the best solution for building flexible Wi-Fi networks in small businesses.
Application Diagram: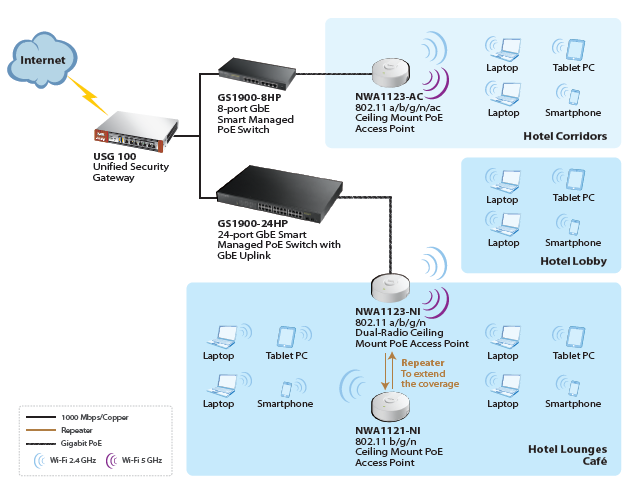 NWA1123-NI and NWA1123-AC with dual-radio offer 2.4 GHz or 5 GHz for different environments
NWA1123-NI, NWA1121-NI as a root AP and repeater extend the coverage with less effort for cabling
Specifications:
Model
NWA1121-NI
NWA1123-NI
NWA1123-AC
802.11 b/g/n Ceiling Mount PoE Access Point
802.11 a/b/g/n Dual-Radio Ceiling Mount PoE Access Point
802.11 a/b/g/n/ac Dual-Radio Ceiling Mount PoE Access Point
Product name
Main Design
Wireless frequency
2.4 GHz
2.4 GHz & 5 GHz
2.4 GHz & 5 GHz
Radio
1
2
2
RF Specifications
Frequency band
2.4 GHz

2.4 GHz (IEEE 802.11 b/g/n)
USA (FCC): 2.412 to 2.462 GHz
Europe (ETSI): 2.412 to 2.472 GHz

2.4 GHz (IEEE 802.11 b/g/n)
USA (FCC): 2.412 to 2.462 GHz
Europe (ETSI): 2.412 to 2.472 GHz

2.4 GHz (IEEE 802.11 b/g/n)
USA (FCC): 2.412 to 2.462 GHz
Europe (ETSI): 2.412 to 2.472 GHz

5 GHz
-

5 GHz (IEEE 802.11 a/n)
USA (FCC): 5.15 to 5.35 GHz; 5.725 to 5.850 GHz
Europe (ETSI): 5.15 to 5.35 GHz; 5.470 to 5.725 GHz

5 GHz (IEEE 802.11 a/n/ac)
USA (FCC): 5.15 to 5.35 GHz; 5.725 to 5.850 GHz
Europe (ETSI): 5.15 to 5.35 GHz; 5.470 to 5.725 GHz

802.11 premium features

2x2 Multiple-Input Multiple-Output (MIMO) with two spatial streams
Maximal Ratio Combining (MRC)
20- and 40-MHz channels
PHY data rates up to 300 Mbps
Packet aggregation: A-MPDU (Tx/ Rx), A-MSDU (Tx/Rx)
Cyclic Delay Diversity (CSD) support
Maximum Likehood Demodulation (MLD) support
Low Density Parity Check (LDPC) support

2x2 Multiple-Input Multiple-Output (MIMO) with two spatial streams
Maximal Ratio Combining (MRC)
20- and 40-MHz channels
PHY data rates up to 600 Mbps (combined rates)
Packet aggregation: A-MPDU (Tx/Rx), A-MSDU (Tx/Rx)
Cyclic Delay Diversity (CSD) support
Maximum Likehood Demodulation (MLD) support
Low Density Parity Check (LDPC) support

2x2 Multiple-Input Multiple-Output (MIMO) with two spatial streams
Maximal Ratio Combining (MRC)
20-, 40- and 80-MHz channels
PHY data rates total up to 300 Mbps (11n) + 866 Mbps (11ac)
Packet aggregation: A-MPDU (Tx/Rx), A-MSDU (Tx/Rx)
Cyclic Delay diversity (CSD) support
Maximum Likehood Demodulation (MLD) support
Low Density Parity Check (LDPC) support

Maximum transmit power*
US (FCC) 2.4 GHz
24 dBm, 2 antennas
23 dBm, 2 antennas
23 dBm, 2 antennas
US (FCC) 5 GHz
-
26 dBm, 2 antennas
26 dBm, 2 antennas
EU (ETSI) 2.4 GHz
17 dBm, 2 antennas
17 dBm, 2 antennas
17 dBm, 2 antennas
EU (ETSI) 5 GHz
-
26 dBm, 2 antennas
26 dBm, 2 antennas
Number of antenna
2T2R MIMO
2T2R MIMO
2T2R MIMO
Antenna gain
2.4 GHz
4.5 dBi
2 dBi
3 dBi
5 GHz
-
3 dBi
5 dBi
Support data rate

802.11a/g: 1, 2, 5.5, 6, 9, 11, 12, 18, 24, 36, 48, and 54 Mbps
802.11n: up to 300 Mbps in MCS15 (40 MHz; GI = 400 ns)

802.11 a/g: 1, 2, 5.5, 6, 9, 11, 12, 18, 24, 36, 48, and 54 Mbps
802.11n: up to 300 Mbps in MCS15 (40 MHz; GI = 400 ns)
802.11ac: up to 866 Mbps in MCS9 (80 MHz; 2 spatial streams; GI = 400 ns)

Receive sensitivity
2.4 GHz

802.11b/g, min. up to -91 dBm
802.11n/20 MHz, min. up to -86 dBm
802.11n/40 MHz, min. up to -84 dBm

2.4 GHz

802.11b/g, min. up to -93 dBm
802.11gn/20 MHz, min. up to -90 dBm
802.11gn/40 MHz, min. up to -86 dBm

5 GHz

802.11a, min. up to -91 dBm
802.11an/20 MHz, up to -89 dBm
802.11an/40 MHz, up to -86 dBm

2.4 GHz

802.11a, min. up to -94 dBm
802.11b/g, min. up to -97 dBm
802.11gn/20 MHz, min. -93 dBm
802.11gn/40 MHz, min. up to -90 dBm

5 GHz

802.11a, min. up to -94 dBm
802.11gn/20 MHz, min. -93 dBm
802.11gn/40 MHz, min. -90 dBm
802.11ac/n/20 MHz, min. -92 dBm
802.11ac/n/40 MHz, min. -91 dBm
802.11 ac/n/80 MHz, min. -90 dBm

LAN
Number of 10/100/1000M LAN
1
1
1
PoE
Yes
Yes
Yes
PoE Power Draw
4 W
7 W
7 W
WLAN Features
WEP
Yes
Yes
Yes
WPA/WPA2-PSK
Yes
Yes
Yes
WPA/WPA2-Enterprise
Yes
Yes
Yes
EAP type
EAP-TLS, EAP-TTLS, EAP-PEAP, EAP-FAST, EAP-AKA and EAP-SIM
WMM (Wi-Fi Certified)
Yes
Yes
Yes
IEEE 802.1X
Yes
Yes
Yes
MAC filtering 
Yes
Yes
Yes
RADIUS authentication
Yes
Yes
Yes
Network
IPv6 support
Yes
Yes
Yes
VLANs
Yes
Yes
Yes
DHCP client
Yes
Yes
Yes
Management
Standalone AP mode
Yes
Yes
Yes
CLI
Yes
Yes
Yes
SNMP
Yes
Yes
Yes
Others
Plenum rating
Yes
Yes
Yes
Power supply
Input: AC 100 - 240 V -50/60 Hz 0.3 A; Output: DC +12 V 1 A
MTBF (hrs)
627,152
781,396
656,972
Standard Compliance
Ethernet

IEEE 802.3
IEEE 802.3u
IEEE 802.3az
IEEE 802.3af

IEEE 802.3
IEEE 802.3u
IEEE 802.3az
IEEE 802.3af

IEEE 802.3
IEEE 802.3u
IEEE 802.11ac
IEEE 802.3az
IEEE 802.3af
WLAN

802.11b: DBPSK, DQPSK, CCK
802.11g: BPSK, QPSK, 16-QAM, 64-QAM
802.11n: BPSK, QPSK, 16-QAM, 64-QAM

802.11a: BPSK, QPSK, 16-QAM, 64-QAM
802.11b: DBPSK, DQPSK, CCK
802.11g: BPSK, QPSK, 16-QAM, 64-QAM
802.11n: BPSK, QPSK, 16-QAM, 64-QAM

802.11b: DBPSK, DQPSK, CCK
802.11g: BPSK, QPSK, 16-QAM, 64-QAM
802.11a: BPSK, QPSK, 16-QAM, 64-QAM
802.11n: BPSK, QPSK, 16-QAM, 64-QAM
802.11ac: BPSK, QPSK, 64-QAM, 256-QAM

Certifications
Radio
FCC Part 15C 15.247, ETSI EN 300 328, EN60601-1-2 DGT LP0002
FCC Part 15C 15.247, FCC Part 15E ETSI EN 300 328, EN 301 893 EN60601-1-2, DGT LP0002
FCC Part 15C, FCC Part 15E, ETSI EN 300 328, EN 301 893, LP0002, EN 60601-1-2
EMC
FCC Part 15/107, EN301 489-17, EN301-489-1, EN55022, EN55024, BSMI CNS 13438
FCC Part 15/107, EN 301 489-17, EN 301 489-1, EN55022, EN55024, BSMI CNS13438
FCC Part 15B, EN 301 489-1, EN 301 489-17, EN55022, EN55024, EN61000-3-2/-3, BSMI CNS13438
Safety
EN 60950-1, IEC 60950-1, BSMI CNS14336-1
EN 60950-1, IEC 60950-1, BSMI CNS14336-1
EN 60950-1, IEC 60950-1 BSMI CNS14336-1
Physical Specifications
Item
Dimensions(WxDxH)(mm/in.)
130 x 130 x 54.5/5.12 x 5.12 x 2.17
130 x 130 x 54.5/5.12 x 5.12 x 2.17
130 x 130 x 54.5/5.12 x 5.12 x 2.17
Weight (g/lb.)
230/0.51
250/0.55
260/0.57
Packing
Dimensions(WxDxH)(mm/in.)
282 x 207 x 71/11.10 x 8.15 x 2.80
282 x 207 x 71/11.10 x 8.15 x 2.80
282 x 207 x 71/11.10 x 8.15 x 2.80
Weight (g/lb.)
610/1.34
630/1.39
640/1.41
Environmental Specifications
Operating environment
Temperature
0°C to 50°C/32°F to 122°F
Humidity
10% to 90% (non-condensing)
Storage environment
Temperature
-30°C to 70°C/-22°F to 158°F
Humidity
10% to 90%