Zyxel NWA1123-ACV2

802.11ac Dual-Radio Ceiling Mount PoE Access Point
Sorry, this product is no longer available, replaced by the NWA1123ACV3.
Overview:
Superior Coverage from Multifunction Ceiling Mount Access Point
Zyxel delivers speed and convenience with its refreshed NWA1123-ACv2 802.11ac 2x2 PoE access point (AP), offering streamlined controller-less deployment for a trouble-free wireless LAN experience. Building on the solid reputation of its predecessor, this ultra-fast AP brings together remarkable performance and coverage enhancements, along with a userfriendly interface and robust design components. The smoke detector-style exterior makes this AP ideal for indoor ceiling-mount installation, providing smooth Wi-Fi service without detracting from interior design aesthetics. The NWA1123-ACv2 also supports repeater operating mode, making it a flexible solution for small businesses, hotels, and school environments.
Compact ceiling-mount design with optimized RF performance
Enterprise class 2x2 802.11ac AP supports combined data rates of up to 1200 Mbps
Better coverage with optimized antenna and RF design
Flexible operating modes (stand-alone, root-AP/ repeater mode)
Reliable software and robust hardware design
Set up and forget offers better-than-ever WLAN experience
Benefits:
Best interior performance in a smoke detector design
Users no longer have to choose between performance and environmental cohesion when deploying business wireless APs. The smoke detector-style form factor of the Zyxel NWA1123-ACv2 with embedded antenna module and optimized radiation pattern is suitable for ceiling installation. This design element not only helps it outperform comparable APs, but also allows it to blend seamlessly into interior spaces and prevent equipment theft. The Zyxel NWA1123-ACv2 is constructed from non-toxic casing materials, making it safe to install in plenum areas, as it won't release hazardous vapor emissions in the event of a fire. This is life-critical issue, particularly when deploying in public venues such as offices, hotels, and schools.
Zyxel One Network experience
Aiming for relieving our customers from repetitive operations of deploying and managing a network, Zyxel One Network is designed to simplify the configuration, management, and troubleshooting, allowing our customers to focus on the business priorities. Zyxel One Network presents an easy-to-use tool, Zyxel One Network Utility (ZON Utility), to realize speed network setup. Zyxel Smart Connect*1 allows Zyxel networking equipment to be aware and recognize each other and further facilitating the network maintenance via one-click remote functions such as factory reset or power cycling. Zyxel One Network redefines the network integration across multiple networking products from switch to Wi-Fi AP and to Gateway
Best-ever user experience
The biggest achievement with the NWA1123-ACv2 is optimized antenna and RF design that create a thoroughly enhanced Wi-Fi experience via a combination of improved software and hardware. Additional improvements to the NWA1123-ACv2 include dynamic channel selection (DCS) and load balancing. DCS avoids interference from co-channel and channel overlapping at initialization, while load balancing allows administrators to easily limit the number of clients associated with each AP. These advanced functions ensure that users can enjoy a stable wireless networking experience over the ideal Wi-Fi channel on the optimal AP.ga
Blending multi-operation flexibility with practical business features
Along with support for stand-alone operating mode, the Zyxel NWA1123-ACv2 PoE access point also provides repeater/root-AP mode compatibility with Zyxel's Unified Pro Series and Unified Series APs.*2 By taking advantage of these features, users can extend wireless connectivity to challenging locations without the bother of troublesome cabling. The NWA1123-ACv2 offers the ideal solution for small businesses through an array of useful features designed for business deployments, including multiple SSID and solid Wi-Fi security provided by WPA2 Enterprise and Layer-2 isolation. All of these practical enhancements coupled with high-performance RF design make the Zyxel NWA1123-ACv2 the best solution for creating flexible Wi-Fi networks for smaller-scale enterprises.
Set up and forget streamlines controller-less deployment
The refreshed NWA1123-ACv2 introduces streamlined controller-less deployment with Zyxel Access Point Configurator (ZAC)*3. Just install the AP wherever desired out of the box and the device will automatically acquire its IP address. ZAC will take over the multiple-AP configuration and help to complete firmware upgrades and profile backups when needed in three easy steps, significantly reducing time and effort. Once the configuration has been completed, the NWA1123-ACv2 is able to operate autonomously without additional maintenance via computer or special management tool. The administrator can easily monitor status using any available SNMP tool, making management simple enough for even networking novices to handle.
Application Diagram: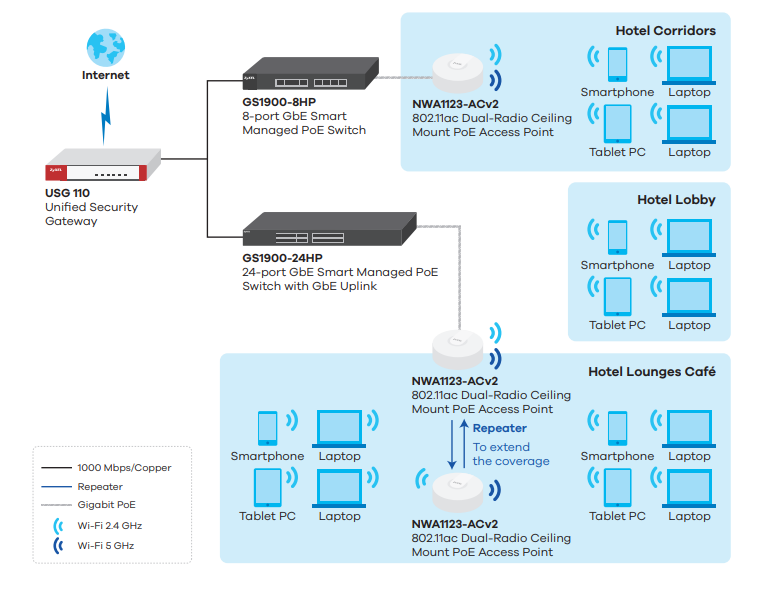 NWA1123-NI and NWA1123-ACV2 with dual-radio offer 2.4 GHz or 5 GHz for different environments
NWA1123-NI, NWA1121-NI as a root AP and repeater extend the coverage with less effort for cabling
Specifications:
| | |
| --- | --- |
| | |
Model
NWA1121-NI
NWA1123-NI
NWA1123-ACV2
802.11 b/g/n Ceiling Mount PoE Access Point
802.11 a/b/g/n Dual-Radio Ceiling Mount PoE Access Point
802.11ac Dual-Radio Ceiling Mount PoE Access Point
Product name
Main Design
Wireless frequency
2.4 GHz
2.4 GHz & 5 GHz
2.4 GHz & 5 GHz
Radio
1
2
2
RF Specifications
Frequency band
2.4 GHz

2.4 GHz (IEEE 802.11 b/g/n)
USA (FCC): 2.412 to 2.462 GHz
Europe (ETSI): 2.412 to 2.472 GHz

2.4 GHz (IEEE 802.11 b/g/n)
USA (FCC): 2.412 to 2.462 GHz
Europe (ETSI): 2.412 to 2.472 GHz

2.4 GHz (IEEE 802.11 b/g/n)
USA (FCC): 2.412 to 2.462 GHz
Europe (ETSI): 2.412 to 2.472 GHz

5 GHz
-

5 GHz (IEEE 802.11 a/n)
USA (FCC): 5.15 to 5.35 GHz; 5.725 to 5.850 GHz
Europe (ETSI): 5.15 to 5.35 GHz; 5.470 to 5.725 GHz

5 GHz (IEEE 802.11 a/n/ac)
USA (FCC): 5.15 to 5.35 GHz; 5.725 to 5.850 GHz
Europe (ETSI): 5.15 to 5.35 GHz; 5.470 to 5.725 GHz

802.11 premium features

2x2 Multiple-Input Multiple-Output (MIMO) with two spatial streams
Maximal Ratio Combining (MRC)
20- and 40-MHz channels
PHY data rates up to 300 Mbps
Packet aggregation: A-MPDU (Tx/ Rx), A-MSDU (Tx/Rx)
Cyclic Delay Diversity (CSD) support
Maximum Likehood Demodulation (MLD) support
Low Density Parity Check (LDPC) support

2x2 Multiple-Input Multiple-Output (MIMO) with two spatial streams
Maximal Ratio Combining (MRC)
20- and 40-MHz channels
PHY data rates up to 600 Mbps (combined rates)
Packet aggregation: A-MPDU (Tx/Rx), A-MSDU (Tx/Rx)
Cyclic Delay Diversity (CSD) support
Maximum Likehood Demodulation (MLD) support
Low Density Parity Check (LDPC) support

2x2 Multiple-Input Multiple-Output (MIMO) with two spatial streams
Maximal Ratio Combining (MRC)
20-, 40- and 80-MHz channels
PHY data rates total up to 300 Mbps (11n) + 866 Mbps (11ac)
Packet aggregation: A-MPDU (Tx/Rx), A-MSDU (Tx/Rx)
Cyclic Delay diversity (CSD) support
Maximum Likehood Demodulation (MLD) support
Low Density Parity Check (LDPC) support

Maximum transmit power*
US (FCC) 2.4 GHz
24 dBm, 2 antennas
23 dBm, 2 antennas
23 dBm, 2 antennas
US (FCC) 5 GHz
-
26 dBm, 2 antennas
26 dBm, 2 antennas
EU (ETSI) 2.4 GHz
17 dBm, 2 antennas
17 dBm, 2 antennas
17 dBm, 2 antennas
EU (ETSI) 5 GHz
-
26 dBm, 2 antennas
26 dBm, 2 antennas
Number of antenna
2T2R MIMO
2T2R MIMO
2T2R MIMO
Antenna gain
2.4 GHz
4.5 dBi
2 dBi
3 dBi
5 GHz
-
3 dBi
5 dBi
Support data rate

802.11a/g: 1, 2, 5.5, 6, 9, 11, 12, 18, 24, 36, 48, and 54 Mbps
802.11n: up to 300 Mbps in MCS15 (40 MHz; GI = 400 ns)

802.11 a/g: 1, 2, 5.5, 6, 9, 11, 12, 18, 24, 36, 48, and 54 Mbps
802.11n: up to 300 Mbps in MCS15 (40 MHz; GI = 400 ns)
802.11ac: up to 866 Mbps in MCS9 (80 MHz; 2 spatial streams; GI = 400 ns)

Receive sensitivity
2.4 GHz

802.11b/g, min. up to -91 dBm
802.11n/20 MHz, min. up to -86 dBm
802.11n/40 MHz, min. up to -84 dBm

2.4 GHz

802.11b/g, min. up to -93 dBm
802.11gn/20 MHz, min. up to -90 dBm
802.11gn/40 MHz, min. up to -86 dBm

5 GHz

802.11a, min. up to -91 dBm
802.11an/20 MHz, up to -89 dBm
802.11an/40 MHz, up to -86 dBm

2.4 GHz

802.11a, min. up to -94 dBm
802.11b/g, min. up to -97 dBm
802.11gn/20 MHz, min. -93 dBm
802.11gn/40 MHz, min. up to -90 dBm

5 GHz

802.11a, min. up to -94 dBm
802.11gn/20 MHz, min. -93 dBm
802.11gn/40 MHz, min. -90 dBm
802.11ac/n/20 MHz, min. -92 dBm
802.11ac/n/40 MHz, min. -91 dBm
802.11 ac/n/80 MHz, min. -90 dBm

LAN
Number of 10/100/1000M LAN
1
1
1
PoE
Yes
Yes
Yes
PoE Power Draw
4 W
7 W
7 W
WLAN Features
WEP
Yes
Yes
Yes
WPA/WPA2-PSK
Yes
Yes
Yes
WPA/WPA2-Enterprise
Yes
Yes
Yes
EAP type
EAP-TLS, EAP-TTLS, EAP-PEAP, EAP-FAST, EAP-AKA and EAP-SIM
WMM (Wi-Fi Certified)
Yes
Yes
Yes
IEEE 802.1X
Yes
Yes
Yes
MAC filtering 
Yes
Yes
Yes
RADIUS authentication
Yes
Yes
Yes
Network
IPv6 support
Yes
Yes
Yes
VLANs
Yes
Yes
Yes
DHCP client
Yes
Yes
Yes
Management
Standalone AP mode
Yes
Yes
Yes
CLI
Yes
Yes
Yes
SNMP
Yes
Yes
Yes
Others
Plenum rating
Yes
Yes
Yes
Power supply
Input: AC 100 - 240 V -50/60 Hz 0.3 A; Output: DC +12 V 1 A
MTBF (hrs)
627,152
781,396
656,972
Standard Compliance
Ethernet

IEEE 802.3
IEEE 802.3u
IEEE 802.3az
IEEE 802.3af

IEEE 802.3
IEEE 802.3u
IEEE 802.3az
IEEE 802.3af

IEEE 802.3
IEEE 802.3u
IEEE 802.11ac
IEEE 802.3az
IEEE 802.3af
WLAN

802.11b: DBPSK, DQPSK, CCK
802.11g: BPSK, QPSK, 16-QAM, 64-QAM
802.11n: BPSK, QPSK, 16-QAM, 64-QAM

802.11a: BPSK, QPSK, 16-QAM, 64-QAM
802.11b: DBPSK, DQPSK, CCK
802.11g: BPSK, QPSK, 16-QAM, 64-QAM
802.11n: BPSK, QPSK, 16-QAM, 64-QAM

802.11b: DBPSK, DQPSK, CCK
802.11g: BPSK, QPSK, 16-QAM, 64-QAM
802.11a: BPSK, QPSK, 16-QAM, 64-QAM
802.11n: BPSK, QPSK, 16-QAM, 64-QAM
802.11ac: BPSK, QPSK, 64-QAM, 256-QAM

Certifications
Radio
FCC Part 15C 15.247, ETSI EN 300 328, EN60601-1-2 DGT LP0002
FCC Part 15C 15.247, FCC Part 15E ETSI EN 300 328, EN 301 893 EN60601-1-2, DGT LP0002
FCC Part 15C, FCC Part 15E, ETSI EN 300 328, EN 301 893, LP0002, EN 60601-1-2
EMC
FCC Part 15/107, EN301 489-17, EN301-489-1, EN55022, EN55024, BSMI CNS 13438
FCC Part 15/107, EN 301 489-17, EN 301 489-1, EN55022, EN55024, BSMI CNS13438
FCC Part 15B, EN 301 489-1, EN 301 489-17, EN55022, EN55024, EN61000-3-2/-3, BSMI CNS13438
Safety
EN 60950-1, IEC 60950-1, BSMI CNS14336-1
EN 60950-1, IEC 60950-1, BSMI CNS14336-1
EN 60950-1, IEC 60950-1 BSMI CNS14336-1
Physical Specifications
Item
Dimensions(WxDxH)(mm/in.)
130 x 130 x 54.5/5.12 x 5.12 x 2.17
130 x 130 x 54.5/5.12 x 5.12 x 2.17
130 x 130 x 54.5/5.12 x 5.12 x 2.17
Weight (g/lb.)
230/0.51
250/0.55
260/0.57
Packing
Dimensions(WxDxH)(mm/in.)
282 x 207 x 71/11.10 x 8.15 x 2.80
282 x 207 x 71/11.10 x 8.15 x 2.80
282 x 207 x 71/11.10 x 8.15 x 2.80
Weight (g/lb.)
610/1.34
630/1.39
640/1.41
Environmental Specifications
Operating environment
Temperature
0°C to 50°C/32°F to 122°F
Humidity
10% to 90% (non-condensing)
Storage environment
Temperature
-30°C to 70°C/-22°F to 158°F
Humidity
10% to 90%