Zyxel NBG4615

Wireless N300 Gigabit NetUSB Router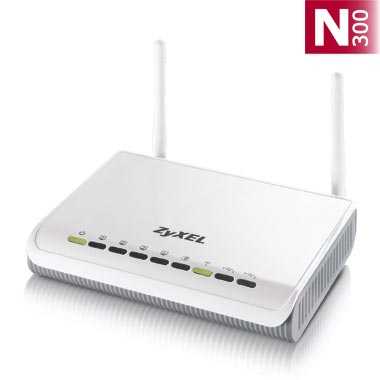 Sorry, this product is no longer available, please contact us for a replacement.
Overview:


High-performance Wireless N Gigabit Router Powers Up Your Home Network!
High-performance wireless N Gigabit router optimizes multimedia streaming
NetUSB™ shares USB mass storages and printers wirelessly
Friendly user interface for fast function navigation and setup
Eco-friendly products with wireless scheduling, power and wireless on/off switch as well as wireless output management
Configurable QoS ensures optimal bandwidth for preferred network applications
Easy-to-extend wireless network coverage with any existing AP
Online auto-upgrade firmware service for convenient feature enhancements
WPS button for quick and easy wireless security setup
Benefits:


High-performance wireless N Gigabit router optimizes multimedia streaming
Enjoying real-time multimedia can't be easier. The high-performance NBG4615 quickly delivers video streams, data transfer and gaming with whole-home coverage. Just connect Gigabit Ethernet capable devices such as network storage appliances and PCs, or wireless devices like laptop or mobile phones to the NBG4615, and you can easily enjoy optimized multimedia delivery
NetUSB™ shares USB devices wirelessly
With NetUSB™ support, the NBG4615 allows users to share up to four USB-equipped devices over the home network. With two built-in USB ports, the NBG4615 can share printers or USB storage devices as if the devices were connected directly to each other's local PC. Just plug the USB devices into the NBG4615 to share them among family members everywhere in the house. This saves money that would have been spent on redundant peripherals.
Easy mode and expert mode for quick navigation and setup
Designed with a user-friendly interface, the NBG4615 provides an "Easy Mode" for navigating functions, basic setup tasks and a comprehensive network map. The Easy Mode simplifies system configuration tasks, so you can enable or disable frequently used setup options such as Game Engine, Power Saving, Content Filtering and Bandwidth Management with just one click. A click on the on/off icon enables the Game Engine function and gives gaming traffics the highest priority to ensure smooth delivery over platforms such as Xbox 360, PlayStation, Battle.net and MSN Game Zone. If you are not that into games, just click the Bandwidth MGMT icon to prioritize network applications by dragging and dropping application icons. For advanced setup, the "Expert Mode" provides full setup options for more detailed configurations. The network map on the user interface allows you to see all the networked devices like PCs and network storage devices.
Eco-friendly wireless scheduling, power and wireless on/off switch, wireless output management
The NBG4615 not only enhances your streaming multimedia enjoyment, but also helps you to save energy in an easy way. Through wireless scheduling in the Easy Mode, you can configure the NBG4615 to turn wireless radiation on or off according to your usage pattern on a daily basis; or you can use a switch to turn the wireless signal on or off directly when necessary. In addition, the power on/off switch makes it easier for you to save energy in just seconds. The NBG4615 also enables you to adjust the power output for less interference in neighborhoods with high access point density — its six-level signal strength control capability instantly makes you a good wireless neighbor.
QoS enhances gaming and multimedia streaming
The Wi-Fi Multimedia (WMM) technology employed by the NBG4615 automatically prioritizes different network traffic types to optimize performance for enhanced audio, video and voice experience over wireless networks. In addition, as the configurable QoS technology ensures smooth delivery of gaming, video streaming, VoIP and downloading, your most important requests receive the best priority given.
Easy-to-extend wireless network coverage with any existing AP
With the built-in universal repeater mode, the NBG4615 can work as a wireless client to connect any existing access points and simultaneously performs as an access point to provide wireless connectivity to all other wireless devices such as laptops. In other words, the NBG4615 extends wireless coverage to entire home premises and enables all wireless devices to connect the existing network — this is especially helpful for larger home environments.
Easy setup with Wi-Fi Protected Setup (WPS)
Establishing a secure wireless network with the NBG4615 can't be easier. Just push the Wi-Fi Protected Setup (WPS) button and the corresponding button on the device you wish to connect; it takes only a few seconds to set up a secure wireless network without any complicated procedure. Instead of entering a pass phrase, users can authenticate and add a new device to the network by pressing a button or entering an automatically generated PIN code. With the button option, you can setup the wireless configuration and encryption with just a simple click.
Application Diagram: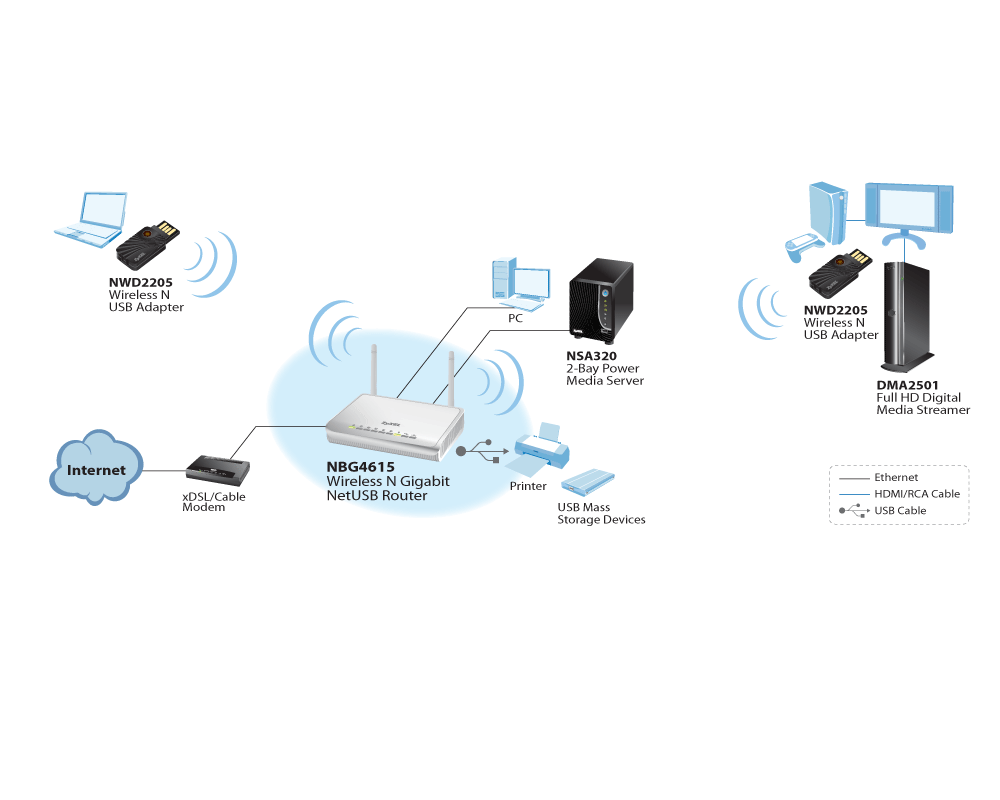 Specifications:
| | |
| --- | --- |
| | |
NBG4615 Specifications
System Specifications
Wirless Standard
802.11 b/g/n
Wireless Transfer Rate

Transmit: 300 Mbps*
Receive: 300 Mbps*

Wireless Features

AP mode
Universal Repeater (UR) mode
WISP with UR mode
Wi-Fi Protected Setup (WPS)
Wi-Fi Multimedia (WMM)
Wireless scheduler
Wireless output power management
Multiple SSID
MAC address filtering
Guest WLAN

Routing

Network Address Translation (NAT)(NAT session: 32000)
Port forwarding
DHCP server on LAN
DHCP/PPPoE/PPTP client on WAN
Dynamic DNS
IGMP v1/v2
Auto-IP change

VPN Pass-through
Firewall

Denial-of-service (DoS) attack prevention
IP/Port filter
MAC filter
URL filter

System Management

NetUSB™ support
Online firmware upgrade

Others

UPnP
NTP client
IPv6 pass-through
DNS proxy

Hardware Specifications
LED indicator

Power
LAN (1 - 4)
WAN
WPS/Wireless
USB 1
USB 2

Antenna gain
Two 2 dBi detachable antennas
Button/Switch

Wireless On/Off button
WPS button
Reset button
Power On/Off button

Power
12 V DC, 1.5 A
Power consumption
16.2 watt max.
Physical Specifications
Product
Dimensions (WxDxH)
4.2 x 6.4 x 1.1 inches
Weight
8.3 ounces
Environmental Specifications
Operating
Temperature
0°C to 40°C (32°F to 104°F)
Humidity
10% to 90% (non-condensing)
Storage
Temperature
-30ºC to 70ºC (-22ºF to 158ºF) 
Humidity
10% to 95% (non-condensing)
Certifications
Safety
CE LVD
EMC
CE, FCC
Package Contents
Package Contents

Wireless router
Two detachable antennas
Power adapter
Ethernet cable
Quick start guide
Warranty card
Support CD
*The maximum wireless data transfer rate is derived from IEEE Standard 802.11 specifications. Actual data transfer rate will vary from network environment including: distance, network traffic, building site materials/construction, interference from other wireless devices, and other adverse conditions.