ZyXEL XGS2210-52HP

48-Port Gigabit PoE+ L2 Managed + 4 SFP+ 10G (52 Total Ports) 375W Power Budget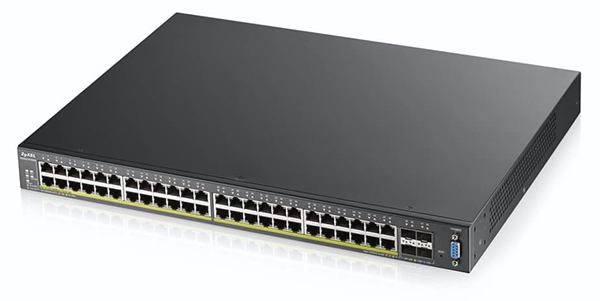 ZyXEL Products
ZyXEL XGS2210-52HP
ZyXEL XGS2210-52HP
- 48-Port Gigabit PoE+ L2 Managed + 4 SFP+ 10G (52 Total Ports) 375W Power Budget
#XGS2210-52HP
List Price: $1,335.00
Our Price: $1,067.00
Click here to jump to more pricing!
Overview:
ZyXEL XGS2210 Series - The Cost Effective all Round Solution
The XGS2210 series is a cost effective 10G uplink port switch with SFP+ 10G Fiber connection support meant to increase core and interserver capacity. With the increase in data rates from 11ac wireless, core traffic is increased to 10G to prevent bottlenecking at the switch. Whereas in the past 10G uplinks and ports have been too expensive to utilize frequently, the XGS2210 series is now a highly affordable and cost effective way for SMBs to upgrade to 10G between virtualized servers, backups, and between switches.
Benefits:
IEEE 802.3at –Wireless AC and Future Ready
The market is moving to higher power consumption devices such as 802.11ac wireless Access Points, VOIP phones and IP surveillance cameras. To get sufficient throughput these devices require high-power PoE. PoE+, also known as IEEE 802.3at provides 30w of power per port, an increase on the standard IEEE 8023.3af 15w per port. All ZyXEL PoE switches support PoE+ providing the maximum flexibility to connect high-power PoE devices.
Intelligent PoE technology
ZyXEL's Intelligent PoE technology can automatically detect the power consumption status of each PD and supplies only the required amount of power. This intelligent power allocation function minimizes the waste of power and helps businesses to save money while enabling the PoE switch to power more PDs.
Power Supply Policy
ZyXEL PoE switches can monitor individual and total power consumption levels and set power supply policies that maximize service availability. Port prioritization and power level adjusting can ensure the PD is efficient and reliably powered.
Application Diagram: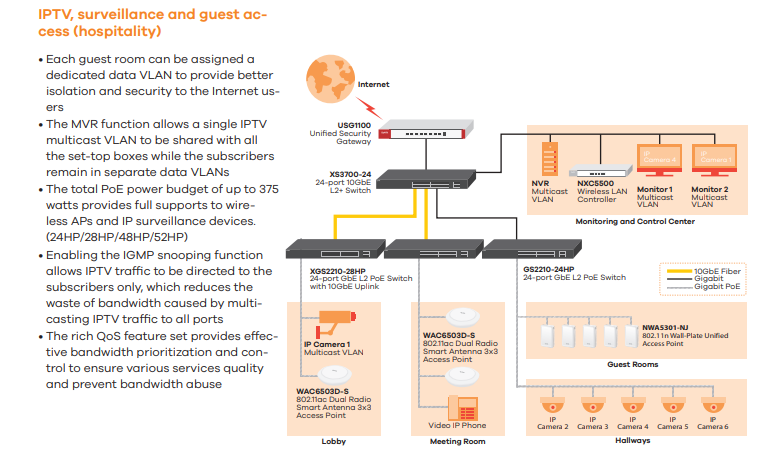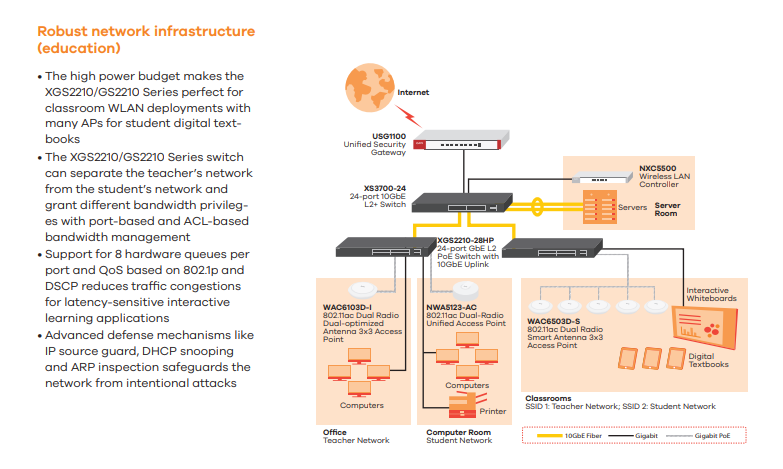 Specifications: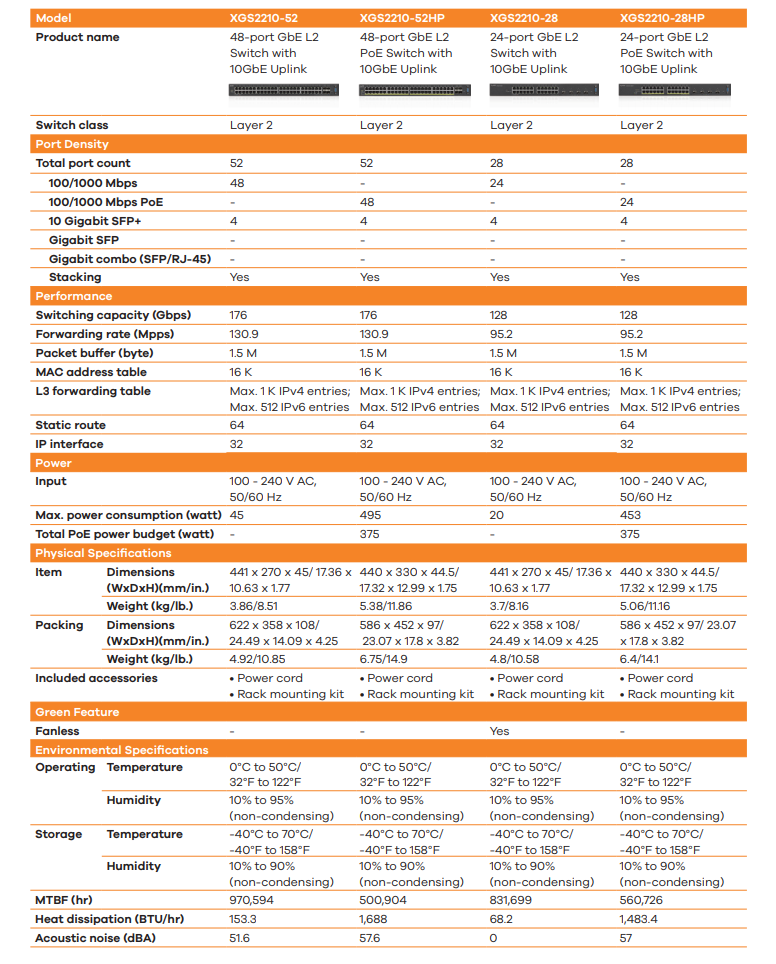 Features: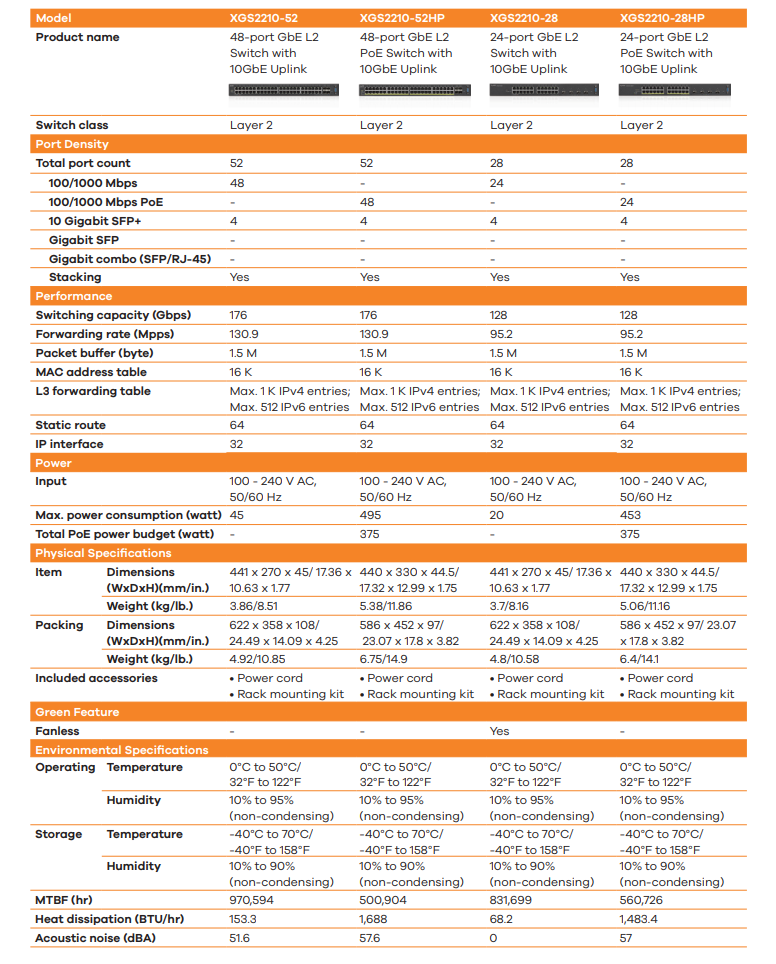 Accessories

Pricing Notes:
Pricing and product availability subject to change without notice.
ZyXEL Products
ZyXEL XGS2210-52HP
ZyXEL XGS2210-52HP
- 48-Port Gigabit PoE+ L2 Managed + 4 SFP+ 10G (52 Total Ports) 375W Power Budget
#XGS2210-52HP
List Price: $1,335.00
Our Price: $1,067.00