Zyxel VMG3925

AC1600 VDSL2 Combo Gateway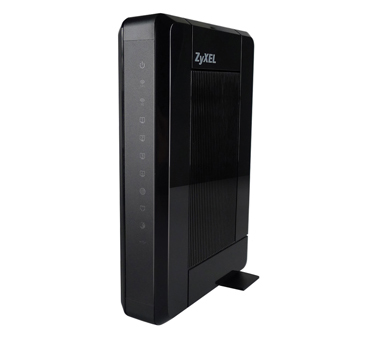 Zyxel Products
Zyxel VMG3925
VMG3925-B10A - VDSL2 Combo WAN (VDSL+GbE WAN) Modem w/4 Port Ethernet 802.11AC/N IPv6 ADSL2+ Fallback AC1600
#VMG3925
List Price:
$279.99
Our Price: $259.99
VMG3925R - VDSL2 Combo WAN (VDSL+GbE WAN) Modem w/4 Port Ethernet 802.11AC/N IPv6 ADSL2+ Fallback AC1600. For Self Install.
#VMG3925R
List Price:
$134.99
Our Price: $99.99
Click here to jump to more pricing!
Overview:
VDSL2 with G.vector Optimized Performance
Zyxel's VMG3925 AC1600 VDSL2 Combo Gateway provides the latest in VDSL2 performance with vectoring up to profile 17a. Vectoring decreases crosstalk for increased bandwidth enabling rich multimedia experiences at longer subscriber distances.
VDSL2/ADSL2+ dual mode with vectoring
Carrier grade high power dual band AC1600 WiFi coverage
Combo GigE WAN for FTTH/DSL deployments
Extreme routing performance for FTTx applications
Superior QoS, firewall, and remote management
Benefits:
Flexible Deployment with Multiple DSL Options
The VMG3925 gateway offers excellent reliability and deployment flexibility with VDSL2 and ADSL2+ fallback as well as PTM/ATM mode support, with full auto-detection selecting the optimal connection type within either modern or legacy network environments.
Gigabit Ethernet Combo WAN / LAN Port
Intended for fiber deployments, the VMG3925 includes a dedicated gigabit Ethernet Combo WAN port with non-blocking routing performance. This enables operators to use a single CPE for both copper and fiber networks and planned migrations. When deployed in a copper network, the gigabit port can be used as a fifth LAN port.
Excellent 802.11AC High Powered Wireless Home Connectivity
The VMG3925 AC1600 VDSL2 Combo Gateway features carrier-grade high-powered dual-band wireless 802.11ac and 802.11n wireless technology to deliver high speed performance and extended coverage. 802.11ac brings leading-edge WiFi to your customer's homes, enabling todays high-bandwidth portable devices with ease. Wireless data rates can reach 1300Mbps* over 5GHz and 300Mbps* over 2.4GHz with stable, reliable wireless connections virtually eliminating dead zones while extending coverage to remote areas throughout the home. Additionally, four Gigabit Ethernet LAN ports operate at wire speed for speedy data transfers within the home.
Comprehensive Routing with IPv6, TR-069, QoS, and Firewall
Zyxel engineers excellent routing capabilities designed to meet service provider needs. The VMG3925 gateway continues this trend with full IPv4 support, IPv6/IPv4 Dual Stack, and IPv6 Rapid Deployment (RD) for a strong foundation. Upon this foundation, Zyxel implements advanced features including TR-069 remote management and device configuration, quality of service (QoS) functionality to categorize incoming and outgoing traffic, and a stateful packet inspection (SPI) firewall for end user security.
* Listed wireless data transfer rates are the theoretical maximum. The actual data transfer rate may vary depending on the network environment
Applications Diagram: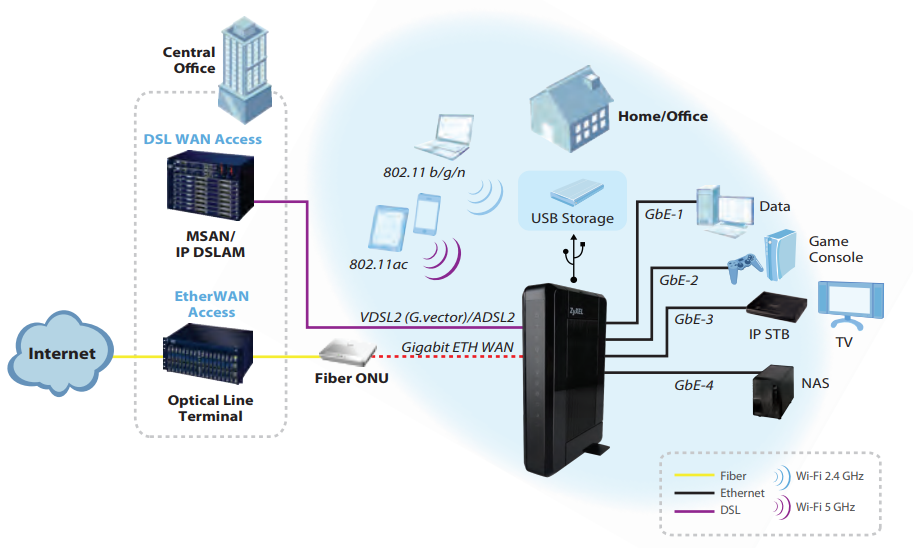 Specifications: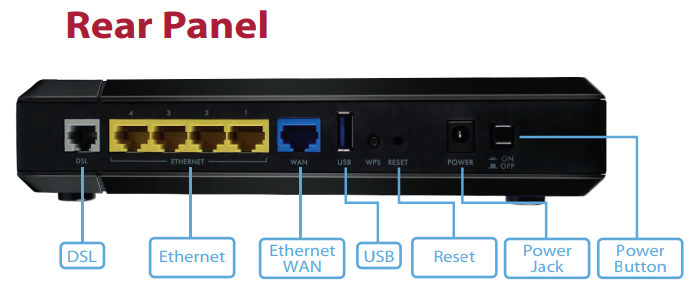 VMG3925 Specifications
System Specifications
DSL

VDSL2 (G.993.2)

100Mbps/50Mbps* down/up data rates
8a, 8b, 8c, 8d, 12a, 12b, 17a profiles
Dual latency
G.vector (G.993.5)

ADSL/2/2+

ADSL (T1.413), G.dmt (G.992.1), G.lite (G.992.2), ADSL2 (G.992.3), ADSL2+ (G.992.5) compliant
Reach Extended ADSL2 (Annex L)
Annex M (G.992.3 / G.992.5)
ATM/PTM transfer mode

G.INP value support up to INP=16
PhyR PHY Level Retransmission Technology
VDSL2 and ADSL/2/2+ over POTS

WiFi

5 GHz band

802.11ac support
1.3 Gbps* data rate
Backward compatible to 802.11a/n
3x3 antenna array
High power amplifier

2.4 GHz band

802.11n support
300 Mbps* data rate
Backward compatible to 802.11b/g
2x2 antenna array
400mW high power

WEP data encryption (64/128 bit)
WPA/WPA2, WPA-PSK/WPA2-PSK (Wi-Fi Protected Access - Pre-Shared Key)
WPS (Wi-Fi Protected Setup)
WDS (Wireless Distribution System)
Wi-Fi scheduling
Multiple SSID (up to 4)

Router

IPv6

Dual Stack (IPv6 / IPv4)
IPv6 Rapid Deployment (6RD)

DHCP client / server / relay with option 60
PPPoE / PPPoA / IPoE / IPoA
DNS server/relay and dynamic DNS
Network Address/Port Translation (NAT/NAPT)
Port forwarding and UPnP
Transparent bridging (802.1d)
Static route and policy routing
RIP I / RIP II
IGMP v1, v2, v3
IGMP proxy and snooping

VLAN & QoS

Flexible packet & tag classification
6-bit DiffServ Code Point (DSCP)
3-bit Class of Service (802.1p CoS)
12-bit VLAN ID (802.1q)
Priority queuing and scheduling

Firewall & Security

Stateful Packet Inspection (SPI)
Denial of Service (DoS) Prevention
Multiple VPN (IPSec, PPTP) pass-through
Packet filtering
URL keyword blocking
Parental controls

USB

Adapter support for 3G/4G WAN backup
Media server (DLNA) and file sharing (FTP)
Print server

Management

Web GUI (HTTP/HTTPS)
Command Line Interpreter (CLI) via Telnet
TR-069 remote management
TR-064 local management
Simple Network Management Protocol (SNMP)
Connectivity Fault Management (802.1ag CFM)
Logs and statistics

Hardware Specifications
WAN

One RJ-11 DSL over POTS port
One RJ-45 Gigabit Ethernet port (software assignable as 5th LAN port)

LAN

Four RJ-45 Gigabit Ethernet ports
Wireless interface:

Two internal 3 dBi antennas (2.4 GHz)
Three printed 4 dBi antennas (5 GHz)

USB
One standard-A USB 2.0 host connector
Buttons & Switches

Recessed reset push button
WPS config & WLAN on/off push button
Power on/off switch

LED Status Indicators
PWR/SYS, DSL, INTERNET, WAN, ETHERNET, WiFi 2.4G, WiFi 5G, USB
Power Supply
120V AC to 12V / 2A DC adapter
Physical Specifications
Item
Dimensions (WxDxH)(mm/in.)
7.24x5.8x1.72 inches (215x142x42 mm)
Weight (kg/lb.)
0.82 Ib. (370 g)
Packing
Dimensions (WxDxH)(mm/in.)
11.2x7.3x3.8 inches (283x185x97 mm)
Weight (kg/lb.)
786 g (1.74 lb)
Environmental Specifications
Operating
Temperature
0°C to 40°C (32°F to 104°F)
Humidity
20% ~ 85% RH (non-condensing)
Storage
Temperature
-30°C to 70°C (-22°F to 158°F)
Humidity
20% to 90% (non-condensing)
Certifications
EMC
FCC Part 15 (Class B)
Safety
UL 60950-1
Pricing Notes:
Pricing and product availability subject to change without notice.
Zyxel Products
Zyxel VMG3925
VMG3925-B10A - VDSL2 Combo WAN (VDSL+GbE WAN) Modem w/4 Port Ethernet 802.11AC/N IPv6 ADSL2+ Fallback AC1600
#VMG3925
List Price:
$279.99
Our Price: $259.99
VMG3925R - VDSL2 Combo WAN (VDSL+GbE WAN) Modem w/4 Port Ethernet 802.11AC/N IPv6 ADSL2+ Fallback AC1600. For Self Install.
#VMG3925R
List Price:
$134.99
Our Price: $99.99