ZyXEL NSG100

SECURITY VPN GATEWAY W/1YR BUNDLE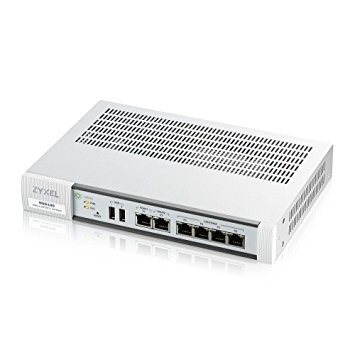 ZyXEL Products
ZyXEL NSG100
ZyXEL NSG100
- SECURITY VPN GATEWAY W/1YR BUNDLE
#NSG100
List Price: $700.00
Our Price: $564.00
Click here to jump to more pricing!
Overview:
Nebula Cloud Managed Security Gateway
The Zyxel Nebula NSG100 Cloud Managed Security Gateway is built with remote management and ironclad security for organizations with growing numbers of distributed sites. With the extensive suite of security features that includes ICSA-certified firewall, IPsec VPN connectivity, Intrusion Detection and Prevention (IDP) as well as Application Intelligence, the NSG100 provides deep, extensive protection to meet everything that small- to mid-size businesses would need.
Complete networking, security and application control over the cloud
Zero-touch site-to-site VPN
Secure networks with Next-Gen Firewall, IDP and Application Intelligence
Built-in DHCP, NAT, QoS and VLAN management
Static route and dynamic DNS support
Identity-based security policies and application management
Benefits:
Out-of-the-box cloud-managed gateway
The Zyxel Nebula NSG100 can be quick and easy deployed at a remote location through nearly zero-touch cloud provisioning. It automatically pulls policies and configuration settings, receives seamless firmware upgrades and security signature updates from the cloud without the need for on-site networking expertise.
Easy setup, simple management
Traditional gateway requires administrators to perform configuration and to manage security policies on each device one by one but it costs considerable time and effort. The Zyxel Nebula provides a single point of management to all the Nebula gateways for administrators to synchronize security settings across thousands of sites to every device all at once. The cloud interface provides site-wide visibility and control that enable administrators to manage event logs, traffic statistics, bandwidth consumption, networked clients and application usage without access to the individual devices.
Zero-touch VPN connections
Establish VPN to keep branch locations securely connected is easier than ever. With the Zyxel Nebula NSG100, either site-tosite or hub-and-spoke VPN connections can be configured with complete simplicity through few clicks in the Nebula Control Center, without complex VPN configuration steps. The intuitive cloud management interface gives administrators a real-time view to monitor VPN connectivity between multiple locations.
Streamlined policy management
The Zyxel Nebula NSG100 streamlines configuration of firewall and every security feature for faster, easier and more consistent policy settings by supporting object-based management and a unified configuration approach for all security related policies, with which users can easily apply all policy criteria to every security feature. Moreover, any configuration made in the Nebula Control Center can automatically propagate to all the connected Nebula gateways.
Effective network protection
Nebula's IDP (Intrusion detection and prevention) system scans multiple layers and protocols to inspect vulnerabilities invisible to simple port-and protocol-based firewalls by utilizing Deep Packet Inspection (DPI) technology that eliminates false positives with a database of malware signatures and provides effective protection against intrusions from unknown back doors.
Powerful application security
The Zyxel Nebula NSG100 supports Application Intelligence that can identify, categorize and control social, gaming, productivity and other Web applications and behaviors. Users can block undesirable applications to boost productivity and to prevent bandwidth abuse.
Key Applications: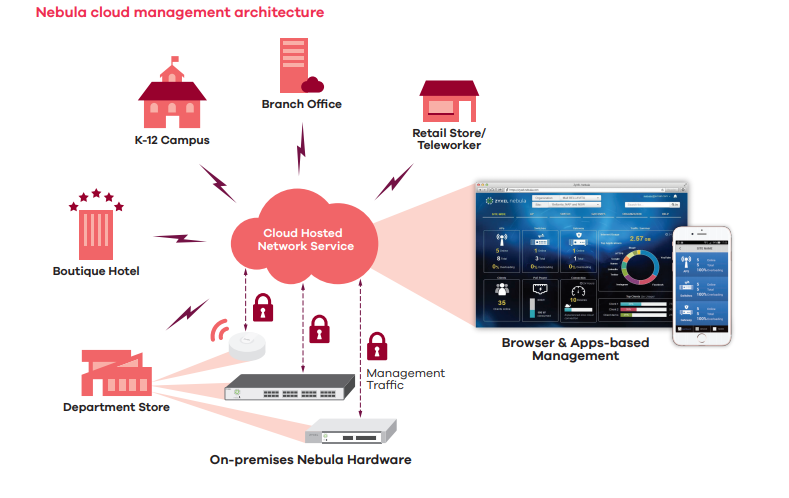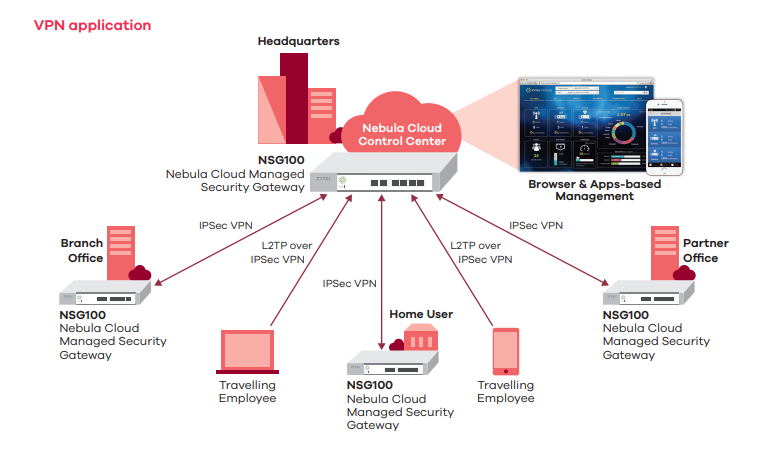 Specifications: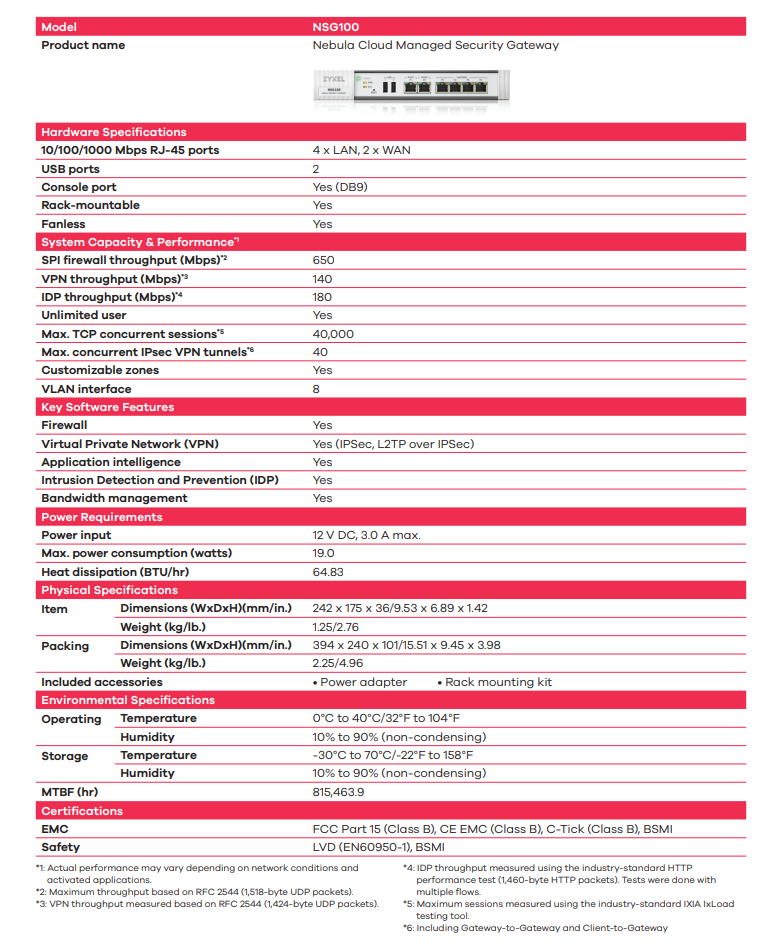 Pricing Notes:
Pricing and product availability subject to change without notice.
ZyXEL Products
ZyXEL NSG100
ZyXEL NSG100
- SECURITY VPN GATEWAY W/1YR BUNDLE
#NSG100
List Price: $700.00
Our Price: $564.00