ZyXEL NSA325 2-Bay Power Plus Media Server

Superior Media Server Brings HD Multimedia Enjoyment Everywhere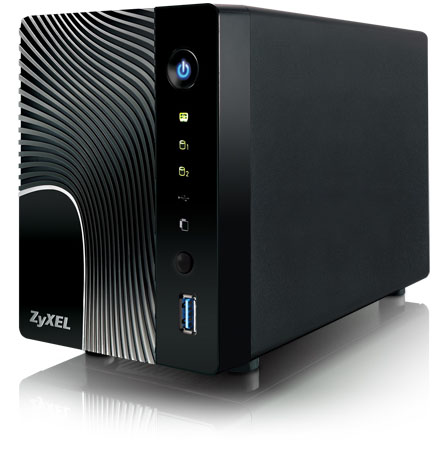 ZyXEL Storage
ZyXEL NSA325
ZyXEL NSA325 2-Bay Power Plus Media Server
#NSA325
List Price: $249.99
Our Price: $189.00
Overview:
Superior performance powers multiple HD streaming
zMedia enables mobile media streaming and NSA configuration at home
Dropbox support offers remote backup and downloading everywhere
USB 3.0 port provides faster backup from USB devices 
All-in-one backup solution protecting valuable user data
zPilot™ organizes media files via easy drag-and-drop operations
Advanced green NSA with Wake-on-LAN, power scheduling and hard disk hibernation for energy saving
Make NSA325 2-Bay Power Plus Media Server more than just a central home media library. You can freely access, share and enjoy digital media contents through your smartphones and tablets with the Polkast App, no matter where you are!
Access, share and enjoy it everywhere!
The ZyXEL Media Server is more than just a central home media library. With the latest Personal Cloud feature of NSA325, you can freely access, share and enjoy digital media contents no matter where you are: just start the Polkast App on your smartphone or tablet, then you can easily access your NSA325 and immediately find the files you'd like, or share photos, music and videos with your friends or family members. How about sharing beautiful scenes from a trip with your beloved ones when you're still on the road? Just send the pictures or videos to your NSA325 through Polkast, and they will see exactly the same scenes as you do on Facebook, YouTube or Flickr in seconds!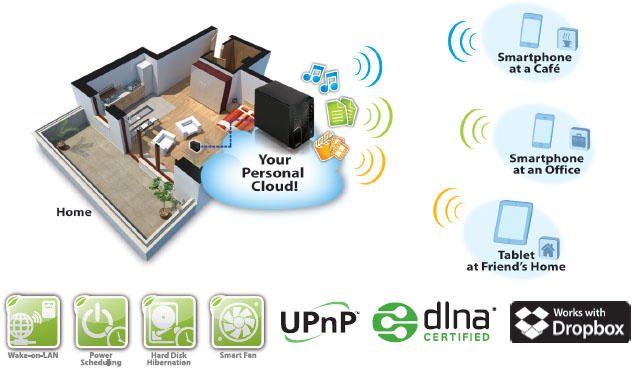 Features & Benefits:


Streaming
Superior performance
Powered by a 1.6 GHz CPU and 512 MB memory, the ZyXEL NSA325 2-Bay Power Plus Media Server provides faster multimedia streaming speed and sharing functions simultaneously to different UPnP- and DLNA-certified devices, such as Microsoft Xbox 360, Sony PlayStation 3 or DLNA TV in every room at home.
Acting as an iTunes server, SqueezeCenter, personal blog and photo album server, the NSA325 makes it easy to stream and share multimedia contents on PCs, laptops and SqueezeBoxes.
Intuitive user-interface
Through NSA325's intuitive user interface, you can quickly preview files through thumbnails and play photo slideshows directly from your Web browser. The NSA325 also allows you to create a music playlist and play it in the background for your slide shows.
zMedia for in-home media playback on smartphones
When you are at home, zMedia, a mobile App designed for your smartphones, allows you to not only play videos, photos and music stored in the NSA325, but also easily check NSA325 system, file download/upload status or configure your NSA325 remotely without powering up your PC or laptop.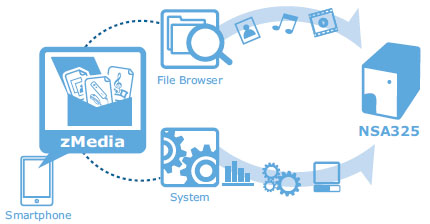 Sharing
Share with your family over home network
Want to share the photos and videos taken in family trips or your children's birthday parties stored in your laptop or PC? Just store all of your favorite photos, music, videos from your PC to the NSA325, as your centralized digital media library, and your family can immediately access the files on their laptops and tablet PCs over your home network.
Share with your friends in a snap
Without powering up your PC or laptop, just plug your digital cameras, smart phones or USB mass storage devices into the NSA325's USB ports and push the copy/sync button* to save the photos and videos in the NSA325. Few minutes later, your newly-added photos and videos will be utomatically uploaded by the NSA325 to the social media sites like Flickr and YouTube and ready to share with your friends! The embedded USB 3.0 port on the NSA325 bring faster data backup speed to and from USB mass storage devices or digital cameras.
Faster file sharing and storing
The embedded USB 3.0 port and copy/sync button on the NSA325 bring faster data backup speed and synchronization to and from USB mass storage devices or digital cameras. In addition to serving as an eMule/BitTorrent/FTP server, the one-click hosting download manager also makes it simple for you to manage large file downloads from RapidShare. With Dropbox support, you can remotely backup files and send the torrent from your smartphone and tablet to your NSA325 virtually anywhere.

Green media server for energy saving
A new green feature dubbed "Wake-on-LAN" enables users turn on the NSA325 and access media files remotely anytime and anywhere, even when the device at home is powered off. In addition, with support to the hibernation mode, the internal hard disks in the NSA325 can automatically spin down when there is no data transmission after a period of time. With the power scheduling function, the NSA325 can be turned on or off automatically based on your usage patterns and needs to conserve power and expense.
Specifications:

ZyXEL NSA325 Specifications:
Networking

Network protocol:

CIFS/SMB, NFS (for Linux/Unix)
FTP, HTTP
DHCP client
PPPoE
Network Time Protocol (NTP)

Network applications:

Personal Cloud with Polkast support
Media server:

DLNA 1.5 media server
UPnP AV server
iTunes server
SqueezeCenter support
Photo album server

Web server:

FTP server
phpMyAdmin/MySQL/PHP
RSS client & server

Smartphone application:
zMedia for NSA configuration, system status monitoring, file browsing and media playback

Network application management:

User & group management
Package Management for setting up applications
One-click-hosting sites download manager

Network security:

Support HTTPS and FTPES (FTP over explicit TLS/SSL)
Encrypted NSA to NSA remote replication
Encrypted NSA to external disk archive backup

Data Management

Backup support:

One-touch copy/sync button for external USB-capable devices backup
Backup planner:

Instant/Scheduled backup
NSA to NSA synchronization/archive backup
NSA to external USB hard disk backup

PC to NAS backup (Memeo AutoBackup software)
Dropbox support
Apple Time Machine support

Download/Upload support:

Auto-download from FTP/HTTP/BitTorrent/eMule
Scheduled download
One-click hosting sites downloading
Auto-upload photos and videos to YouTube/Flickr/FTP server

File system support:

Internal HDD: EXT4
External HDD: NTFS, EXT2, EXT3, FAT32, ReiserFS, XFS

System Management

RAID 0, 1, JBOD
Online firmware upgrade
Self-Monitoring Analysis and Reporting Technology (S.M.A.R.T.)

Power and Thermal Management

Power control:

Internal disk hibernation support
Scheduled power on/off/reboot
Wake-on-LAN support
System automatically resume after power outag
APC USB UPS monitoring and auto shutdown

Thermal management:

Smart fan speed control
High temperature alert/buzzer
Auto shutdown while high temperature

Minimum System Requirements

OS for utility: Windows XP/Vista/7 (32 & 64 bit)
Browser: IE 7.0+, Firefox 3.6+, Google Chrome 10+, Safari 5+

Hardware Specifications

Two 3.5" SATA II/III hard disk interface supported
One Gigabit Ethernet RJ-45 connector
Two USB 2.0 ports
One USB 3.0 port
Buttons:

Power button
Copy/Sync button
Reset button

Smart fan design
Power consumption:

Access mode: 27 watt
Hard disk spin-down mode: 7 watt

Power:

Input: 100 - 240 V AC, 50/60 Hz
Output: 12 V DC, 5 A

Physical Specifications

Item dimensions (WxDxH): 108 x 205 x 147 mm (4.25" x 8.07" x 5.79")
Item weight: 1,080 g (2.38 lb.)
Packing dimensions (WxDxH): 280 x 173 x 210 mm (11.02" x 6.81" x 8.27")
Packing weight: 1,810 g (3.99 lb.)

Operating Environment

Temperature: 0°C to 40°C (32°F to 104°F)
Humidity: 10% to 95% (Non-condensing

Storage Environment

Temperature: -30°C to 70°C (-22°F to 158°F)
Humidity: 10% to 95% (Non-condensing

Certification

Safety: CE LVD, BSMI
EMC: CE, FCC class B, C-Tick, BSMI
Others: DLNA 1.5, UPnP

Package Contents

Media server (Hard disks not included)
Power adapter
Ethernet cable
Quick start guide
Support CD
Warranty card
Application Diagram: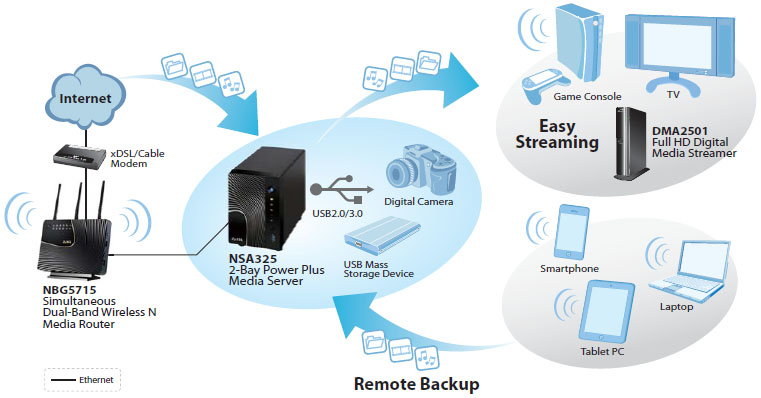 Documentation:

Download the ZyXEL NSA325 Data Sheet (PDF)
ZyXEL Storage
ZyXEL NSA325
ZyXEL NSA325 2-Bay Power Plus Media Server
#NSA325
List Price: $249.99
Our Price: $189.00