Zyxel IES-5106 Series

5U 6-slot Temperature-Harden Chassis MSAN
Zyxel Products
Zyxel MSANs / DSLAMs
IES-5106M - Main chassis for IES-5106 - Multiservice Access Node
#IES5106M
List Price:
$1,129.99
Our Price: $850.00
Click here to jump to more pricing!
Overview:
The Zyxel Chassis MSAN, IES6100/6000/5112/5106 Series, is equipped with non-blocking Gigabit backplane, failover-enabled Management Switch Cards (MSC), dual input power modules and various high-port density multi-purpose line cards. With comprehensive IP-centric firmware features, the Zyxel Chassis MSAN is a high-capacity system that facilitates telcos/ISPs to deliver high-quality residential or business user services experience at competitive CAPEX/OPEX as well as satisfying its current and future infrastructural requirements of reliability, flexibility and scalability for the current and future infrastructure.
Multi-service interfaces including ADSL2/2+, SHDSL, VDSL2, VoIP (SIP & H.248), fiber-based GE
10G Ethernet uplinks to provide non-blocking network interfaces
Comprehensive QoS to Enhance Triple Play users' experience
Field proven IGMP v1, v2, v3 snooping and proxy for IPTV deployment
Flexible ACL, VLAN-aware DHCP and Anti-IP/MAC address spoofing to prevent malicious attack
DHCP option 82 and PPPoE IA features support versatile IP address assignment
Benefits:
Easy & reused logistics
The IES-5112 Series is an 8U-height, 12-slot chassis-based multi-service access node and the IES-5106 Series is a 5U-height, 6-slot chassis-based multi-service access node capable of adopting the same line cards as those for the IES-6000 systems. The MSC1024GB Management Switch Card with four 1G uplinks is designed to plug into slot 6 and/or slot 7 in IES-5112M and slot 6 in IES-5106M.
The MSC1224GB Management Switch Card comes with two 10G and four 1G Ethernet uplinks to support even higher bandwidth requirements. Both MSC1024GB and MSC1224GB are IPv6 capable. The supported line cards include 72-port ADSL2+ line cards that provide subscribers with asymmetric transmission bandwidths of up to 25 Mbps/2.4 Mbps, the 48-port SHDSL line card with symmetric transmission bandwidth of 5.69 Mbps per port, the 24-port and 48-port VDSL2 line cards that offer up to profile 30a (100/100 Mbps) high-speed connectivity per port over copper wires, along with the 20-port fiber-based Gigabit Ethernet line card that supports 1000 Mbps transmission speed per port and 8-port E1 IMA card.
The new 48-port ADSL2+/VoIP combo card with built-in ETSI/ANSI POT splitter can be managed by the new MSC1024GC Management Switch Signaling Card. MSC1024GC is able to support IP aggregation for all the combo cards in the same chassis.
Advanced Triple Play and mass deployment functionality
The IES-5112/IES-5106 Series inherits all the Layer 2 and Layer 3 QoS, security and multicast functionalities from the IES-6000, while the following new features are added to satisfy the requirements for massive field deployments: (1) IP bridge functionality that alleviates the Layer 2 access network deployment restrictions resulted from MAC address table limitation and security attack issues; (2) ARP Proxy which minimizes the ARP broadcast requests to all subscribers; (3) TACACS+ mechanism to support remote authentication with TACACS+ servers; (4) VLAN-aware DHCP snooping which adds VLAN information into DHCP snooping tables; (5) DHCP option 82 sub-option 2 for providing remote client ID information to DHCP servers for flexible IP address assignment.
Robust physical safety design
The IES-5112 Series supports 1+1 MSC redundancy with a failover switching time of less than 1 second. For both IES-5112/IES-5106 Series, the voltage, temperature and fan speed sensors are fitted into the system. When an abnormal condition is detected, the LED displays and/or the corresponding alarms will alert the administrators of the situation. In case the system temperature rises over the preset threshold, thermal cutoff protection will kick in to shut down the system automatically.
Sophisticated OAM&P features
The IES-5112/IES-5106 Series provides various management methods: local console port, Web-based configuration, Telnet and SNMP v1/v2c/v3-based EMS (NetAtlas EMS). The management functions include Alarm and Status Surveillance, Configuration Management, Performance Management and Fault Management. Both Series allows multiple administrative accounts with 3-level access privileges. Accounts with the first-level privilege have full access to all management objects on the Management Information Base (MIB). Second-level accounts have similar access rights except creating new administrative accounts, while the third-level accounts are granted read-only access rights to the MIB objects. NetAtlas EMS also provides view-based MIB management that partial MIB objects can be defined and accessed for customization and security reasons.
Specifications:
IES-5106 Series Specifications:
System Specifications
DSL Compliant

ADSL:

G.992.1 Annex A, B, G.dmt and Embedded Operations Channel (EOC)
G.992.2 G.lite
G.992.3 Annex A, I, J, L, M, ATM Transmission Convergence (ATM-TC), Embedded Operations Channel (EOC), Impulse Noise Protection (INP), latency path, loop diagnostic, overhead channel access, power management, Seamless Rate Adaptation (SRA) on-line configuration and spectral mask
G.992.5 Annex A, B, I, J, M, L, ATM Transmission Convergence (ATM-TC), Impulse Noise Protection (INP), latency path, loop diagnostic, power management, Seamless Rate Adaptation (SRA) on-line configuration and spectral mask
G.996.2 single & dual ended loop test (SELT & DELT)
G.997.1 Embedded Operations Channel (EOC) and spectral mask
ANSI T1.413 issue 2

SHDSL:
VDSL2:

G.993.2
G.996.2 Single & Dual Ended Loop Test
G.997.1 Embedded Operations Channel (EOC) and Spectral Mask

G.994.1 G.hs
G.998.1 port bonding

Standard Compliant

RFC1483, 1577, 2364 and 2684
ATM Forum Rec UNI 3.0, 3.1 and 4.0
ITU-T I.361 and I.371
G.703, G.704 and G.804

IPTV

IGMP v1, v2, v3 snooping and proxy
IGMP multicasting channel limiting
IGMP group count/filtering profile
IGMP filtering
Multicast VLAN (MVLAN)
1024 IGMP multicast groups
Maximum channel zapping processing time: 250 ms
Multiple set-top box per DSL port

Security

Per port and per VLAN isolation
IEEE 802.1X authentication
Rule-based packet filtering (L2 - L4 Access Control List)
PPTP, LT2P, IP SEC and GRE pass through
IPoE and PPPoE per VC session
MAC count limiting
ARP broadcast filtering
DHCP broadcast filtering
VLAN aware DHCP snooping
NetBiOS filtering
Anti IP/MAC address spoofing
TACACS+ remote authentication
Accounting and Radius server authorization

Traffic Management

8 PVC per DSL port
UBR, CBR, rt-VBR, nrt-VBR, QoS mechanisms
ATM Forum TM 4.0 peak cell rate traffic parameter
Downstream traffic shaping per ATM PVC
ATM F5 OAM cells for end-to-end loop back test (ITU-T Rec. I.610)
8 queues with packet priority scheduling (SPQ, WRR)
DSCP to 802.1p mapping
Double-Tag PVC
Bandwidth and broadcast/multicast/unknown unicast control on Gigabit Ethernet ports
STP: IEEE 802.1d, IEEE 802.1w, IEEE 802.1s
IP bridge
Link aggregation control protocol (IEEE 802.3ad)
IP QoS CoS
IP multicast forwarding
DHCP relay option 82 with sub-option 1 and 2
PPPoE intermediate agent (TR-101)
Multicast bandwidth control
L2 - L4 ACL
Broadcast storm control
Static multicast
Unknown multicast flooding
Loop guard
MAC aging & rate limit
DHCP LAN to LAN

VLAN

4094 IEEE 802.1Q compliant VLAN tagging
VLAN stacking (Q-in-Q)
VLAN bridge function (multiple PVCs to one VLAN, N:1)
PVC and VLAN one to one mapping (1:1)
VLAN trunking (single PVC join multiple VLAN, 1:N)
GVRP function

VoIP Features

Codes: G.711 (µ-law and A-law), G.726, G.729a/b, G.723.1
ITU-T H.248 v2 and RFC3261 SIP v2
RTP (RFC1889)
RTCP (RFC1890)
FAX pass through via RTP (T.38)
Modem dial-up via G.711
RTP Payload for DTMF Digits (RFC2833)
Echo cancellation and auto gain control (G.165, G.168)
Voice Activity Detection (VAD)
Comfort Noise Generation (CNG)
Caller ID generation and detection
Metallic Loop Testing (MLT) for subscriber lines
Configurable jitter buffer
Compatible CPE including POTS phone, FAX, analog dial-up modem and pay phone
Dial tone, second dial tone, ringing tone (ring-back tone), busy tone, off-hook warning tone
20K Busy Hour Call Attempts (BHCA)
Supplementary services

Local dial (SIP)
Emergency call local route
Do not disturb
Selective/anonymous call rejection
Call waiting and call hold
Call transfer (blind and attended transfer)
Call return and call back on busy
Off hook warning tone

Network Management

Local management through a craft terminal
Web-based management interface
View-based network management
Daylight saving
IEEE 802.3ah OAM
Support XML-based North Bound Interface (with Zyxel NetAtlas EMS)
In-band and out-of-band IP interface for management (Telent, SSH, SFTP)
SNMP management (with Zyxel NetAtlas EMS)
SNMPv1, v2c, v3 agent and traps
Standard MIBs

RFC1213 MIB II
DSL line MIB (RFC2662) and extension line MIB (RFC3440)
SHDSL line MIB (RFC3276)
VDSL line MIB (RFC3728)
VDSL2 line MIB (RFC5650)
Bridge MIB and extension MIB
RMON MIB (RFC1757)

Vendor specific MIBs:

Chassis management MIB (fan speed, voltage and temperature)

Static route for MGMT IP

Hardware Specifications
IES-5106M

6-slot rack mountable enclosure, 19" chassis
Maximum 10 slots for line cards (slot 1 - 5 and 8 - 12)
2 slots for management and switch cards (slot 6 and 7)
2 DC power input module and filter
One FAN and dust filter module
One alarm module

Management Switch Cards - MSC1224GB/ MSC1024GB

Failover-enabled network termination card
Embedded 48G, non-blocking full duplex switching fabric
MSC1224GB supports two 10G (SFP+) and four 1G uplink/subtending interfaces:

2 optical fiber port (SFP+ modules)
4 1000 Mbps interface modules (combo design, SFP and copper)

MSC1024GB supports four 1G Ethernet uplink/subtending interfaces:

4 1000 Mbps interface modules (combo design, SFP and copper)

One mini-RJ11 console port
One 10/100M out-of-band Mgmt interface
16K MAC addresses
1024 L2 multicast groups (1K scalability)
4K VLANs
DSL line card battery saving mode
IPv6 capable

Physical Specifications
IES-5106M

Item dimensions (W x D x H): 440 x 250 x 215mm (17.32" x 9.84" x 8.46")
Item weight: 10.2 kg (22.49 lb)

Management Switch Card - MSC1224GB

Item dimensions (W x D x H): 390.6 x 240 x 13.8 mm (15.39" x 9.45" x 0.55")
Item weight: 0.9 kg (1.99 lb)
Packing dimensions (W x D x H): 462 x 342 x 123 mm (18.18" x 13.46" x 4.84")
Packing weight: 1.76 kg (3.89 lb)

Environmental Specifications
Operating temperature
-40°C to 65°C (-40°F to 149°F)
Operating humidity
10% to 95% (Non-condensing)
Storage temperature
-40°C to 70°C (-40°F to 158°F)
Storage humidity
10% to 95% (Non-condensing)
Power Supply
-48V DC
Full load power consumption

IES-5106M: 23 W
MSC1224GB: 33 W

Certification
Safety

CE
UL 60950, CSA 60950
FCC part 15 Class A
ITU-T K.20

EMC

ETSI 300 019
EN55022 class A
EN55024 class A
ETSI 300 386 Class A
Line Cards:
MSC1224GB
Management Switch Signaling Card

Application Diagram: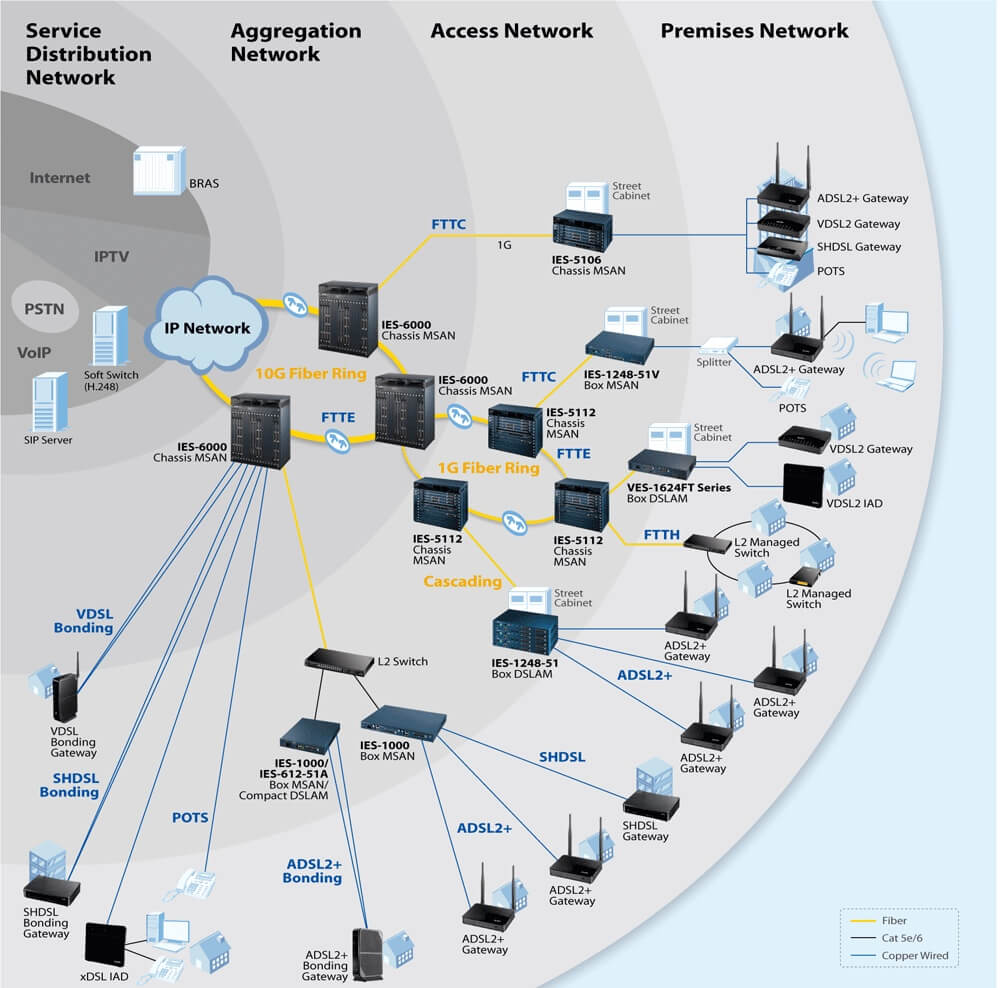 Pricing Notes:
Pricing and product availability subject to change without notice.
Zyxel Products
Zyxel MSANs / DSLAMs
IES-5106M - Main chassis for IES-5106 - Multiservice Access Node
#IES5106M
List Price:
$1,129.99
Our Price: $850.00
Zyxel Line Cards
MSC1224GB - 10G Management switching card for IES-5106 w/2 10GbE SFP+ + 4 GbE Combo SFP
#MSC1224GB
List Price:
$2,149.99
Our Price: $1,600.00